News
Jaipur leads the cavalry charge for cask
Added: Thursday, January 24th 2019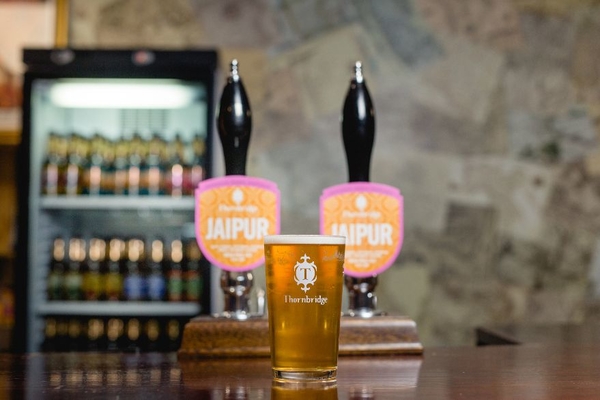 Thornbridge Brewery, defying the doomsters, says the demand for cask beer is stronger than ever. The brewery is one of Britain's leading independent producers and says fears that cask may be in further decline – following a report from the British Beer & Pub Association that sales were down 6.8 per cent in 2018 – are not the Derbyshire company's experience.
Thornbridge has been brewing cask ale since 2005 and has seen consistent demand for quality beer, especially during the past few years. The brewery has produced more than two million pints of cask since 2018.
The brewery pioneered cask beer back in 2005 with its flagship Jaipur IPA and has championed high quality and innovative beers over the past 13 years.
High demand for cask has led to expansion at the brewery. Additional fermenting vessels have been added and production schedules increased to keep pace with demand. Thornbridge is currently producing the biggest volumes of cask beer in its history.
The brewery's stand at CAMRA's Great British Beer Festival in August 2018 drew large crowds. Demand was so high that the brewery had to arrange for a second delivery of beer. Most in demand were Salted Caramel and Strawberry Ice Cream porters, part of the Lucaria series. Close to 3,000 pints were drunk.
And Salted Caramel was the first Thornbridge beer to sell out at the London Craft Beer Festival last year.
Simon Webster, chief executive officer at Thornbridge, says: "There's an unfortunate stigma around cask beer that it's all flat, brown ale without flavour, which couldn't be further from the truth. We are constantly exploring our cask range. In the past year we've brewed everything from a jasmine and orange pale to a flat-white pale ale as well as developing a series of ice cream porters that have all been incredibly well received.
"This year we're looking forward to bringing some old favourites back to cask, such as Chiron and AM:PM, as well as developing more new and exciting styles.
"Cask beer for us is thriving as much as it has ever been."
Thornbridge has entered 2019 with big plans. The brewery's foray into cans has been a big success and plans for a canning line are underway and is expected to be fully operational by the spring.