News
West Country weighs in with new stouts
Added: Thursday, January 17th 2019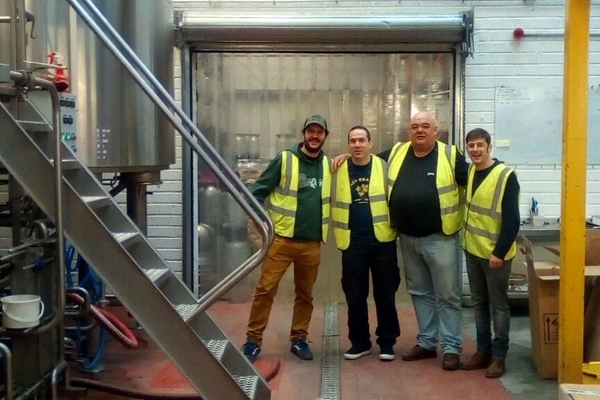 Moor Beer is meeting the clamour for stouts and porters with the release of dark beers that have been aged in wood, using casks that previously held spirits. Justin Hawke's brewery is based in Bristol but he has opened a second facility in South-east London where he has joined the famous Bermondsey Beer Mile. The London site is where the major barrel-ageing is carried out.
The first barrel-aged beer, Fusion, was launched in 2009 but Justin and his team have added three new stouts made in collaboration with La Quince Brewery in Madrid, Spain. The beers are called Batallas -- the name of one of the brewers at La Quince -- and are available in 330ml cans.(Justin is seen second from left with the La Quince team, with Batallas on his left.) The beers are "can conditioned" with live yeast, a method approved by CAMRA.
The three beers are brewed with pale, Munich, wheat, cara wheat, roasted barley, flaked barley and crystal malts and hopped with Sybilla, a variety from Poland.
Batallas Double Stout is 8.6 per cent, and has a woody/oaky nose with vanilla notes and dark grain, burnt fruit and peppery hops. Dark grain and spicy hops dominate the palate but are balanced by oak and vanilla. The finish is rich in burnt fruit, roasted grain, oak, vanilla and spicy hops.
Double Stouts aged in whisky and rum barrels are 9.5 per cent. The whisky version has a massive hit of whisky on the nose with rich vanilla and oak notes. Creamy malt, oak, vanilla, burnt fruit and bitter hops dominate the palate with a bittersweet finish comprised of oak, vanilla, dark fruit and spicy hops.
The rum version has ripe bananas and toffee on the nose, with oak, dark grain and spicy hops, followed by a creamy palate balanced between banana, toffee and dark grain, underpinned by spicy hops. Creamy malt, toffee, banana, dark grain and hops form the long, rich finish.
Moor also brews Amoor, a 4.5 per cent Porter, with bitter chocolate, peppery hops, creamy grain and vanilla on the nose, followed by burnt fruit, bitter chocolate, dark grain and spicy hops on the palate. The quenching finish is dominated by peppery hops, juicy malt and vanilla.
The beers are available from www.moorbeer.co.uk/online-shop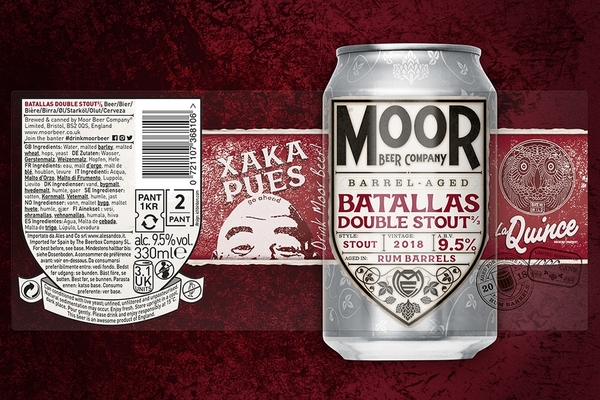 Also from the West Country, Salcombe Brewery has launched Island Street Porter (5.9 per cent). The dark brown/black beer has a complex recipe of pale malt, roasted barley, cara malt, chocolate and crystal malt, oats and wheat malt. The single hop is English Endeavour. The beer has a velvet appeal, with a rich chocolate and coffee aroma underscored by roasted grain and earthy hops. The palate is bittersweet with peppery hops balancing the richness of chocolate, coffee and dark roasted grain. Bitter hops build in the finish, balanced by a smooth, creamy note from the many malts and continuing hints of chocolate and coffee. The beer is available from www.salcombebrewery.com/gallery/shop-2-2