News
Poppyland safe in new brewing hands
Added: Tuesday, January 8th 2019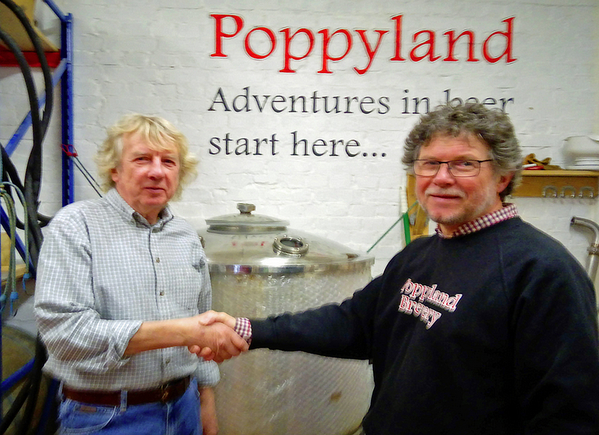 The award-winning Poppyland Brewery in Cromer, North Norfolk, maker of eclectic beers from Norwegian farmhouse ales to porter brewed with hops smoked in a local fish smokery, has changed hands after founder Martin Warren decided to retire. 
The new owner is Dave Cornell (pictured left with Martin), a former project manager in the building industry, amateur bee keeper, motorbike enthusiast and long-time fan of Poppyland's beers. 
The brewery was started in 2012, and quickly became known for top-quality, often one-off beers in a wide range of styles using Norfolk-grown barley. It has won awards every year in the Champion Bottled Beer of Norfolk competition, including seven gold medals since 2015, overall winner in 2016 and the top two places overall in 2017. 
Martin Warren says: "I have great pleasure in announcing that the Poppyland Brewery will continue under new ownership in 2019. Poppyland's many fans were disappointed to hear that the award-winning beers might no longer be available when I retire but by yet another great stroke of luck just the right fellow has come forward to take it on. 
"Dave Cornell has a second home in Cromer not far from the brewery and in retirement is moving up here permanently. He is keen to continue the same diverse style of brewing under the same Poppyland name and I will be working with him to guide and support him in his endeavours. 
"While not yet a professional brewer his interests in restoring old motorcycles and bee-keeping suggest he has excellent transferable skills for a quirky microbrewer. And it is worth mentioning that his brother is Martyn Cornell, the beer writer and brewing historian.I look forward to seeing the brewery reinvigorated and say, 'Cheers, Dave! Further adventures in beer start here!'" 
Dave Cornell adds: "I have enjoyed Poppyland's beers enormously since the brewery opened, and when Martin told me he was retiring I quickly decided I would love to take on the challenge of running the business to the extremely high standards he has set. 
"I intend continuing the same strategy of making interesting top-quality beers using local ingredients whenever possible, looking to bring drinkers a wide range of styles, some new, some Poppyland's take on beers from the past, all as good as we can make them.The success of Poppyland has shown that small brewers who find a niche making unusual, sought-out brews can thrive where others who try to take on the megabrewers struggle." 
Poppyland Brewery is a two-barrel microbrewery based in an Edwardian building in West Street, Cromer, Norfolk that was formerly a motor garage. 
"Poppyland" was the name given to the North Norfolk coast by the Victorian journalist and writer Clement Stock, popularising it as a holiday destination. Poppies still grow extensively in Norfolk's barley fields, which produce what is widely recognised as the best malting barley in the world. 
Contact: Dave Cornell, dave@dave-cornell.co.uk 07802 160558
Martyn Cornell, martyn@martyncornell.net, 07950 291326