News
It's beginning to look a lot like Beermas
Added: Friday, December 14th 2018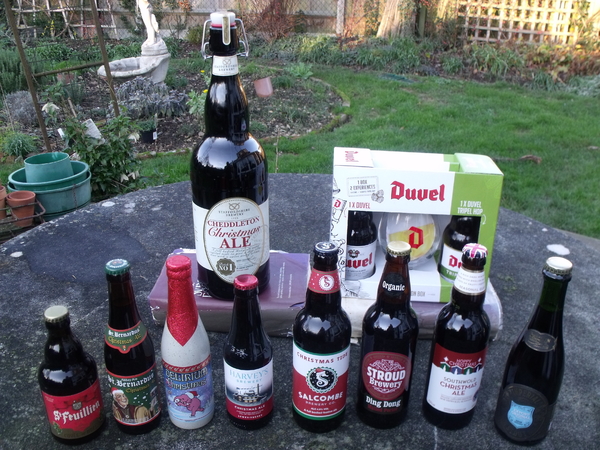 The high demand for Christmas beers can be measured by the fact that one of the most popular beers for the holiday season – Bateman's Rosey Nosey – is sold out and is unavailable. That's sad news – but there are many alternatives of rich brews to warm the proverbial cockles of the heart.
First up as a result of its sheer size is Cheddleton Christmas Ale (4.6%) from the Staffordshire Brewery in Leek, complete with the famous Staffordshire Knot on the label. The beer is widely available in garden centres, including the aptly named Frost group, and comes in an enormous two litre bottle with a swing top. There's even a 3 litre bottles – but you will need a small army of dwarfs to carry this for you.
It's a full-bodied, ruby-coloured ale with a generous amount of crystal malt. The 2 litre version costs £19.19.
Harvey's of Lewes in Sussex is one of Britain's venerable family brewers dating from 1838, using traditional equipment, including wooden fermenting vessels and wedded to the finest English malts and hops. It's Christmas Ale, 7.5%, is a dark barley wine with biscuit malt and marzipan and sultana fruit on aroma and palate. www.harveys.org.uk
The Chiltern Brewery is run by the Jenkinson family, who restored brewing to Buckinghamshire in 1980 following a spate of takeovers and closures in the 1960s and 70s that witnessed the end of such well-known producers as ABC – the Aylesbury Brewery Company. Head brewer Tom Jenkinson produces an annual Imperial Vintage Stout, 9%, modelled on the stouts sent by London brewers in the 18th and 19th centuries to Russia and the Baltic States. The beers were held in such esteem in the Russian court that they were given a royal warrant, enabling the brewers to call them Russian Imperial.
Chiltern, in common with Harvey's, believes passionately in using English-grown malts and hops. This year, Tom has added two additional versions of the stout: Tudor Spiced and Oak Aged, the latter aged in whisky barrels. The beers are bottle conditioned and burst with powerful notes of roasted grain and dark burnt fruit with a solid underpinning of earthy hops, plus spicy notes in the Tudor version. www.chilternbrewery.co.uk
Adnams of Suffolk, produce a Southwold Christmas Ale (4.2%) for Marks & Spencer. The beer is brewed with rye alongside barley malt and is hopped with English varieties. In common with all Adnams' beers, it's packed with rich grain and hop character.
The Stroud Brewery in Gloucestershire specialises in organic beers and its Ding Dong Mulled Porter (4.5%) is built on a complex base of organic malts, including chocolate, with organic hops, orange peel and spices. The beer makes a fine companion for Christmas desserts, with a big hit of chocolate, tart orange and tangy spices on the nose and palate.It's suitable for vegetarians and vegans. www.stroudbrewery.co.uk Also from Vintage Roots and Craft Drinks.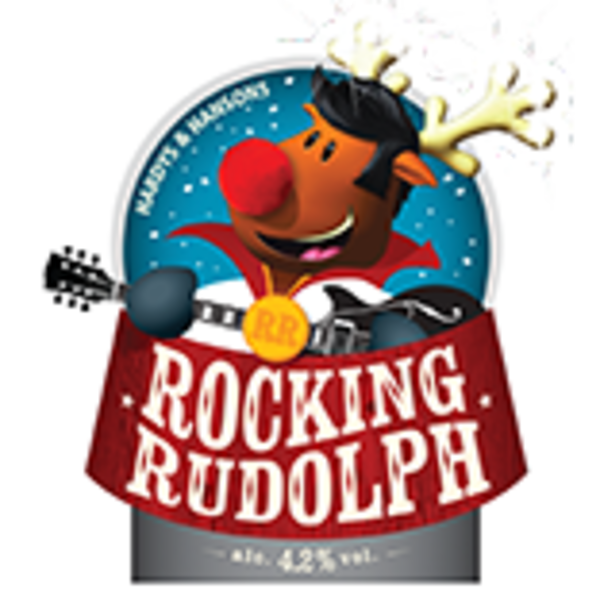 So far all the beers have been bottled but on draught look out for the biggest-selling Christmas ale of them all: Greene King's Rocking Rudolph (4.2%). It's also available in bottle but it can be enjoyed throughout the Suffolk brewer's nationwide estate of pubs. It's a traditional winter warmer and has a ripe toffee/butterscotch character from the generous use of crystal malt but is underscored by a powerful hop note from Bramling Cross, Challenger and Target, which add piny, peppery and blackcurrant flavours.
The Salcombe Brewery has an idyllic location in coastal Devon and has entered the seasonal fray with Christmas Tide (4.9%). There's a massive hit of malts – crystal, chocolate and wheat – on the palate but a complex hop bill adds a spicy and peppery balance. www.salcombrewery.com
The Belgians of course cannot be left out of the festive beery pleasures. With St Bernardus Christmas Ale (10%), it's time to cue Mel Tormé and chestnuts roasting by an open fire. This ruby/brown Abbey beer has a massive hit of alcohol with a nutty, grain, Dundee cake aroma and palate with powerful hints of peppery hops and burnt fruit.
St Feuillien Cuvée de Noël (9%) is aged in the brewery's cellars for several months before it's released for Christmastide. It's an amber beer with a superb balance of ripe fruit, creamy malt and floral hops.
The Huyghe brewery is famous for its powerful Delirium Tremens strong ale. The triple fermented seasonal version is Delirium Christmas (10%) with a label that says it's brewed from malt, hops, yeast and water, which doesn't begin to do justice to a beer that's packed with honeyed malt, ripe fruit and a big hit of floral and spicy hops.
Search for these beers in specialist beer shops such as the Beer Shop in St Albans and Hop Hideout in Sheffield.
The legendary Belgian golden ale Duvel may not be a seasonal ale but the gift pack makes a perfect present – even if you give it to yourself. The pack includes a bottle of the original 8.5% triple fermented beer, famous for its Poire William aroma and palate, with a special version called Triple Hop Citra. When the brewer, Duvel Moortgat, experimented with a variety of hops to add to the recipe, drinkers chose Citra as their favourite. The bottles come complete with a Duvel glass, designed to hold the big fluffy head when the beer is poured. The gift packs are available from Beer Hawk and the Belgian Beer Company.