News
Beer hits new heights at American fest
Added: Friday, October 5th 2018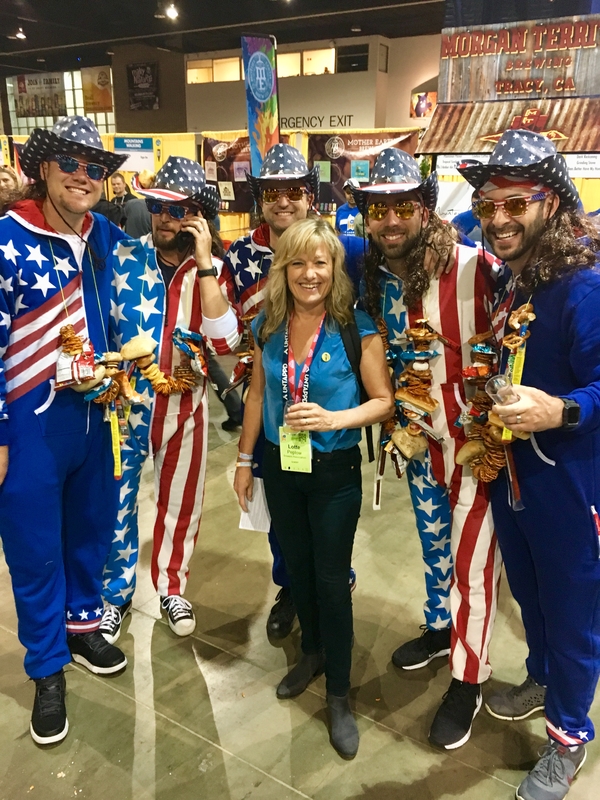 By Lotte Peplow
The Great American Beer Festival (GABF), organised by the Brewers Association, the not-for-profit trade body representing small and independent American craft brewers, takes places every autumn in Denver, Colorado (writes Lottle Peplow, pictured above with American friends). Now in its 37th year, last September's Festival was the biggest ever, featuring over 800 breweries pouring 4,000+ beer and attracting 62,000 visitors over the course of three days.Taking place at the same time was the GABF competition, the largest commercial beer competition in the world, which comprised nearly 8,500 beers from 2,404 breweries which vied for brewing excellence in 102 different beer categories and were judged by 293 judges from 13 countries.
In a vast, cavernous Convention Centre the size of eight football pitches GABF is amind-blowing,and overwhelming experience, but for identifying new trends it's the place to go.  Here are Six of the Best Hot New Takes from this year's Festival:
Lager and Sessionable Styles
American craft brewers love to push the envelope with experimental and adventurous beers but proven technical excellence was very much on show at GABF with classic lagers styles brewed to perfection. Just such an example was Left Hand's Travelin' Light Kölsch, a classic iteration of the German 'hybrid' style that was golden, crisp, dry and refreshing.Sessionable American craft beer styles account for over 26% of the growth in craft sales value, according to the Brewers Association, and many American craft brewers now have the confidence and facilities to brew perfectly crafted, clinically clean, refreshing and crisp Helles, Pilsners, Kölsch, Altbiers, Oktoberfest, Dunkels and many more.   These styles appeal to young drinkers coming into the craft beer category for the first time as well as those older drinkers who entered the craft beer world at its inception, some 30-40 years ago, and are now looking for something more sessionable.  This trend looks set to continue.
Barrel-Aged Beers
The Barrel-Aging game was ramped up several notches by the addition of the new Jameson Caskmates Barrel-Aged beer garden at GABF where all beers were barrel-aged in Jameseson Irish Whiskey barrels, Cigar City Beoir Le Caife, a brown ale brewed with lactose and coffee then aged in Jameson Whisky Barrels blew my mind with its smooth, rich, chocolate and coffee character.  Elsewhere in the Festival beers aged in oak barrels or those previously holding wine, gin, tequila,  brandy, Bourbon and more were pouring Not all were knock-your-socks-off imperial stouts over 12% ABV, although there were plenty of these up for grabs, some of the more nuanced and elegant barrel-aged beers were sour beers aged in oak barrels with fruit added.
IPAS
The IPA style, and its many iterations, still reigns supreme and accounts for over a third of all American craft beer sales and accounts for 77% of craft growth (Brewers Association).
New England (or to give the style its proper name, Juicy or Hazy) IPA, the latest darling of the craft beer world, remains on its upward trajectory and was judged for the first time at the GABF competition this year. Juicy or Hazy IPAs attracted the most category entrants of all with 391 (overtaking America-style IPA, which had held the mantle for over a decade ) and was won  not by a New England beer but one from Chicago – Le Jus from Alarmist Brewing!
This year's Festival saw a pre-ponderance of  juicy and hazy IPAs but two very different takes on the style stood out: "milkshak"  and "Brut".  Milkshake IPAs are thick, hazy, juicy and brewed with fruity hops and lactose for a full, sweet mouthfeel, while Brut  IPAs, on the other hand, are bone-dry, pale in colour and highly effervescent.  Brewed to resemble champagne, the bitterness is kept in check by dry-hopping to ensure a crisp, well-attenuated, elegant beer.  For "haze craze" purists  Sierra's Nevada' new Hazy Little Thing ticked all the boxes with its super-juicy, tropical and citrus hop notes that finished with minimal bitterness on the palate.  American craft brewers certainly love hops and  the IPA trend is unlikely to change any time soon.
Vegetable Sours
Sour beers brewed with fruit are commonplace, but vegetable and savoury sours are a whole new ball game.  One of the hottest beers of the Festival was a Spaghetti Gose from WeldwerksBrewing Co.  Brewed with roasted tomatoes, fresh basil, oregano, sea salt and spaghetti pasta it tasted just like a plateful of pasta smothered in tomato sauce.  Also on point wasSka Pink Vapour Stew, a delicious medley of citrus, sour and tart flavours blended together with beets, carrots, ginger and apples! Other beers featured cucumber, kale, mint, rosemary, jalepeno peppers and shiitake mushrooms to name but a few. Are these styles likely to become a mass-market trend? Probably not, but they demonstrate the ground-breaking creativity of American craft brewers.
Wine Influenced Beer
Whether this is a trend or a gimmick remains to be seen, but the use of wine yeast, wine barrels and wine ingredients served to blur the lines between grape and grain, for example, new Oskar Blues Guns n Rosé  is a rosé style ale brewed with hibiscus and prickly pear and based on rosé wine while Calicraft Barrel Project Sour Hibiscus and Chamomile Rose Ale is a sour blond ale fermented with a red wine yeast, aged in red wine barrels and finished with hibiscus and chamomile tea.As one brewer put it: "we take the refinement out of the barrel and add the funk from the farm!"
Botanicals
Spices, herbs, tree sap, spruce tips, pine needles, coconut, key lime pie, peanut butter are all fair game for American brewers who like to experiment with just about anything, edible or otherwise! While still in evidence the coffee beer trend was less obvious than previous years although chai, latte, tea and vanilla influenced beers were present. "Glitter" beers were not a thing!
In the States, there are now over 6,700 small and independent craft brewers who represent 12.7% by volume of the overall beer market. The UK is the second largest export market for American craft beer (behind Canada)  and  accounts for 10.5% of all American craft beer exports,up 7.1% in 2017 (the latest figures available).  The UK's thirst for high quality, diverse and experimental American craft beer shows no signs of abating and once these trends ripple across the Atlantic expect to see yet more beer options in the UK. 
*Lotte Peplow attended the Great American Beer Festival as a guest of the Brewers Association.