News
Drinkers swarm for Hannah's honey beer
Added: Monday, September 24th 2018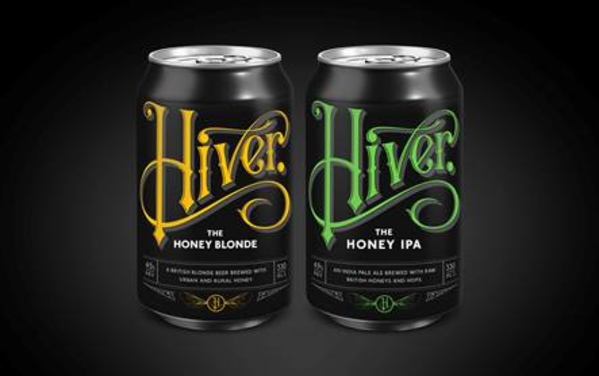 With her range of Hiver honey beers, Hannah Rhodes in South-east London combines two of the world's oldest types of alcohol: mead and ale. Mead is made by fermenting honey and water.
Hannah uses only English ingredients, including such different varieties of honey as Urban London, English Blossom and Heather. Hops include English Cascade, Bramling Cross, Challenger and Pilgrim.
Hannah is based in Bermondsey – yes, it's another brewery in London's most beery borough – and is celebrating her fifth anniversary by launching Hiver beers in cans to augment her bottles and kegs.
She says she launched Hiver "out of admiration for London's urban beekeepers along with my passion for craft beer.
"We ferment with raw honey that's not pasteurised. Bees forage in a three-mile radius of the hive and the three honeys we use are as varied as malted barley and hops."
Honey is used as an ingredient in the fermentation and conditioning, not as an additional flavouring when fermentation is complete. Hannah ferments with lager yeast to give the finished beers a crisp palate.
Ten per cent of the profits from the brewery are donated to pollinator charities such as the London Beekeepers Association that support wild flower planting.
Hiver Blonde (4.5%), the original beer, has won gold medals in 2018 in both the World Beer Awards and Great Taste. It uses English Cascade and Challenger hops and three varieties of honey. It's a straw-coloured beer with a big honey hit on the nose, balanced by juicy malt, peppery hops and orange fruit. Honey, orange and peppery hops combine on the palate, followed by a bittersweet finish with rich honey notes balanced by peppery hops, juicy malt and tart fruit.
Hiver Honey IPA (4.9%) is brewed with Bramling Cross and Pilgrim hops and tree honey – the honey variety is one of the last sources of forage for bees before the winter. It has a deep bronze colour, and spicy and fruity hops combine on the nose, with rich honey and cracker-like malt. Dry honey, spicy hops, biscuit malt and tart fruit coat the tongue, while honey dominates the finish but with continuing notes of biscuit malt and spicy hops. It is finally intensely bitter and hoppy.
330ml cans cost £2.80. A gift pack of three cans is £15.
•Hiver, Arch 56, Stanworth Street, London SE1 3NY. 07740 251649. Hannah@hiverbeers.com. www.hiverbeers.com