News
Champion stout good way to start the day
Added: Wednesday, August 8th 2018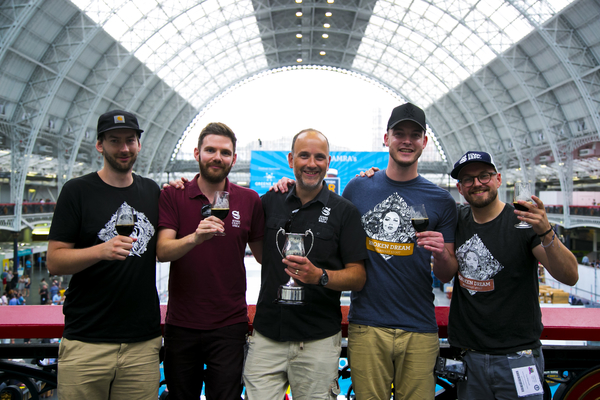 A strong stout brewed with coffee beans and lactose has won the prestigious title of Champion Beer of Britain on the opening day of the 2018 Great British Beer Festival. Broken Dream Breakfast Stout (6.5%) comes from Siren Brew in Finchampstead, Berkshire, which has been brewing since 2013.
Siren Brew, founded by Darron Anley (pictured in the centre with his brewing team), specialises in barrel-aged beers and also using ingredients that broaden beer appreciation. Breakfast Stout uses eight specialist malts, including chocolate malt, oats, smoked malt and grain from the famous Weyermann maltsters in Bamberg, Germany.
Lactose or "milk sugar" is added to give the beer a creamy and smooth character. Lactose is a by-product of cheese-making and is made up of 95 per cent milk sugars. It cannot be fermented by brewer's yeast and leaves carbohydrates and calories in the finished beer. The coffee used in Breakfast Stout, which is added during both mashing and the copper boil, comes from specialist roasters in Berkshire. Just one hop, Magnum, is used.
The beer has an entrancing aroma of chocolate and espresso coffee with rich notes of roasted grain and creamy malt. The hops make an appearance on the palate and balance the richness of grain, chocolate and coffee. The long finish is bittersweet, with continuing contributions from chocolate, coffee and roasted and smoked malts but the hops lead to a dry finale.
The silver award in the championship went to Green Jack Brewery of Lowestoft, Suffolk, for Ripper, a 8.5 per cent barley wine. Bronze was won by Mordue Brewery of North Shields, Tyne & Wear, for Workie Ticket, a 4.5 per cent Best Bitter. Workie Ticket won the overall championship in 1997.
Category Winners
Mild
Gold: Greene King xx Mild
Silver: Rhymney Dark
Bronze: East London Orchid
Bitter
Gold: Orkney Red MacGregor
Silver: Mighty Oak Captain Bob
Bronze: Joint winners Bank Top Flat Cap & Acorn Barnsley Bitter
Best Bitter
Gold: Mordue Workie Ticket
Silver: Bishop Nick 1555
Bronze: Joint winners St Austell Tribute & Salopian Darwin's Origin
Golden Ale
Gold: Salopian Oracle
Silver: Salopian Hop Twister
Bronze: Joint winners Abbeydale Moonshine & Windsor & Eton Knights of the Garter
Strong Beers
Gold: Fuller's Dark Star Revelation
Silver: Bay Devon Dumpling
Bronze: Kinver Half Centurion
Speciality Beers
Gold: Colchester Brazilian Coffee & Vanilla Porter
Silver: Cromarty Red Rocker
Bronze: Derventio Cleopatra
Stout
Gold: Siren Craft Brew Broken Dream Breakfast Stout
Barley Wines & Strong Old Ales
Gold: Green Jack Ripper