News
Siren and I&G: new beers on the block
Added: Monday, May 21st 2018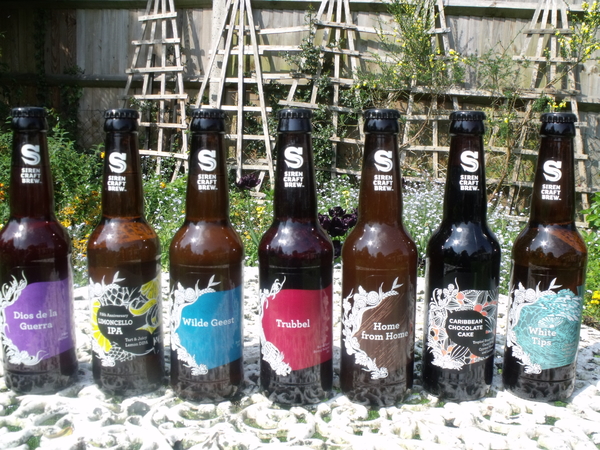 Siren Craft Brew has launched a raft of new beers, some made in collaboration with other brewers. The Berkshire brewery, based at Finchhampstead, opened in 2013 and its 40-barrel plant includes a large barrel-ageing department.
The new beers are:
Home from Home, 6.5%, brewed in collaboration with Reuben's Brews of Seattle, Washington State, United States. The beer includes Ethiopian coffee and is hopped with Citra, Galaxy, Mosaic and Motueka varieties.
Trubbel, 8.5%, is a barrel-aged, Belgian-style strong ale aged in Bordeaux wine barriques and bourbon barrels: the two beers are then blended. It has wine tannins and cherry and strawberry fruit aromas and flavours.
Dios de la Guerra, 8.5%, is based on an old North-east of France beer style Bière de Mars or March Beer. It was stored during the winter and launched to celebrate spring. This interpretation is brewed in collaboration with Naparbier and is inspired by the use of flowers in modern Spanish brewing. It's an aromatic farmhouse ale with notes of camomile, hibiscus and tart citrus fruit. Naparbier is based in Pamplona, in the Basque region. It was founded in 2009 and now has a big range of beers. Pamplona is best known for Ernest Hemingway's novel The Sun Also Rises.
Limoncello IPA, 9.1%, is brewed with Hill Farmstead Brewery in Vermont, U.S. One batch has been produced of a beer that put Siren on the map when it was first brewed. It has a malt base of Pilsner and wheat, and lactose (milk sugar) is added for a hint of sweetness, along with tart lemon zest. Citrus-led hops add bitterness and tart fruit.
White Tips, 4.5%, is a seasonal Belgian-inspired Wit or wheat beer but with a hop rate more usual in an IPA. A Belgian Wit yeast culture is used.
Wilde Geest, 7.2%, is brewed with Wiper and True of Bristol. The two breweries set out to see what happened when an IPA was infused with the wild yeast Brettanomyces, which means British fungus and was first discovered when porters and old ales were stored for long periods in oak tuns. Brett, for short, gives an earthy and musty character to beer that brewers call "horse blanket".  Wilde Geest is hopped with Citra, El Dorado, Hallertau Blanc, Loral and Simcoe varieties.
Caribbean Chocolate Cake, 7.4%, is brewed in collaboration with Cigar City Brewing of Tampa, Florida: Tampa was once the centre of the cigar trade, and the town was famous for such dark beers as brown ale and porter. The stout is brewed with hand-roasted cacao nibs, lactose and roasted malt and is aged in Cyprus wood.
These are all amazing beers, with Caribbean Chocolate Cake and Wilde Geest the standout brews. www.sirencraftbrew.com
Innis & Gunn, the multi-award-winning Scottish brewery, famous for its oak-aged beers, is now based at the Inveralmond plant in Perth, where "straight" beers, as opposed to oak-aged ones, are also produced.
Gunnpowder IPA, 5.6%, is available in bottle and can and is massively hopped with Cascade, Centennial and Mandarina varieties that give an orange and pine note to the beer. As well as citrus fruit, there is toasted malt and peppery hops on the nose, with orange and grapefruit on the palate, with fresh pine, bitter hops and juicy malt. Bitter hops, pine, tangy fruit and honeyed malt combine in the finish. www.innisandgunn.com