News
Cask is king at new Bath Ales brewery
Added: Thursday, May 17th 2018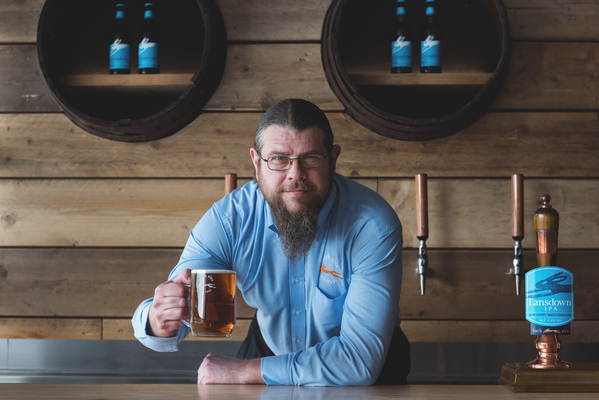 The opening of Bath Ales new Hare Brewery in Warmley, where 50,000 barrels a year can be produced, is further evidence of the dramatic growth of the artisan sector of the British beer market and a belief in quality beer – cask ale in particular – by owner St Austell.
The Cornish brewery dates from 1851 and is still family-owned. It has a firmly traditional brewery and, while it now produces lager and a substantial amount of bottled beer, retains a powerful commitment to cask beer that is available in all its 170 pubs.
Roger Ryman, director of brewing (below, who works with senior brewer Darren James, above), is in charge of production at both St Austell and Bath and says he and his colleagues in Cornwall saw the potential for a different approach at Bath, which was launched in 1995.
Roger says: "We've all shared a clear vision for Hare Brewery: to build one of the region's most technologically advanced and fully bespoke brewhouses.
"We hope the new brewery will play its part in shining a light on the vibrant South-west beer scene. Since Bath Ales joined St Austell there's been a continued passion and appreciation of only brewing the highest quality beers."
St Austell has invested £5 million in the new brewery, which occupies a former 19th-century warehouse. The brewhouse is on the first floor and was designed and built by Musk Engineering of Burton-on-Trent. The floor also has a tap room for visitors, as tours are available. The ground floor is given over to fermentation vessels, cask racking, kegging and packaging.
It's a multi-functional plant that can produce both top-fermented ales and bottom-fermented lagers and is based on the continental system of mash mixer, lauter or filtration vessel, and wort kettle and boiler.
The system allows more batches of beer – 50 barrels per brew – to be achieved than the traditional mash tun method used at St Austell. Each batch takes just 2½ hours to be processed.
Pellet hops are used in the whirlpool but whole flower versions can be added in a hop aroma vessel. Roger Ryman says he first came across a hop aroma vessel when he was visiting a craft brewery in the United States. He's a great lover of whole hops, which he feels gives enhanced character to finished beer.
The region is based on limestone and the result is extremely hard brewing water. A reverse osmosis system has been installed to remove carbonates and the water is softened further to brew a new lager called Sulis. The 4.4% beer is named in honour of Sulis Minerva, the Roman goddess of Bath, a city famous for its Roman baths.
Outside the brewery, two enormous bins hold barley malt ready for the brewing process. There are 29 tonnes of malt in each bin and the grain is the renowned Maris Otter variety, sourced from Crisp Malt in Norfolk and Fawcetts in Yorkshire. Roger Ryman says both breweries use Maris, which he has specially grown in Cornwall, and he believes the group is now the biggest buyer of the barley variety in the world.
There are a dozen 100-barrel fermenting vessels on the ground floor. Roger Ryman says the yeast cultures used, for both ale and lager, are "bottom cropping", removed from the base of the fermenters.
There are two two-barrel racking tanks for cask beer, which accounts for 50 per cent of production. Keg beer accounts for 10 per cent and the remaining production is in bottle. The bottling line runs at 7,000 bottles an hour: the beer is sterile filtered and not pasteurised.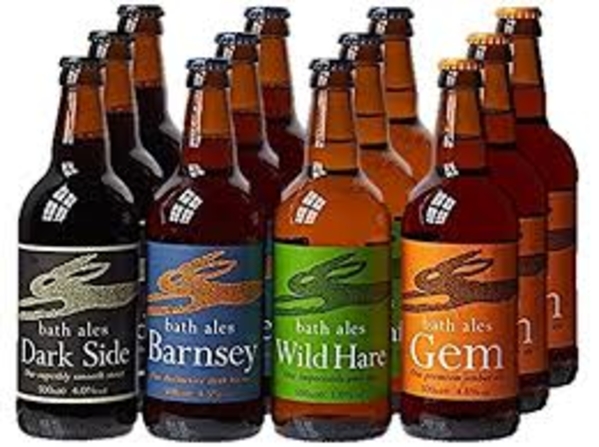 The cask beer range offers the brand leader Gem (4.1%) along with Special Pale Ale (3.7%), Prophecy. (3.9%), Barnsey (4.5%) and a new West Coast-style IPA, Lansdown (5%), which uses six hops: Fuggles, Goldings, Styrian Dragon, Simcoe, Mosaic and Dinali.
Darren James, the senior brewer at Bath, who has worked there for 15 years, says: "Opening Hare Brewery is a very exciting time for everyone involved. Extra capacity means more beer for Bath Ales' drinkers, including our flagship ale, Gem. And we've already started brewing a wider range of beer styles on the new equipment, including Sulis, our first lager.
"We've taken everything we've learned from the great lager brewers of Germany to make a classic beer hopped with exciting new hop varieties – Lemon Drop and Hüll Melon – to give the lager a bright freshness and a subtle hint of fruitiness."
As well as the brewery tap bar, Bath beers can be enjoyed in the Hop Pole, Salamander, Swan and Wellington pubs in Bath and the Hare in Cirencester.
And there's the spacious Graze bar and restaurant (below) at Bath railway station where diners and drinkers can view the one-barrel brewing plant there that produces a cask ale called Platform 3 – proof, if proof were needed – that Bath Ales is going full steam ahead.