News
Scots stout & Irish whiskey pool flavours
Added: Thursday, March 22nd 2018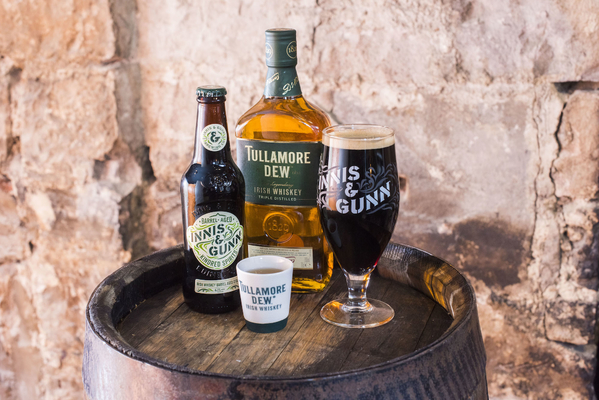 The launch of Kindred Spirits brings the Innis & Gunn story full circle. While the I&G stout is aged in Tullamore D.E.W. whiskey barrels, the Irish distiller became part of the William Grant whisky group in 2010 – and it was Grant's that helped I&G develop its oak-aged range of beers.
Dougal Sharp was the head brewer at Caledonian Brewery in Edinburgh when William Grant asked for beer to use in a new Cask Reserve Scotch Whisky portfolio. The beer was intended to be used only to age the casks and would then be thrown away. But staff at the distillery enjoyed the beer so much that Dougal decided to leave Caledonian and set up his own company to make beers aged in oak casks, using Bourbon wood imported from the United States.
Innis & Gunn is now one of Scotland's major companies. In 2017, it sold more than 27 million bottles of beer to more than 30 countries. For a number of years the beers were brewed at first Belhaven and then Tennents breweries, but in 2016 I&G bought the Inveralmond Brewery in Perth and brews and ages its beers there.
Tullamore D.E.W. is triple distilled in Irish whiskey barrels and has a smooth and silky aroma and flavour. The 6.1 per cent stout that's aged in the barrels is brewed with extra pale, amber and chocolate malts with some roasted barley and is hopped with Citra and Herkules varieties. The sweet and spicy palate of the whiskey blends well with the stout that has dark chocolate notes alongside vanilla and oak.
*Tullamore D.E.W. is the world's second largest Irish whiskey brand with global sales of more than one million cases annually. It's a blend of three types of whiskey – grain, malt and pot still. The sweet softness of grain whiskey, spice from the pot still and the fruitiness of malt create a unique flavour that marks out Tullamore D.E.W. from all other Irish whiskeys.
Kindred Spirits, £3.50 a bottle from www.innisandgunn.com/shop-landing