News
Wolf and North seize SIBA gold
Added: Friday, March 16th 2018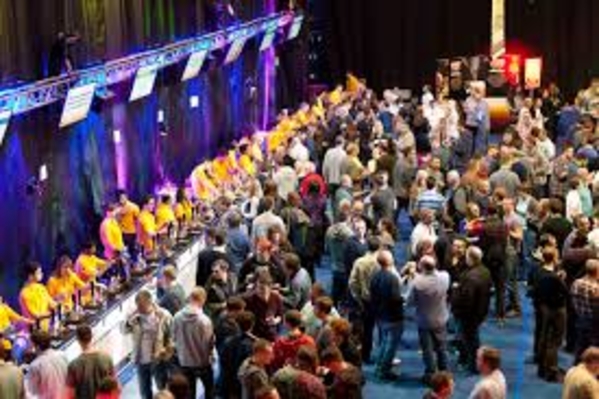 Wolf Brewery and North Brewing Co have taken home Overall Champion Gold in the Cask and Keg Awards at the SIBA Independent Beer Awards 2018, with Tring Brewery being named the best bottled or canned beer.
 
Judged by brewers and industry experts and organised by the Society of Independent Brewers (SIBA) at their flagship BeerX event in Liverpool, the awards run across a huge range of beer style categories in cask, craft keg, bottle and can.
 
The Champion Cask beer is Sirius Dog Star from Wolf brewery and is described as being a 'uniquely flavoured red ale, lightly hopped with American Galena and Cluster hops, a smooth beer with a soft fruity finish', it was Transmission from North Brewing Co that took home the top gong in the Craft Keg competition with their 'hugely drinkable Beer with a light body and dry finish' , in the bottle and can competition (known as 'smallpack' by those in the trade) it was Death or Glory from Tring Brewery, A 'rich, sweet barley wine with a heady, alcoholic nose and incredibly complex flavour profile.'
 


Georgina Edwards, Wolf Brewery:


 


"A lot of blood sweat and tears goes into that beer so it means a huge amount to win. It means the world to the family. We were aiming for a smooth, dark session beer that is accessible but with huge flavour - something I think we achieved!"


 


John Gyngell, North Brewing Co:


 


"This award means so much to the whole team, who have been hustling hard and constantly growing the business and making great beer. This beer started life as a trial brew before our brewer Seb even joined us full time. He's still constantly improving it, and now with this beer we think we've nailed that combination of drinkability and a modern, full flavour."


 


Sam reed, Tring Brewery:


 


"One of our original founders was a royal lancer and this beer is his creation - it's proved so popular we've been brewing it ever since! We just think it's a great barley wine and it's nice to know that we're doing the right things after all these years of brewing it."


 
The SIBA Independent Beer Awards at BeerX are the trade association's National finals and in order to earn a place at the competition brewers must first win at their regional competition – making these overall Champions very much the 'best of the best' when it comes to British independent craft beer.
 
SIBA Chairman Buster Grant, a brewer himself at Brecon Brewing in Wales, congratulated the winners on their huge achievement:
 
"Making it to the finals is an achievement in itself, winning your style category is something to be even more proud of, and then going on to be named the Overall Champion Gold against such tough competition really is something truly special. These are the three best beers from independent craft brewers across cask, keg, bottle and can – beers which I would encourage both beer drinkers and publicans across the UK to seek out while they still can, as demand for these beers is surely about to go through the roof!"
SIBA's National Independent Beer Awards 2018
Full Winners List
Overall Cask Champions 
Sponsored by Close Brothers Brewery Rentals

 

Brewery

Product

ABV

Gold

 Wolf Brewery

 Sirius Dog Star

4.4

Silver

 Oakham Ales

 Green Devil IPA

6.0

Bronze

 Bedlam Brewery Ltd

 Porter

5.0
Cask Champion Standard Mild Ales & Brown Ales
 


Sponsored by Murphy & Sons Ltd

 

Brewery

Product

ABV

Gold

 Wolf Brewery

Sirius Dog Star

4.4

Silver

 Langham Brewery

Triple XXX

4.4

Bronze

 Jaw Brew

Fathom

4.0
Cask Champion Standard Bitters & Pale Ales
Sponsored by Close Brothers Brewery Rentals

 

Brewery

Product

ABV

Gold

 Wye Valley Brewery

 The Hopfather

3.9

Silver

 Purity Brewing Company

 Bunny Hop

3.5

Bronze

 Lacons Brewery

 Encore

3.8
Cask Champion Best Bitters & Pale Ales
 


Sponsored by Napthens LLP 


 
 

Brewery

Product

ABV

Gold

 Grain Brewery

Redwood

4.3

Silver

 Brew York Ltd

Keras

4.1

Bronze

 Ludlow Brewing Company

Blonde

4.0
Premium Bitters & Pale Ales
 


Sponsored by Thomas Fawcett & Sons

 

Brewery

Product

ABV

Gold

 Hooded Ram Brewing Company

 Liberty East Coast Pale

4.8

Silver

 Dark Star Brewing Co Ltd

 American Pale Ale

4.7

Bronze

 The Backyard Brewhouse

 Gold

4.5
Cask Champion Strong Bitters & Pale Ales
 


Sponsored by Charles Faram & Co Ltd

 

Brewery

Product

ABV

Gold

 Oakham Ales

Green Devil IPA

6.0

Silver

 Rooster's Brewery Ltd

Baby-Faced Assassin

6.1

Bronze

 Cairngorm Brewery

Wildcat

5.1
Cask Champion Premium Strong Beers
 


Sponsored by Crisp Malting Group

 

Brewery

Product

ABV

Gold

 Big Smoke Brew Co

 The Judge DIPA

8.5

Silver

 The Loose Cannon Brewing Co ltd

 Double IPA

7.5

Bronze

 Brecon Brewing

 Mind Bleach

10.0
Cask Champion Porters, Stouts, Old Ales, Strong Milds & Strong Brown Ales
 


Sponsored by SPAsoft Ltd


 
 

Brewery

Product

ABV

Gold

 Bedlam Brewery Ltd

Porter

5.0

Silver

 Northern Monkey Brew Co

Underdog

6.0

Bronze

 Windswept Brewing Co

Wolf

6.0
Cask Champion Speciality Light Beers
Sponsored by Rankin Brothers & Sons

 

Brewery

Product

ABV

Gold

 Dancing Duck

 Wot the Duck? Duck a l'orange

6.4

Silver

 Loch Lomond Brewery

 Out of Range

5.9

Bronze

 Green Jack Brewing Co. Ltd.

 Orange Wheat

4.2
Cask Champion Speciality Mid to Dark Beers
Sponsored by Pentair Food & Beverage Solutions

 

Brewery

Product

ABV

Gold

 Orkney Brewery

Dark Island Reserve

10.0

Silver

 Blue Monkey Brewery

Guerrilla Chocolate Amaretto

4.9

Bronze

 Mantle Brewery

Dark Heart

5.2
Champion 
Small Pack Beers
 


Sponsored by Croxsons 


 
 

Brewery

Product

ABV

Gold

 Tring Brewery

 Death or Glory Ale

7.2

Silver

 Gun Brewery

 Imperial Whisky Stout

7.4

Bronze

 Wily Fox Brewery

 Karma Citra

4.3
Small Pack Champion Standard Mild Ales & Brown Ales
 
 

Brewery

Product

ABV

Gold

 Wolf Brewery

Sirius Dog Star

4.4

Silver

 Brampton Brewery

Impy Dark

4.3

Bronze

 Inner Bay Brewery

Jasper

3.9
Small Pack Champion Standard Bitters & Pale Ales
 


Sponsored by Norriq Ltd


 
 

Brewery

Product

ABV

Gold

 Wily Fox Brewery

 Karma Citra

4.3

Silver

 Loch Lomond Brewery

 Southern Summit

4.0

Bronze

 Ashover Brewery

 Littlemoor Citra

4.1
Small Pack Champion Premium Bitters & Pale Ales
 


Sponsored by Vigo Ltd 


 
 

Brewery

Product

ABV

Gold

 Thornbridge Brewery

AM:PM

4.5

Silver

 Tring Brewery

Pale Four

4.6

Bronze

 Rooster's Brewery Ltd

Twenty-Four Seven (24/7)

4.7
Small Pack Champion Strong Bitters & Pale Ales
 


Sponsored by Russell Scanlan 


 
 

Brewery

Product

ABV

Gold

 Windsor and Eton

 Uprising's Treason

5.8

Silver

 Maxim Brewery

 Maximus

6.0

Bronze

 Loch Lomond Brewery

 Bravehop Amber

6.0
Small Pack Champion Premium Strong Beers
 


Sponsored by Beatson Clark Ltd 


 
 

Brewery

Product

ABV

Gold

 Tring Brewery

Death or Glory Ale

7.2

Silver

 Knops Beer Company

Black Cork

6.5

Bronze

 Geipel Brewing

Zoiglator Bock

6.7
Small Pack Champion Standard Lager & Pilsners
Sponsored by Vale Labels Ltd


 
 

Brewery

Product

ABV

Gold

 Stewart Brewing

 Franz

4.0

Silver

 Charnwood Brewery

 Liska

 
In the Business Awards, Signature Brew in London was named Brewery Business of the Year and also won an award for Marketing Implementation. Farr Brew of St Albans won the Green Business Award while North Brewing of Leeds picked up the award for Business Innovation.
Loch Lomond Brewery won the top prize for Individual Design while Leigh-on-Sea Brewery in Essex won the award for Concept Design.
Waitrose was named Independent Craft Beer Retailer, off-trade while Wetherspoon won the Craft Beer Reteailer title for the on-trade.
Wigan Central was named Best Craft Beer Bar while the remote Caebahr Restaurant, owned by Bun Dubh Brewery on the Isle of Tiree in Scotland, won the title of Best Independent Craft Beer Restaurant.