News
Historic photos put hops in the picture
Added: Friday, February 16th 2018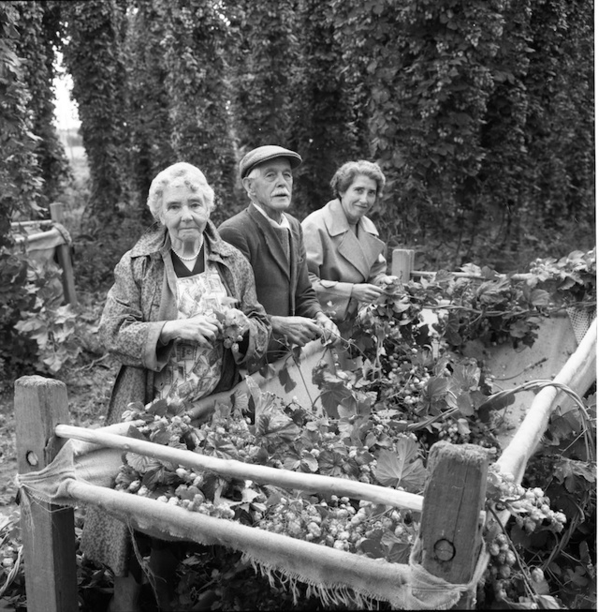 The British Hop Association has announced the arrival of a new film, made possible by National Lottery players, charting the heritage and future of hop picking in Herefordshire.  It will be premiered on Saturday 3 March as part of the Borderlines Film Festival at The Courtyard Theatre in Hereford. 
The film has been inspired by Derek Evans' photographic collection, which has recently been rediscovered. Derek Evans was well known for his black and white photography, his reportage and his own experiences of Herefordshire where he captured many treasurable moments.  He was passionate about the region and he wanted his pictures to lift people's spirits. The photo above shows the Jones family picking hops, below pickers round a camp fire in the evening.
His extraordinary images of life in the hop fields in the 1950s and 1960s have evoked many fond memories from pickers and local hop farmers including the late Peter Davies, a local hop pioneer, and Instone Court's Barry Parker who recently passed away. There will also be a photographic exhibition featuring Derek's photos of pickers, which will be shown alongside new work created by students from Hereford College of Arts.
Stories from the Hop Yards was filmed over a year and is brimming with archive photos, film and newly-recorded interviews from local hop farmers. The early autumn harvest period of high intensity sweat, toil and laughter from the time of Derek's photos changed with the appearance of the Bruff machine, which did the hop stripping mechanically. This put an end to the annual migration of pickers from the Black Country, South Wales and the Gypsy community.  Of those farms that have survived, some are several generations strong and with new farmers investing, there is a renewed vigor in the industry. 
This project is part of a larger Heritage Lottery-funded project: Herefordshire, Life through a Lens, produced by Hereford based Catcher Media.  There will be screenings of the film at Ludlow Assembly Rooms on Saturday 3 March and at Malvern Theatres on Tuesday 6 March following which it will tour the country and beyond.  To book tickets visit the Festival website: https://borderlinesfilmfestival.co.ukand for updates of the project and future screening dates, please visit: https://herefordshirelifethroughalens.org.uk.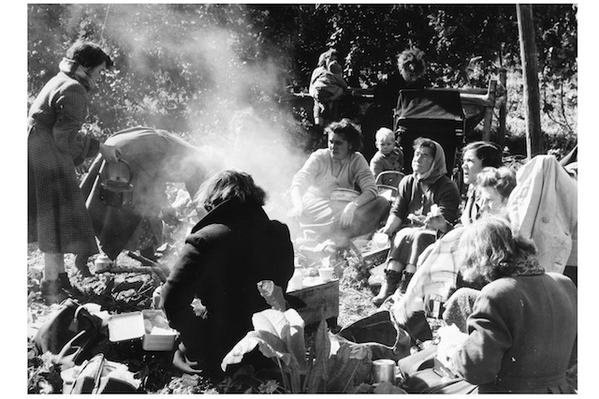 Ali Capper, Director of the British Hop Association, says, "This is an exciting project helping to promote the British hop industry nationally and internationally, which we are delighted to be involved in. It is fascinating to watch the progression of hop farming through the ages and we look forward to progressing further in the future."
The facts about British hops:
There are over 31 commercially grown British aroma hop varieties in the UK
British Hops represent 1.5% of world hop production (to put that in context, British wheat represents about 1% of world wheat production)
Over 40% of British hops are exported, in the main to the United States 
The photographic exhibition will run from 21 February to 2 April 2018 at The Courtyard, Edgar Street, Hereford HR4 9JR, Monday-Saturday from 10am till 8pm.  Entry is free.
To visit a farm during the British Hop harvest or to create a story about British hops and film the hop harvest or simply for more information, please contact: Ali Capper, British Hop Association: 01886 884202, 07973 562139 or alicapper@mac.comwww.britishhops.org.uk