News
Scots beer is star of the Christmas tree
Added: Wednesday, December 13th 2017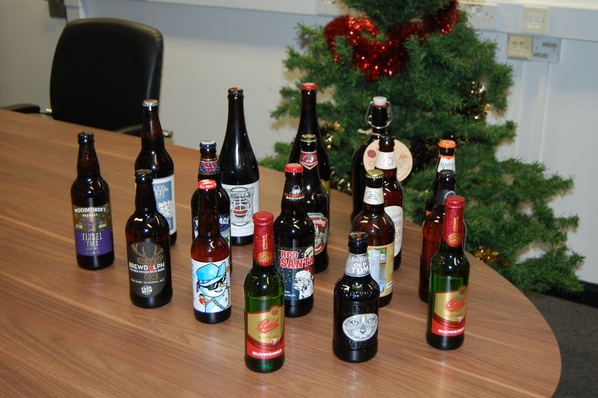 A wide selection of beers for the Christmas and festive season is available this year and a good choice from all parts of Britain was available for a tasting with friends, colleagues and even in-laws at the CAMRA head office in St Albans to choose the Champion Christmas Beer of the Year.
It's important to stress that this is an unofficial competition, not a CAMRA one – though I'm grateful to the Campaign for allowing the event to be held (after work!) at their offices.
Special thanks are due to the breweries that responded to my calls and sent samples of their beers.
What to look for in winter and festive beers? Warmth! A rich and complex use of malts, hops and even the addition of fruit, herbs and spices helps bring cheer to even the dankest and coldest day.
And, importantly, festive beers should be splendid companions for food. It's all too easy – as the posh press indicates – to reach for the wine bottle without thinking that beer is as good, if not a better, companion at the dining table.
Even wine experts admit that their tipple doesn't go well with soup, whereas strong brown ale, with rich malt and spicy hop notes, goes exceptionally well.
Whether you're a carnivore or a vegetarian, a hoppy pale ale marries well with most main courses, while a porter and a stout are made to marry with Christmas pudding or cake. And need it be said yet again, that pale ale and traditional cheese are a sublime combination. Stilton? Hold the port and reach for the IPA!
The beers tasted:
Robinson's Old Tom (8.5%); Innis & Gunn Frank & Sense (5.8%); Farr Brew Brewdolph the Red Nose Rein-Beer; Woodforde's Tinsel Toes; Bang-On Brewery St Nicholas; Chiltern Brewery Christmas Ale (4.6%); 3 Brewers Porter (5.2%); Hogs Back Advent Ale; Wychwood Bah Humbug; Nethergate Red Santa (4.2%); Tiny Rebel You Snows It; Wye Valley HPA (4%).
We also tasted Budweiser Budvar Imperial, which is neither British nor a member of the ale family – more of this anon.
The judges (pictured left to right) were Roger Protz, Val Langford, Nicola Marcus, Joe Baxter, Jill Burder, Jack Kellard and John Wiles. Katie Wiles took the photo and helped organise the event.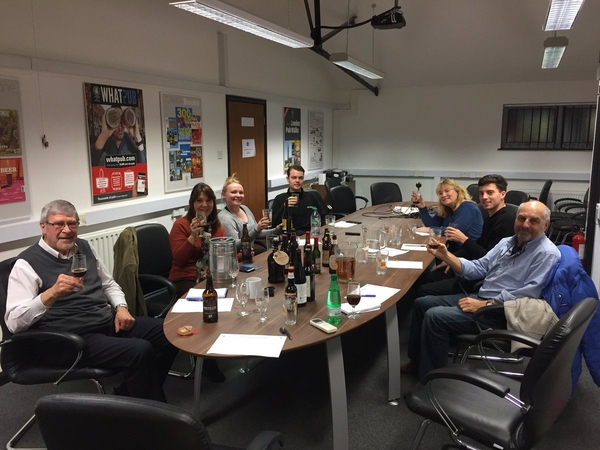 The judges were impressed with the overall quality of the beers. We have to give our apologies to Bang-On Brewery, for their St Nicholas is a mulled ale meant to be served warm and we lacked the necessary hot poker to do the job properly. We will treat it with greater care and attention in future.
The only dispute concerned two pale beers, Tiny Rebel You Snows It and Wye Valley HPA. Some judges thought they were too pale for the occasion. John Wiles suggested the Tiny Rebel would make a good welcoming aperitif beer before a meal. I was struck by its marvellous citrus hop aroma and palate, and thought it would be a splendid beer for either a main course or with cheese, as would HPA.
In general, the tasters loved the darker beers with their complex roasted malts, burnt fruit, Dundee cake and spicy hop notes. We were off to a flying start with the redoubtable Old Tom from Robinson's of Stockport, a 8.5% beer that dates from 1899 and was named after the brewery cat of that day – his face is embossed on the bottle glass. It's a beer with a massive hit of roasted grain, peppery hops and dark fruit.
Another dark beer that found favour was 3 Brewers Porter, a local beer from a brewery on a farm twixt St Albans and Hatfield. I told the assembled tasters of the fascinating history of porter and "stout porter", first brewed in London early in the 18th century. It's a style that has come back into favour in recent years and the 3 Brewers version, made with pale, crystal, chocolate and wheat malts, with Whitbread Goldings and Progress hops, had an entrancing character of liquorice, molasses, caramel and bitter cherries, overlain by peppery hops.
At the end of the tasting, with all the marks totted up, three beers were level pegging. Old Tom and 3 Brewers had been joined on top marks with Innis & Gunn's Frank & Sense and on a show of hands it was declared the overall winner, the Champion Christmas Beer of 2017.
Innis & Gunn is famous as the originator of oak-aged beer in Scotland and it now produces a wide range at the Inveralmond Brewery in Perth, which I&G bought in 2016.  Frank & Sense, named after two of the key players in the company, lives up to its name and festive character by adding the Biblical aromatics of frankincense and myrrh. The tasters were bowled over by the herbal and spicy notes of the beer and felt it was the ideal companion for festive fayre.
Finally we turned to Budvar Imperial, a 7.6% Czech interpretation of a German strong lager. I included it in the event as it's on sale in the UK and is a fine example of a true lager beer aged for around four months in the brewery cellar. My colleagues were sceptical at first, for lager for them meant a thin, bland and fizzy beer, often made from inferior ingredients.
I outlined the history of the two competing Budweiser brands and the long-running trademark disputes. Unlike the American version, Budvar is properly aged and uses only finest malts, hops and soft water in the Czech Republic.
Imperial has its roots in the tangled history of central Europe, when the town of Budweis in the Austro-Hungarian Empire supplied beer to the Bohemian court. The beer has a warming kick of alcohol, balanced by honeyed malt and gentle floral hops. It's a delight to drink. 
Going further afield? American brews to warm you this winter
An addition by Katie Wiles wilesaboutbeer.com
I'm sure I'm not the only one packing my bags for a holiday this Christmas. In less than a weeks' time I'll be flying over to America to spend the holidays with family and friends in the craft beer capital of America – New England.
To get into the spirit, the Brewers Association very kindly sent me several American beers to get ready for the festive season. All the brews are over 11% ABV in typical American style and will definitely warm you up this Christmas!
Epic Brewing Company's Smoked & Oaked
Epic's Belgian-styled ale Smoked & Oaked packs a lot of punch at a whopping 11.5% ABV. A splendidly warming beer, it brings to mind the image of enjoying a cognac next to a fire at the end of the evening. In traditional Belgian fashion it is cloudy in appearance but this beer has an American twist – batch-aged in whiskey barrels, it leaves an incredibly pleasant scotch-like aftertaste. This is a special and flavourful ale - perfect for sharing at the end of a Christmas meal.
New Holland Brewing Dragon's Milk
Just one sip of Dragon Milk conjures a fire-breathing dragon to my mind! At 11% ABV this stout is not for the faint-hearted. In fact, it tastes more like a spirit than your typical brew. A stout that has been aged in a bourbon barrel, it is incredibly rich and strong. I tasted an almost coconut flavour, which mixed with the bourbon brought a tropical cocktail to mind. If you like your beer to pack a lot of punch to go with your dessert, this is the one for you.
Lickinghole Creek's Magnificent Pagan Beast
It took a lot of courage to open this beer – at 17.5% ABV and using more than six pounds of hops per barrel, this beer will knock your socks off! Buying this beer is a challenge on its own - this bottle is not distributed and only available directly from Lickinghole Creek brewery in Virginia at specific times of the year.
Self-described as a "monster of a beer", this brew is conditioned in Kentucky bourbon barrels for four months and takes a total of eight years to produce. I'm not usually a fan of bourbon, so the first sniff coupled with the 17.5% ABV made me rather hesitant, but I'm so glad I dived in. Packed with flavour while still retaining a perfect balance and smoothness, every sip left me wanting more. A truly magnificent beer, this deserves to be the centrepiece on the Christmas table – and shared by many!