News
Budvar goes for growth but legal wrangles continue with AB InBev
Added: Monday, October 16th 2017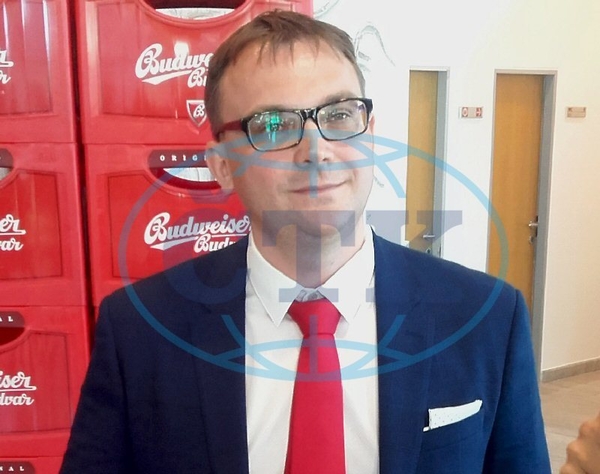 You have to be tough to run a brewery in the Czech Republic. Petr Dvořák is the new managing director of Budweiser Budvar and he's picked up the mantle of his predecessor, Jiři Boček, determined to keep the brewery free from takeover by the global giant AB InBev.
This vast and sprawling conglomerate includes Anheuser-Busch of the United States, owner of the other Budweiser brand. The "Battle of the Budweisers" -- over who has the rights to the name and trademarks -- has been going for more than a century and shows no sign of abating.
"AB InBev has been friendlier in recent talks," Dvořák says, "but the outcome is that they say they will use the trademark Budweiser and we can call ourselves Budějovicky Budvar.
"I told them 'So you want us to yield? No thanks!'"
There are two dozen lawsuits outstanding and Budvar is currently suing AB InBev for lost income in Italy. AB InBev had the Budvar trademark removed there but the Czechs challenged the ruling and won the trademark back. In the interim, Budvar had to sell its beer under the name of Czechvar and lost sales as a result.
It also has to trade as Czechvar in the U.S. where no court would stand up to the owners of America's biggest beer brand. But Petr Dvořák says most of the major markets have been sorted out and Budvar has registered its trademark in China, a fast-growing market for beer.
But Budvar feels the hot breath of AB InBev on its neck even in its home town of České Budějovice – formerly Budweis – where the global giant now owns the smaller Samson brewery. In common with Budvar, Samson has a PGI or European certificate of origin and can use the Budweiser trademark.
In spite of legal wrangles and trademark confusion, Budvar is forging ahead. It's still owned by the Czech state and talk in recent years of privatising the brewery has abated. Politicians fear that a stand-alone Budvar would be snapped up by a predator, with both Molson Coors and Heineken also owning breweries in the Czech Republic.
"Budvar is officially controlled by the Ministry of Agriculture but in reality we're owned by 10 million Czechs," Petr Dvořák says. "We're a nation of beer lovers and it's logical they should own a brewery.
"With the ministry, we have a strategy plan to grow sales at home and abroad. Government backing gives us an advantage in export markets where we're flying the flag for independent Czech beer.
"We're the last big brewery in Czech hands now that Molson Coors owns Staropramen and Heineken has Krušovice."
Dvořák has considerable experience in the export market. He was in charge of international marketing at Pilsner Urquell, the biggest brewery in the Czech Republic. He left when it was bought by AB InBev, who subsequently sold the brewery to Asahi of Japan.
Budvar is currently brewing at full capacity and a major investment programme is in hand to grow the size of the plant by between 20 and 30 per cent.
"We can't sell any more beer at the moment," Dvořák says. He laughs and adds: "We have a bottle neck in the bottling hall as well as in brewhouse capacity.
"We're investing £80 million in expanding the brewery by 2021 and that will include a new automated warehouse with space for 120,000 pallets. It will be the most modern warehouse in the brewing industry."
The investment is all in-house money, he is at pains to stress, with none of it coming from the government.
Budvar Original (5%) remains overwhelmingly the brewery's main brand. Budvar Dark (4.7%), introduced in 2004, is selling well at home and abroad and the strong Bock-style Imperial (7.5%) has many devotees. The brewery has introduced a "fresh hop" version of Imperial, using hops straight from the fields of Žatec, the famous hop-growing region whose products are better known by the German name of Saaz.
Petr Dvořák says Budvar is the last remaining Czech brewery to use whole hops from Žatec: the others now use pellets or hop oil. He insists on using only the finest raw materials for the beers, including malting barley from the Moravia region. He grins and, with a dig at American Budweiser, adds: "No rice!"
Budvar has added a session version of Original called Kräusened (4%). The name comes from a German brewing method that involves adding some partially fermented wort or sugary extract to the lagering tanks, which encourages a strong secondary fermentation. The beer is neither filtered nor pasteurised at the end of fermentation and is naturally cloudy in the glass.
Britain – where both American and Czech beers are allowed to use the Budweiser trademark – remains an important market for Budvar, where sales are 50 per cent bigger than those of Pilsner Urquell.  As well as the regular beers on draught, bottle and five-litre take-home cans, the brewery is also installing tank beer in a number of British bars – eight to date. This is draught Budvar Original but unfiltered and unpasteurised, served from chilled tanks that take just two days to arrive from the brewery.
Original is lagered or matured for 90 days while Imperial enjoys more than 200 days in the lager cellar. Petr Dvořák dismisses out of hand recent criticism from Carlsberg that Budvar is "wasting its time" lagering beer for such long periods. He believes that if you use the finest raw materials the beer deserve a long, slow maturation.
When expansion at the brewery is complete, Budvar will be able to produce two million hectolitres a year. Dvořák says that, as a result of the brewery's PGI certificate, it will never brew anywhere else but České Budějovice.
"We won't flood the world," he says. But even a trickle is welcome.
*The South Bohemian town of České Budějovice has been a major brewing centre for centuries. It had 44 breweries in the 15th century and, under the town's old German name of Budweis, the beers were generically known as Budweiser beers, just as beers from Pilsen are called Pilsner. The Royal Court Brewery was based in Budweis, enabling its products to be called the "beer of kings". In the 19th century a German-owned brewery, Budweiser Burgerbrau or Citizens' Brewery, made and exported widely under the Budweiser name. That brewery is called Samson today.
In 1875 two German-born emigrants Anheuser and Busch opened a brewery in St Louis, Missouri, and one of its beers was called Budweiser, based on the Czech style and subsequently tagged "the king of beers". Twenty years later, Czech speakers in Budweis opened a new brewery, the Budějovicky Pivovar or Budweis Brewery. For convenience, the name was abbreviated to Budvar. When the Czechs attempted to export the beer to the U.S. using the Budweiser brand name, Anheuser-Busch took legal action to stop Budvar and the law suits continue to this day.