News
Special beer is a rave from the grave
Added: Saturday, May 20th 2017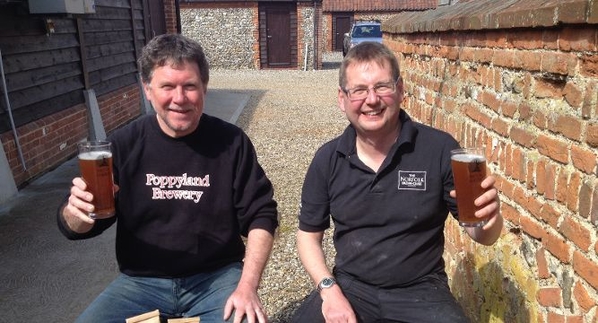 Two Norfolk brewers have produced a rare beer by using malt and hops brought back from the dead. Poppyland Brewery in Cromer and Norfolk Brewhouse based in Hindringham have joined forces to showcase two ingredients once thought lost to the brewing fraternity.
The resurrected malt and hops have been used for a new brew that will be launched at the Norwich City of Ale Festival starting on 25 May.
Martin Warren from Poppyland (above left) and David Holliday from Norfolk Brewhouse discussed the Chevallier malting barley variety with representatives from Norfolk maltsters Crisp when they met at CAMRA's National Winter Ales Festival in Norwich in February.
David Holliday says: "This is a fascinating story of heritage malt, first grown in 1824 in Suffolk from grain selected by Dr John Chevallier. The malt went on to become established the world over as one of the leading brewing malts.
"However, it was last grown commercially in the 1930s -- that is until a couple of years ago when, thanks to collaboration with The John Innis Centre in Norwich and Crisp Maltings, the malt was slowly resurrected.
"There is a limited stock of Norfolk-grown Chevallier malt available and we wanted to see just what beer lovers had been missing out on for a little over 80 years."
With Chevallier malt forming the back bone of the beer, the two brewers set about finding a suitable hop to add flavour and bitterness and it seemed only fitting that resurrected malt deserved a resurrected hop.
 Another chance meeting, this time with hop merchants Charles Faram, introduced the brewers to a hop called Ernest, which fitted the bill perfectly.
David Holliday says: "It really was a lucky coincidence to discover this hop variety, which was first selected in 1921 and eventually trialled at Wye College in Kent in 1957 and 1958. However, the brewers at the time rejected the variety as been 'too American', far too aromatic and tasty for their British bitters.
"How times change!  Ernest it is now grown commercially for Charles Faram and is admired for its New World flavours."
The brewers took the malt and hops to create two distinct versions. Norfolk Brewhouse brewed a cask version – available during City of Ale – which is a pure blend of the resurrected ingredients, using just Chevallier malt and Ernest hops. It will be golden in colour. The heritage malt imparts a robust, dominant malt flavour and the beer will to be quite heavily hoped to balance the malt character. The ABV is 5%.
The bottled version of the collaboration, brewed at Popplyland, will be stronger at 6% and also includes some coloured malts to create a robust and fruity American-style Red Ale.
Martin Warren also used a third resurrected ingredient, kveik – an ancient strain of Norwegian yeast. This version of the beer is appropriately named Back from the Dead.
Visitors to City of Ale will have the chance to sample both beers.
.