News
On-site beer & celebrities in Glasgow bar
Added: Sunday, April 23rd 2017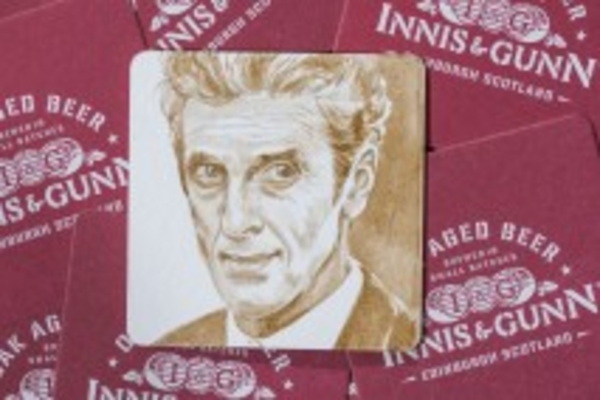 Scottish brewer Innis & Gunn – famous for its oak-aged beers --has opened its fourth specialist Beer Kitchen, the biggest to date at Ashton Lane in the West End district of Glasgow.
The bar and restaurant complex has its own on-site micro-brewery and features pastel portraits of several Scottish and English celebrities drawn by local artist Lynne Howarth who also draws portraits of customers (below).
The celebrities featured include Peter Capaldi of Dr Who fame (above), Sean Connery, Irvine Welsh, Adel and Ed Sheehan.
The brewery, run by master brewer Digger Robinson, produces draught "tank fresh" beers. Digger will experiment with new flavours to create special edition brews. The current range includes Ashton Lane Pale Ale (4%), Table Beer (3.5%) and Marshmallow Milk Stout (4%).
Innis & Gunn opened the first Beer Kitchen in Edinburgh in 2015 and added new outlets in Dundee and St Andrews in 2016. Ashton Lane has three floors with a total capacity of 396. The bars feature 17 keg taps, three cask beers and 50 packaged craft beers.
The restaurant features locally-sourced ingredients. Beer is used in several dishes, such as Boozy Bird – duck breast marinated in Innis & Gunn Rum Finish. The third floor will feature live music.
The beers available include one aged in malt whisky casks from the Auchentoshan distillery. The beer is brewed at Innis & Gunn's brewery in Perth. The brewery is the former Inveralmond plant that I&G bought in 2016. Inveralmond will continue to produce its range of cask ales along with I&G's oak-aged beers, ales and lager.