News
London mayor aims to halt pub closures
Added: Thursday, April 20th 2017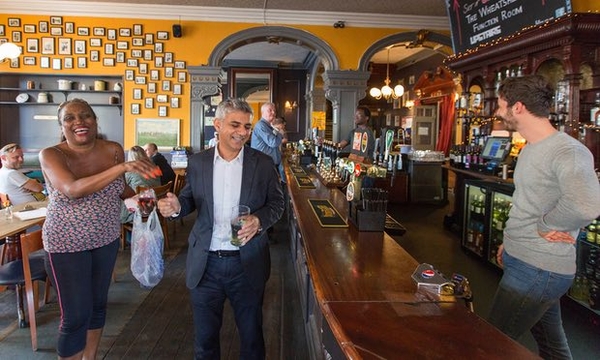 London's mayor Sadiq Khan -- seen in the Wheatsheaf pub in Tooting -- has teamed up with the Campaign for Real Ale (CAMRA) in a bid to halt the decline of the capital's pubs. Figures produced by County Hall show that the number of London pubs has fallen by a quarter over the past 15 years, with an average of 81 pubs a year closing.
The number of pubs in 2016 fell by 25% to 3,615 from 4,835 in 2001. Barking & Dagenham has lost more than half its pubs (56%), while Newham and Croydon lost 52% and 45% respectively. Hackney is the only London borough that has not had an overall loss, with an increase of 3% since 2001.
The key reasons for the decline, according to the mayor, are high business rates, conflicts between residents and developers, and the relaxation of development rights in 2013 that allows certain types of development to go ahead without planning permission.
Sadiq Khan says he is working with his night tsar Amy Lamé to carry out an annual audit to keep track of pub closures and lay out plans to reduce the number of pubs closing down.
The mayor says: "The great British pub is at the heart of the capital's culture. From traditional workingmen's clubs to cutting-edge micro-breweries, London's locals are as diverse and eclectic as the people who frequent them. That's why I'm shocked at the rate of closure and why we have partnered CAMRA to ensure we are can track the number of pubs open in the capital and redouble our efforts to stem the rate of closures.
"I've made safeguarding and growing the night time economy a key priority and this isn't possible without a thriving pub scene."