News
Chiltern brings relief for gluten sufferers
Added: Thursday, March 23rd 2017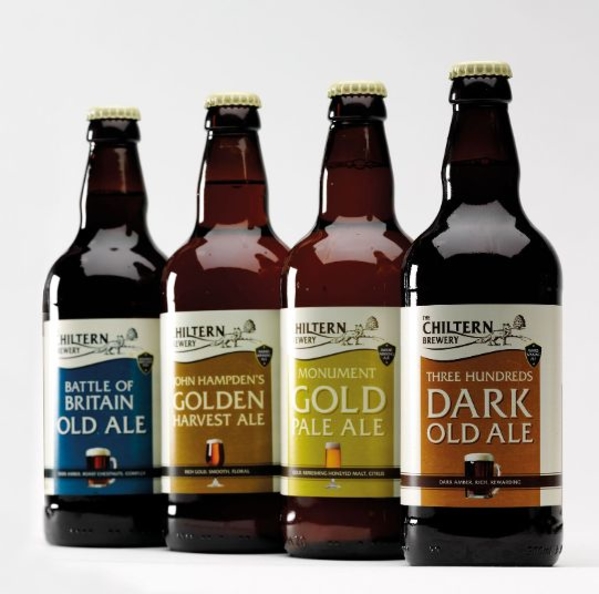 Four of The Chiltern Brewery's best-selling, multi award winning permanent
bottled beer range have been certified as gluten free. Nothing has been
taken in or left out -- but the beers are now officially designated 'free of gluten'.
The high-quality brewing process means that the recipes haven't changed. The
natural gluten from the barley and malts is broken down during the fermentation
and filtration process.
This is great news for the 14.3 million Britons who bought or consumed Gluten
Free products in 2016 and means that those who are intolerant to gluten or are
seeking to reduce their intake can still enjoy this fabulous range of fine English
ales – brewed for taste, quality and consistency. The number enjoying Gluten
Free products in the UK is growing at about 13% a year.
"I can't tell you how pleased we are with this new offering and to think that
those intolerant to gluten can enjoy our great range of award-winning ales – in
such a variety of styles too" said Tom Jenkinson, Head Brewer and Co-Director.
The attractively presented bottles have eye-catching labels that echo the rural
surroundings of the Chiltern Hills local to the brewery. Names too reflect the
local history and geography of the area. More good news - the bottles cover a
wide range of ale styles from refreshing Monument Gold Pale Ale 3.8% 500ml
teeming with English summer flavours of honeyed malts and aromatic hops, to
300's Dark Old Ale 5.0% 500ml - malty and rich, made with Maris Otter and
Crystal malts, and food matching beautifully with red meats and hearty stews.
The new Gluten Free range also includes John Hampden's Golden Harvest Ale
​
4.8% 500 ml - creamy smooth and well balanced and great with seafood - and
Battle of Britain Old Ale 5.0% 500ml. This is a complex beer with tastes of
roast chestnuts and is a treat with strong gluten free cheeses.
The Chiltern Brewery are a second generation family business based in Terrick,
near Wendover, Buckinghamshire and started brewing in 1980. George and Tom
and their team take terrific inspiration from their beautiful rural surroundings
and the geography and history of the county. A fox and beech tree feature on the
company logo.
From inception the ethos at The Chiltern Brewery has been to brew natural,
wholesome beers using 100% British ingredients - the best Class A malt and
hops with great provenance and to mirror age old brewing methods. Thirty
seven years on The Chiltern Brewery remains the oldest independent brewery in
Buckinghamshire and the Chiltern Hills.
Please see the website for more details
www.chilternbrewery.co.uk