News
Mermaid in the swim with top pub award
Added: Monday, March 20th 2017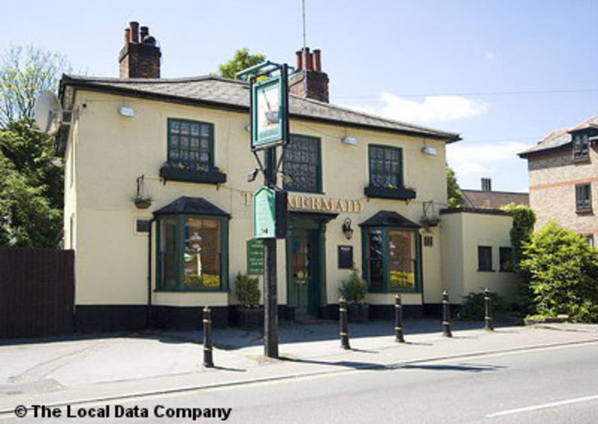 A small cottage-style pub and one of the few remaining bare-board pubs in the heart of St Albans has beaten over 250 pubs in south Hertfordshire, hitting Gold to become the Campaign for Real Ale's South Hertfordshire Branch Pub of the Year.
John Bishop, one of the CAMRA selection panel and organiser of the St Albans Beer & Cider Festival, says:"This is the first time that a pub in South Herts has won both Pub of the Year and Cider Pub of the Year in the same year. It is a real testament to the hard work that landlord's Mark and John have put into the pub since they took over three years ago."
Mark Powell, co-landlord of the Mermaid with John Cusworth, says "We are absolutely thrilled to be named as South Herts. CAMRA Pub of the year, especially considering the strong competition in the area. It's a great feeling to know that all our efforts have been recognised and the improvements we have made are appreciated. We would like to thank the local branch committee and all our regulars for all their support, encouragement and custom over the last three years. We look forward to ensuring The Mermaid keeps up its reputation of serving a great range and quality of real ales and ciders, in a friendly atmosphere, at the heart of the local community."
 The Mermaid serves five ever-changing real ales plus Oakham Ales' award winning Citra and has over fifteen traditional ciders on offer. In addition, it stocks a varied selection of traditional continental bottled beers and is one of the few pubs in St Albans to make beer available in third of a pint measure glasses. It runs several beer and cider festivals each year.
The Mermaid will be presented with its award by CAMRA's South Herts branch chairman Les Middlewood at the pub on Saturday 27 May at 5pm.
The South Herts CAMRA Pub of the Year competition is run with the simple aim of finding the best pubs in the branch area. Pubs are selected by CAMRA volunteers and judged on their atmosphere, decor, welcome, service, value for money, customer mix and most importantly – quality of cask beer. All nominated pubs in the competition are independently assessed by CAMRA volunteers throughout the year.
The Mermaid now goes through to the next stage of the CAMRA's national Pub of the Year competition – the Hertfordshire county round. Runners up in the competition are Ye Olde Fighting Cocks, St Albans (Silver award) - placed in the top three for the first time - and the Old Cross Tavern, Hertford (Bronze).
*The Mermaid, 98 Hatfield Road, St Albans, AL1 3RL.