News
Fourpure goes for gold at SIBA awards
Added: Monday, March 20th 2017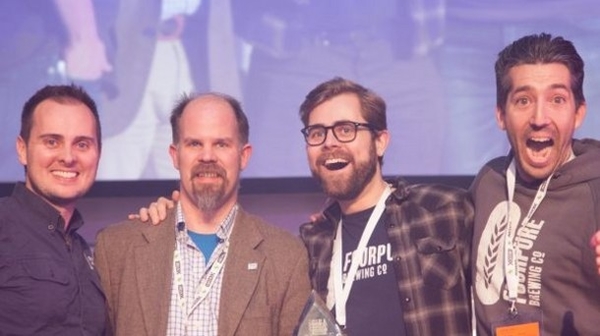 Fourpure Brewery in Rotherhithe, South-east London, has walked away with the prestigious UK Brewery of the Year trophy at the annual awards staged by SIBA, the Society of Independent Brewers, at its BeerX event in Sheffield.
And to crown its achievement, Fourpure also won the Business Innovation awards for its sensory training scheme that puts all its staff through rigorous training to drive the quality of its beers.
Mike Benner, SIBA's managing director, said: "Fourpure's huge commitment to staff training impressed the awards judges. In particular, it was the company's sensory beer training scheme that the judges felt went above and beyond in ensuring every single member of the team is inspired by independent craft beers."
Fourpure's head of marketing Adrian Lugg said: "It's absolutely fantastic to win and it feels like confirmation of a job well done after we have been working so hard to grow over the past few years. This is a brilliant win for the whole team." The Fourpure team are seen above receiving their awards from SIBA chairman Buster Grant (second left).
Tiny Rebel of Newport in Wales won the top prize in the Commercial Achievement category for its meteoric growth over recent years.
360 Degrees Brewing in East Sussex won the Concept Design Award for its cans while Beavertown of North London won the bottle design for its saison.
The full list of winners:
Marketing: Purity Brewing, Warwickshire.
Green Business: Swan Brewery, Herefordshire.
Business Innovation: Fourpure, London,
Commercial Achievement: Tiny Rebel, Newport.
Best Individual Design: Beavertown, Tempus Project.
Best Concept Design: 360 Degrees, East Sussex.
Brewery Business of the Year: Fourpure.
Supplier of the Year: Cookham Travel.
UK's Best Independent Craft Beer Retailer, Multiple: We  Bought Beer, London.
UK's Best Independent Craft Beer Retailer, Single: House of Trembling Madness, York; Hop Burns & Black, Peckham, London (highly commended).
UK's Best Independent Craft Beer Bar or Pub (city): Trapped, Leeds. (Rural): Salutation Inn, Ham, Gloucester.
UK's Best Independent Craft Beer Restaurant: Booma, Brixton, South London.
Best Independent Craft Beer Promotion: There's a Beer for That.