News
Award-winning pub to add own brewery
Added: Friday, March 3rd 2017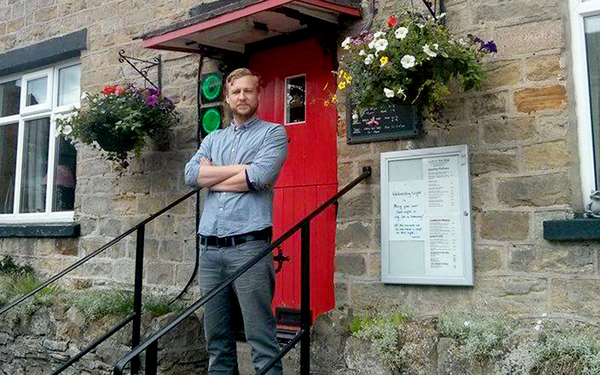 A village pub in Yorkshire's Swaledale that was saved by the local community and was named CAMRA's National Pub of the Year competition for 2017 now plans to expand with its own micro-brewery. Stuart Miller, landlord of the George & Dragon in Hudswell, near Richmond, is looking at possible sites in the village or close by to install his kit.
Stuart has been on an intensive course at Brewlab in Sunderland to learn the brewing skills. Keith Thomas, who runs Brewlab, lives in Richmond and has planted Cascade, Fuggles and Goldings hops in the garden behind the pub that can be used in Stuart's beers.
The George & Dragon closed in in 2008 when its owners were declared bankrupt during the recession. But the pub's regulars -- including then local MP William Hague -- formed a co-operative to buy and refurbish it. The Hudswell Community Pub Group raised £220,00 to restore the George & Dragon, which re-opened in 2010, with William Hague cutting the tape.
Today the pub is a hub of the community. It has a library, allotments and a convenience shop selling milk, eggs and newspapers.
CAMRA's judges praised the "great passion" for quality beer of Stuart Miller (above). Stuart sources most of his beers from Yorkshire breweries, including Rudgate and Wensleydale. When the pub won its CAMRA award in March, it was featured on most mainstream news channels, including the BBC's 6 and 10 o'clock bulletins. The story went viral and the pub has welcomed visitors from France and Italy. When Roger Protz conducted a beer talk and tasting on 9 May, the large crowd included a beer lover who had come all the way from Finland.
"The George & Dragon is a great example of how a pub has been resurrected as a true community asset," says Paul Ainsworth, CAMRA coordinator for the Pub of theYear competition. "To go from closed doors to winning National Pub of theYear in just a few short years is a fantastic achievement for any pub – and all the more impressive for one that is cooperatively owned."
Stuart Miller adds: "Since we took over the George & Dragon in 2014 we've strived to achieve our vision for the pub. To be appreciated for these goals by our customers and CAMRA is extremely satisfying and makes all the hard work worthwhile."
James Alcock of the Plunkett Foundation, which provided support and funding for the pub, said: "Community-owned pubs such as the George & Dragon are an exceptional example of how a community can succeed in running an enterprise. Within a short space of time, a community has rallied together in order to save a vital village resource and have now been rewarded for all their hard work."
Pubs are judged by CAMRA on atmosphere, level of service, value for money and community focus, with extra weighting given to the quality of the real ale, cider and perry. All nominated pubs in the competition are independently assessed by a panel of CAMRA volunteers throughout the year.
Runners up this year were the Swan with Two Necks, in Pendleton, Lancashire, the Salutation Inn, in Ham, Gloucestershire, and the Stanford Arms, in Lowestoft, Norfolk.
*There are 70 community-owned pubs in Britain. In 2015, Prince Charles, the Prince of Wales, who runs the Pub is the Hub campaign, visited the George & Dragon.