News
UBREW on the move with new beer range
Added: Thursday, October 27th 2016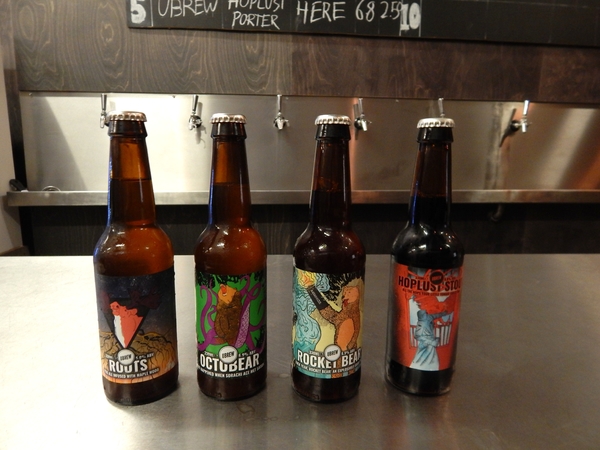 UBREW, the south London community brewery, is spreading its wings and is launching a range of its own bottled beers. The brewery, in railway arches in Bermondsey, was opened in 2015 by Matt Denham and Wilf Horsfall, keen home-brewers who wanted to reach out to fellow beer lovers by offering facilities to brew with high-quality equipment.
The enterprise was backed by £112,000 raised by crowd funding. Brewers who use the kit become members of the club and pay a monthly subscription. Matt, Wilf and head brewer Stuart Sewell offer recipe advice and help with beer making. The success of the venture can be measured by the fact that 25 UBREW members have gone on to become full-time commercial brewers.
The experience of the members' brewing experience is reflected in some of UBREW's own beers. The UBREW team also held a competition to make an infused pale ale and Matt Denham's beer was considered the best and is now brewed as Roots.The team is using a five-barrel kit made up of vessels built in Britain and Canada, with some tanks acquired from Heineken.
Roots, 5%, is infused with maple wood, which reflects Matt Denham's Canadian upbringing. Wood chips are added to the finished beer, rather like dry hopping. The beer is a hazy pale gold in colour with a pronounced sweet wood note balanced by tart gooseberry fruit and lightly toasted malt. The palate and finish are dominated by woody notes, tart fruit and bitter hops.
Rocket Bear is a 6.9% IPA with an American influence. It's amber in colour due to the addition of cara malt and is hopped with Cascade, Centennial and Mosaic. It has a big malt and hops nose with a sultana fruit note from the darker grain. Malt, hops and fruit combine well on the palate, with a finish that is intensely bitter and ending dry and fruity.
Octobear, 6.9%, is a Saison-style beer hopped with Sorachi Ace from Japan. It has a funky nose with lemon and cinnamon balanced by biscuit malt. The malty and fruity palate is followed by a dry and fruity finish dominated by lemon and bitter hops.
Hoplust Stout, 6.8%, is brewed with black malt alongside pale and is hopped with Cascade, Chinook and Columbus varieties. It has a bittersweet palate and finish with black, roasted grain offering liquorice and molasses notes with a good balance of bitter and floral hops.
The beers are being offered in bottle format to specialist retailers and bars. Cans are being designed and draught versions are being considered.
*UBREW, Old Jamaica Business Estate, Old Jamaica Road, London SE16 4AW; 020 3172; https://ubrew.cc/