News
Big jump in new beer brands
Added: Monday, October 17th 2016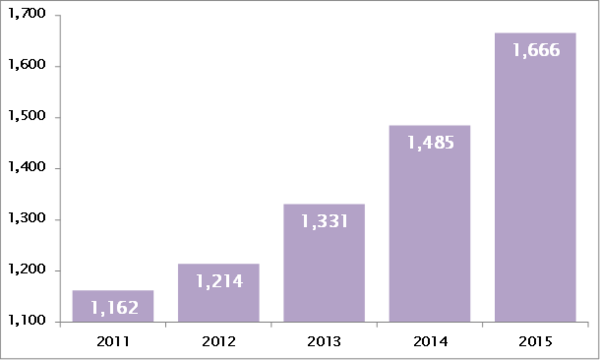 The number of new beer brand marks registered in the UK reached a record high of 1,666 in the last year, jumping 12% from 1,485 in the previous twelve months, according to RPC, the City law firm  (see graph).
RPC explains that the record number of new trade marks for beer is likely being driven, in part, by the proliferation of new own brand "artisan" style beers being launched by mega-breweries as they seek a large share of the "craft beer" market.
As the popularity of craft beers continues to rise, RPC adds that supermarkets are also investing heavily in the sector by launching or expanding their own craft beer brands and sub brands.
RPC says that mega-breweries are also gaining greater market share of the artisan sector by acquiring brands as well as launching their own. In December 2015, AB InBev, the multi-national drinks manufacturer, acquired the independent Camden Town Brewery for approximately £85 million. SAB Miller bought Greenwich-based craft brewery Meantime May 2015 (now sold to Asahi).
RPC says that total trade mark registrations relating to beer have increased 43% over the past five years, rising from 1,162 in 2011 (see chart below). 2015 is the fourth consecutive year that the number of beer trade mark registrations increased and the rise of independent breweries is a contributing factor in the rise in the number of new beer brands. The number of new breweries that opened in London alone in the past year reached a new high of 36, up from 29 in the previous year.
Jeremy Drew, Head of Retail at RPC, comments: "Global drinks giants are also now launching their own artisan brands to capitalise on the growing craft beer market and to compete with the threat of independent breweries. In the past, mega-breweries may have placed greater emphasis on consolidating their current range.
 "As the number of craft beer products rises, the possibility for a conflict of similar names may become greater, especially in an industry so fast growing.
"As a result, there could be a rise in disputes between brewers and beer retailers over intellectual property rights of their craft beers."
In February 2015 the Surrey-based Hogs Back Brewery commenced legal proceedings against the drinks manufacturer C&C Group for trade mark infringement regarding use of its Hazy Hog cider and Cider Hog drinks dispenser.
Ben Mark, Legal Director, Trade Marks at RPC, adds: "The need to differentiate brands and products in the brewing industry makes protecting intellectual property critical for both brewers and retailers. Issues can arise not only about brand names, but also logos and even the design and shape of beer glasses
"For supermarkets, creating their own brands of craft beer enhances the value of their intellectual property as it can push own-brand products up the value chain.
"Supermarkets see the craft beer industry as one of the key categories where margins are less subject to discounting pressure. As a result, they have invested heavily in the industry in recent years."