News
Unique Belgian sour beers hit the UK
Added: Tuesday, June 14th 2016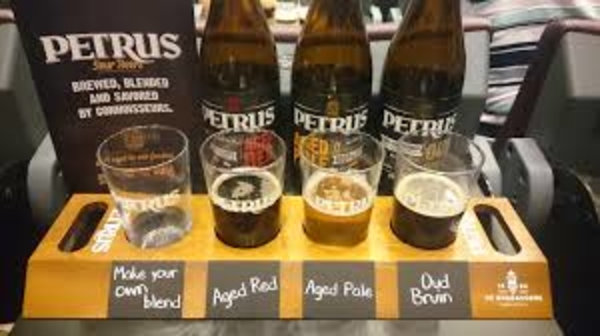 Petrus Sour Beers, a unique selection of Flemish oak-aged beers from the Bavik brewery run by the De Brabandere family, have been launched in Britain.
The beers are Petrus Aged Pale – known as the "mother beer" – Oud Bruin and Aged Red. They are the only Belgian sour beers to use a blonde beer as the base.
Petrus Aged Pale, 7.3%, is a 100% "foeder" – oak tun – beer, aged for 24 months in 220 hl foeders obtained from the French wine industry. The beer forms the base of the Flemish red/brown Oud Bruin and the sweet and sour Aged Red. The three beers can be mixed to create original flavours and the De Brabandere family in the village of Bavikhove, West Flanders, is challenging beer lovers to "play the brewmaster" by mixing the beers to find their own favourite blend.
Drinkers can experiment with the Petrus Sour Power Pack that contains three Aged Pale, one Oud Bruin, one Aged Red and one 50/50 7.9% beer, the brewmaster's own favourite blend of 59% Aged Pale and 50% Aged Red. The pack costs £11.69.
Albert De Brabandere, retail manager and son of owner Ignace, says: "For five generations, the brewery has never compromised on taste and quality ingredients."
He said the brewery had been encouraged by the beer writer Michael Jackson in the 1990s to make the foeder beer available in bottle – until then it had been used exclusively for blending. Since then, it has won multiple international awards.
It has a markedly dry taste with the freshness of sour apples, sherry and fruit aromas. It is a good companion for shellfish, oily fish and soft cheese.
Oud Bruin, 5.5%, is a traditional Flemish brown ale, typical of the Kortrijk and Roeselare region. Aged in oak for two years, it's a blend of 33% Aged Pale and 67% young brown ale for a deep red colour. The beer is predominantly sour but has aromas of dried fruit, cherry and peach, with scents of malt, butter and caramel. It goes well with mild cheese and seafood.
Aged Red, 8.5%, is not a lambic beer but is a unique dark beer that's a blend of 15% Aged Pale and 85% dubbel bruin, with cherries added and matured for 24 months in oak tuns. The distinctive sour flavour of Aged Pale is sweetened by mild, sweet, ruby-red cherries, resulting in a rich and fruity yet refreshing, slightly sour beer that complements red meats, dark chocolate and blue cheese.
Saaz aroma hops, pale malt, pure water and a house yeast culture produce the beers. Over the past 100 years, a unique eco-system of wild yeast and bacteria has developed within the wooden walls of the brewery. Large foeders limit the beer's exposure to wood and oak flavours. French oak acts as a permeable wall for controlled oxidation and is the ideal breeding ground for the six micro-organisms that convert remaining sugars in the beer into acid, high alcohol and esters.
Over 24 months, micro-biological flora in the wood reacts with the beer to produce a refreshing sour taste, complex fruit notes and a distinctive aroma.
The beers will be distributed in the UK by James Clay in 33cl bottles and 30 litre kegs. They can be ordered from Boutique Beer Brands. For further information go to www.petrussourbeer.com.