News
Serpent: bridging the beer and cider divide
Added: Friday, June 3rd 2016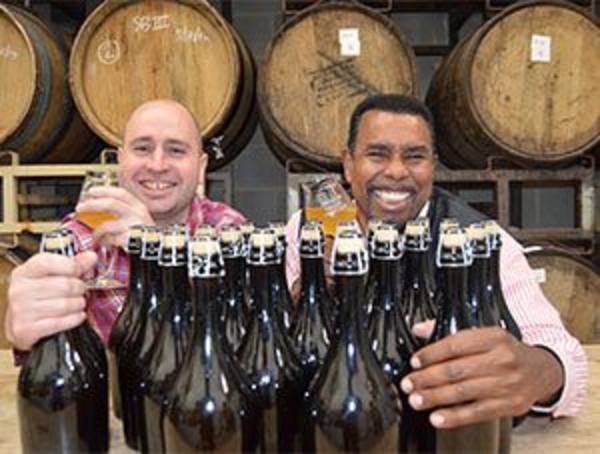 Brooklyn and Thornbridge breweries in New York City and Derbyshire, working with cider-maker Tom Oliver, have released a special beer, Serpent, a 10% Belgian-style golden ale brewed at Thornbridge and then refermented in Bourbon barrels with lees – sediment – over a period of 18 months.
Garrett Oliver, Brooklyn's brewmaster (right), says: "The idea came to me over two years ago while producing the Ghost Bottle series. We had used wild lees from natural wines to produce some of these beers and I wanted to build on this by using lees from cider making. Thornbridge, as one of my best friends in brewing and one that is technically adept, were my obvious choice as a partner."
Rob Lovatt, head brewer at Thornbridge (left), was delighted to get involved. "Working with Garrett is always an adventure and it came at a time when, while we had some amazing results with beers such as whisky barrel-aged stouts and Flemish Brown-style beers, we wanted to break new ground with our barrel ageing – not only in terms of scale but also in terms of the challenges maturing and fermenting beer in barrels presents."
Brooklyn and Thornbridge had to decide on the choice of lees – the muddy sediment produced during fermentation of cider, which contains a myriad of wild yeasts and bacteria.
Garrett Oliver says: "In November 2013, Rob and I, along with other brewers from both breweries, went to visit Tom Oliver, one of the world's most respected and revered cider and perry makers, down in Herefordshire. After watching the maceration process and a tour of the fermentation rooms where nature is allowed to do its thing and no sulphur is added to the tanks or barrels, we had an extended tasting and explained the project to Tom. He was soon on board and agreed to send us all of his lees from the 2013 season."
Thornbridge started to receive polypins of wild lees from Herefordshire, each one labelled with the specific fermentation from which it had come. Thornbridge also received a huge delivery of 120 fresh Bourbon casks, sourced by Brooklyn Brewery direct from the Four Roses Distillery in Kentucky. The project was in full swing.
With the components for maturation and fermentation in place, Lovatt and his team began to brew the base beer, a Belgian-style golden ale.
Rob Lovatt says: "We were confident with the brewing and primary fermentation but we were aware that the maturation phase could go seriously wrong and, with 120 barrels in total, that would be a big loss, so we needed to give real attention to detail to the entire process.
"The lees contained an unbelievable diversity of microflora that continued to metabolise the sugars still present in the base beer. Getting the temperature right and constant checks of every barrel was a top priority, to ensure the beer was in the right condition to let all the wild yeasts and bacteria work their magic. It's taken nearly 18 months of lab analyses, tastings and most importantly patience before we got to the bottling stage."
Garrett Oliver flew over to help decide the final blend and assist with the bottling process, where a full bottle conditioning with Champagne yeast was chosen. The last bottles, cork and aged, finally rolled off the makeshift production line following three weeks of solid blended and bottling, completing a project that had started almost exactly two years before.
Both teams are delighted with the final beer. Garrett Oliver says it has demonstrated that "through natural lees, it is possible to take the fermentative terroir of a piece of countryside and concentrate it into a relatively small amount of liquid and then have terroir proliferate through a beer. It's connecting beer back to the land.
"If someone didn't tell you Serpent was a beer, you might at first think it was cider or perhaps an Arbois wine. The apple-like aromatics are apparent, along with a hint of oak, expansive fruit and a long, bone-dry finish. It is a culinary drink and one that will pair very nicely with pork dishes, game meats and cheeses."
"We're really captivated with it," Rob adds, "and it was well worth the sleepless night we had worrying about the process. The final beer is completely unique and seems to exist somewhere between cider, beer and wild ales such as American-style sours or lambic. We like to think the alliance between Brooklyn and Thornbridge has created something genuinely groundbreaking but, most importantly, produced a great beer to drink."
Garrett Oliver sums up the experience: "The Serpent Project captured the very essence of collaboration brewing – this is about a beer that neither we nor Thornbridge could have made without each other."
Serpent in 750ml bottles will be available from all good beer stockists. Contact 01629 815999 or info@thornbridge.co.uk for further information. Price £15 single bottle, £81 for case of six. Watch brewmaster Garrett Oliver and head brewer Rob Lovatt tell the story of Serpent: https://www.youtube.com/watch?v=i9csPQPnxSg&feature=youtu.be