News
I&G heads for Perth in Inveralmond deal
Added: Thursday, April 7th 2016
Innis & Gunn, famous for its oak-aged beers, has bought the Inveralmond Brewery in Perth following I&G's successful £3.1 million Beer Bond scheme raised through crowdfunding.
Dougal Sharp, founder and owner of Innis & Gunn (above), who has achieved world-wide sales for oak-aged beers, says he will invest substantially in the Perth brewery to grow the beers of both companies.
Sharp's adds that bond holders will see I&G's expansion plans accelerated as a result of the decision to invest in an existing brewery rather than building a new one from scratch.
Fergus Clark, founder and managing director of Inveralmond, says: "To me this feels like a real win-win. Our Inveralmond beers will gain access to a sales and distribution infrastructure that will massively accelerate the growth of our beers at home and internationally, while at the same time Innis & Gunn gets the brewery they want 18 months earlier than if they had to build it themselves.
"We are really looking forward to starting to brew Innis & Gunn beers on site and seeing where this exciting stage of our combined development will lead."
Dougal Sharp says he will embark on a "significant investment" at the Perth site to continue its reputation for experimentation with ingredients and flavours. The new brewery will be equipped with a brand-new oak barrel maturation warehouse as well as I&G's infusion equipment that has been used to infuse beers with aromas and flavours from oak, bergamot, coffee and other "artisanal" ingredients. The company also plans to install new "Hop Gunns" to maximise hop aroma in certain beers through an amplified dry-hopping technique. It will assess the feasibility of installing a small bottling line in 2017.
Additional beer tanks will be added to expand production and also to supply I&G's growing number of Beer Kitchen retail outlets. There are Beer Kitchens in Edinburgh and Dundee with a third opening soon in Glasgow. The sites sell I&G's unpasteurised draught lager fresh from the brewery from on-site tanks.
The new brewery will allow I&G to meet the growing demand for its beers. Since it was founded in 2003, the company has become one of the UK's most successful craft beer businesses, with an annual turnover of £12 million in 2014, up from £10.5 million in 2013. In 2014, I&G sold more than 20 million bottles of beer, making it the second biggest supplier of craft beer to the UK's off-trade. I&G exports to more than 20 countries.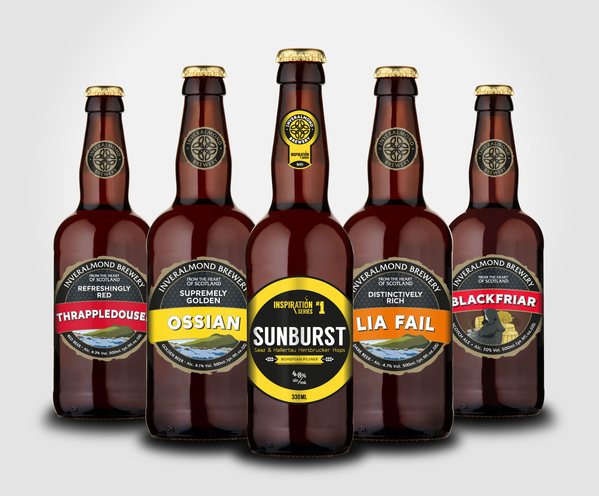 Dougal Sharp says: "We've been friends with Inveralmond for years and I have a huge respect for the beers they make. Ossian, their lead beer, is available on draught in our Beer Kitchen bar-restaurants and sells brilliantly because of its amazing flavour, clarity and consistency.
"As we searched for a site for our new brewery, it became clear there was an opportunity to combine the strengths of both businesses and for us to acquire their brewery and brands. It means we've avoided a lot of the red tape and planning issues around building a new site and we can concentrate on what we do best – brewing beer."
Inveralmond, established in 1997, currently has a 30-barrel plant. Its main cask beers are Fair Maid, Osian, Thrappledouser, Lia Fail and Rascal London Porter.
The new company will be called the Innis & Gunn Inveralmond Brewery.
*On 5 April, I&G reported it had set up a joint venture with Grupo Diego Zamora to import and distribute their drinks in France. The new Paris-based SIP DRINKS SAS will enable both companies to create a growth strategy for building their brands.