News
Thornbridge in £2 million expansion drive
Added: Wednesday, April 6th 2016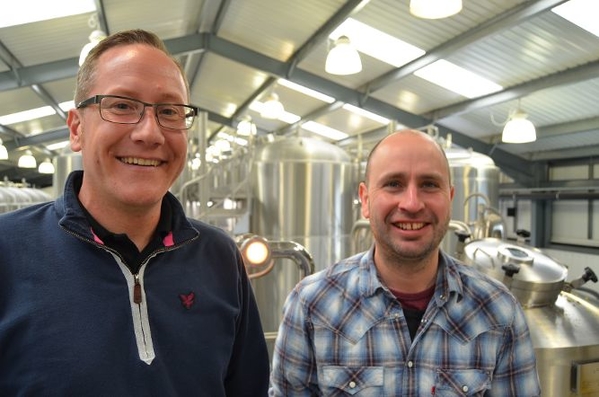 Thornbridge, one of the most successful small independent breweries in Britain – winner of a shed-load of awards for its Jaipur IPA – is celebrating its second decade of production with a £2 million investment programme to allow it dramatically to increase production.
The funding will provide a new bottling line, increased brewing capacity and improved warehousing at its Bakewell site in Derbyshire. Thornbridge has enjoyed considerable growth in both its UK and international sales in recent years and is targeting an 80% increase in turn-over during the next three years.
"We are an ambitious company," chief financial officer Simon Walkden says (seen on the left with head brewer Rob Lovatt). "We've been planning for this investment over the past 12 months. It's not all about equipment, though, as in preparation for a 70% expansion to our brewing capacity we have employed an additional 11 staff to take overall staff numbers to 46."
After an extensive search for a bottling line supplier, Thornbridge has selected Germany company KHS.
"The quality of our beer is paramount," Rob Lovatt says. "With 50% of our sales in bottles, it's critical that we have the best, most technically up-to-date bottling line to ensure a quality beer time after time.
"KHS is a market leader in filling and packaging lines, with more than 140 years' experience, so we are in good hands. My brewing team is always looking for continuous improvements to our processes and the new equipment will enable us to achieve extremely low levels of dissolved oxygen in the beer and so retain greater taste and freshness."
Phase 1 of the brewery expansion, including the new bottling line, is expected to be completed by late summer.
Thornbridge Brewery was founded in 2005 by Jim Harrison in outbuildings at Thornbridge Hall, using a 10-barrel plant. In 2011 it moved to Bakewell with new brewing kit with a current annual production capacity of 30,000 barrels. The Bakewell brewery is on the site of Richard Arkwright's factory where in the late 18th century he harnessed the power of the river alongside to drive a spinning frame – recognised as the start of the Industrial Revolution.
Thornbridge's beers include Wild Swan, Brother Rabbit, Lord Marples, Ashford, Kipling, Jaipur IPA and Saint Petersburg Imperial Russian Stout.