News
Battle royal to save East End lively local
Added: Wednesday, April 6th 2016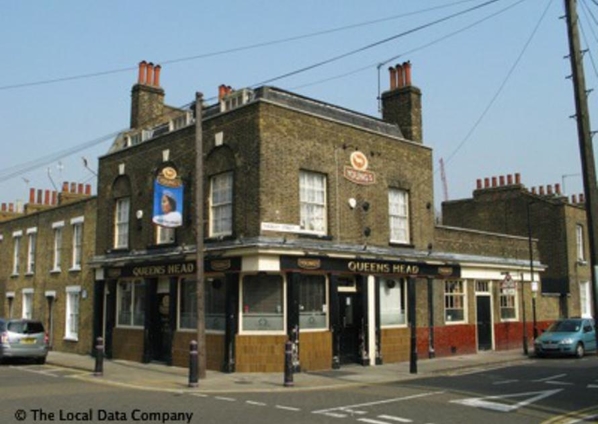 A battle royal is underway to save a pub in London's Limehouse that's thought to be the model for the Queen Vic in Eastenders. Jack Hunter runs the Queens Head in Flamborough Street, E14, and says he is hopeful of success after raising £60,000 in fewer than three weeks.
The pub dates from 1855 and is Grade-II listed. It's in the York Square community area and, with the support of the East London and City branch of CAMRA, has been listed as an Asset of Community Value with Tower Hamlets Council. This gives Mr Hunter and his partner Denise West six months to raise £500,000 to buy the pub.
The pub's ownership is complex, with a long lease, or "head lease", owned by the Islamic Unity Welfare Foundation, which has put it on the market, and a sub-lease owned by Young's pub company.
The Queens Head achieved fame when it was visited by the Queen Mother, who was photographed drinking a pint of Young's Special, which she said was better than champagne. There are artefacts of her visit in the pub and the photo of her drinking a pint is widely used throughout the Young's estate.
Jack Hunter told the Publican's Morning Advertiser: "We've raised quite a considerable amount so far but we still need to raise a lot more. It's the old story – the pub is the least profitable part of the building, we've got five bedrooms here and we're two miles from Trafalgar Square. The pub has a huge amount of heritage and I'd be heartbroken if it closed.
"But we're not out with the begging bowl. We're offering shares and people who invest will get a return. I've seen other examples of communities rescuing dilapidated pubs and that's not the case with us – we're a trading business."
He added that he hoped to get further funding from the Plunkett Foundation, which saves shops and pubs from closure by helping to turn them into co-operatives. Mr Hunter will also use his connections in the music industry to organise fundraising events at the pub. Actor Sir Ian McKellen, who lives locally, is among the famous faces to have visited the pub.
Mr Hunter hopes the consortium formed to save the pub will be able to buy the long lease and then wait until the Young's lease runs out in a couple of years time. The consortium can then let the pub to the operator and the business will be free of tie and community-owned.
*The Campaign for Real Ale has announced (6 April) that 1,500 pubs throughout the country are now listed as Assets of Community Value. 300 have been listed this year. CAMRA chief executive Tim Page says the aim is to win ACV status for 3,000 pubs.