News
Duvel's new Tripel has mystery hop
Added: Thursday, March 17th 2016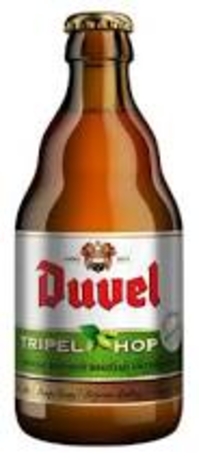 The Belgian brewer Duvel Moortgat has unveiled its latest edition of Duvel Tripel Hop, the annual version of its famous bottle-conditioned beer, first brewed in 1970, with a yeast strain that came from a bottle of the Scottish beer McEwan's Export.
The regular Duvel, 8.5%, is fermented three times in the brewery and bottle, and is hopped with Czech Saaz and Styrian Goldings. But since 2008, the brewery has released a special edition of the beer with a third hop added by Duvel's master brewer Hedwig Neven.
This year's Duvel Tripel Hop, 9.5%, is brewed with a hop so new that it doesn't yet have a name and is labelled Experimental Hop 291. It comes from the famous Yakima Valley hop-growing region in Washington State, in the United States.
Matthew Willson, Duvel Moortgat UK manager, says: "Duvel is traditionally brewed using two hop varieties, the earthy/herbal Saaz from the Czech Republic, and the rich lime marmalade from Styrian Goldings from Slovenia.
"Then, once a year, we have released a special limited edition beer that is brewed with the addition of a third hop. This year our brewers have selected the Experimental HBC 291 from the Yakima Valley in the U.S. as the third hop. It's unlike any other hop we've ever used, making this year's brew a really fascinating beer – adding notes of fresh citrus, black pepper, lavender and roses."
Experimental Hop HBC 291 is added to the main brew and then again during "dry hopping", which extracts additional hop aromas. The higher aromatic intensity rounds out the beer, backing the final alcohol content of 9.5%.
Later in 2016, in Belgium, Duvel Moortgat will release a limited edition six pack of the six Tripel Hop brews to date and will encourage beer fans to vote for their favourite Tripel Hop. This will be brewed as a permanent addition to the Duvel portfolio from 2017.
Duvel Tripel Hop Experimental HBC 291 will be available from  Booths and Selfridges at £2.79 per 33cl bottle, as well as selected bars and pubs.
R.P's tasting note:
Enormous blast of pepper on the nose with woody and lavender notes balanced by "fresh bread" malt. Bitter hops in the mouth are joined by tart fruit, juicy malt, pepper and spice. The finish is dry with bitter hops, woody notes, pepper, tart fruit and rich malt.
Previous Duvel Tripel Hops brews are:
2008/10: Amarillo, an American hop variety used for its aromatic qualities and bittering capabilities.
2012: Citra, an American hop from the Yakima Valley, used for it aromatic, fruity qualities.
2013: Sorachi Ace, a rare Japanese hop that enriches the beer with a fresh, exotic and mildly fruity touch.
2014: Mosaic, an American hop that displays strong aromas and bitterness as well as adding a sharp touch to the beer.
2015: Equinox, an aromatic American hop that adds fruity aromas of grapefruit and lime with a light touch of green pepper.