News
Former nightclub crowned pub of year
Added: Thursday, February 25th 2016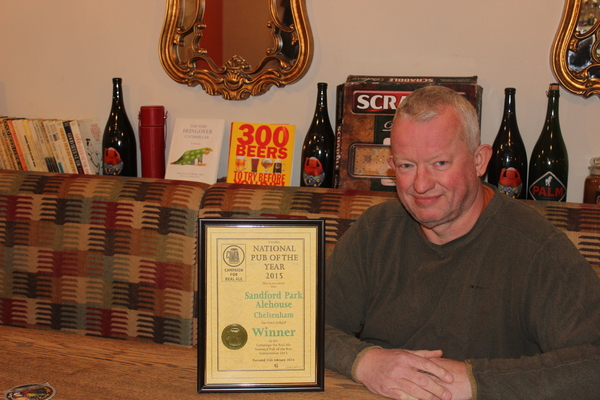 A former Cheltenham nightclub that now boasts 10 handpumps for cask beer and cider has been crowned national pub of the year by CAMRA, the Campaign for Real Ale, just three years after being converted to a pub.
Owner Grant Cook (pictured) was on holiday in Thailand when he put in a bid for the Grade-II listed Georgian building. Now named the Sandford Park Alehouse, Grant has installed additional walls, a Georgian-style stairwell and a new roof. He has converted a dance floor into his beer cellar.
The beer range includes Gloucester Cascade, Elland Lucky Dip, Oakham Citra, Harvey's Sussex Best, Shepherd Neame Spitfire, Purity Mad Goose, Off Beat Off the Rails and Wye Valley Butty Bach. Czech brewer Budweiser Budvar's unfiltered Krausened Beer also features.
Grant Cook spent 10 years running pubs in Leicester then spent 15 years working in IT before deciding to move back into the pub trade. "I wanted a bit of fun," he says. "This is hard work but there's definitely fun, too. It's astonishing to think we've been open less than three years but have won this award.
"At every stage of the competition, we've been delighted to get to the next round and then to emerge from the list of the final four pubs."
Pub of the Year organiser Paul Ainsworth says the judges were impressed at every level of the Sandford Park – especially the quality and choice of real ales.
"The judges appreciated the stylish modern interior, knowledgeable, welcoming staff and lively atmosphere," he adds.
As well as good beer and food, the pub also stages an annual cheese and cider festival.
The runners-up in the competition are: Drovers Rest, Carlisle, Kelham Island Tavern, Sheffield, and the Yard of Ale micro-pub in Broadstairs, Kent.