News
Breweries celebrate beery milestones
Added: Thursday, January 14th 2016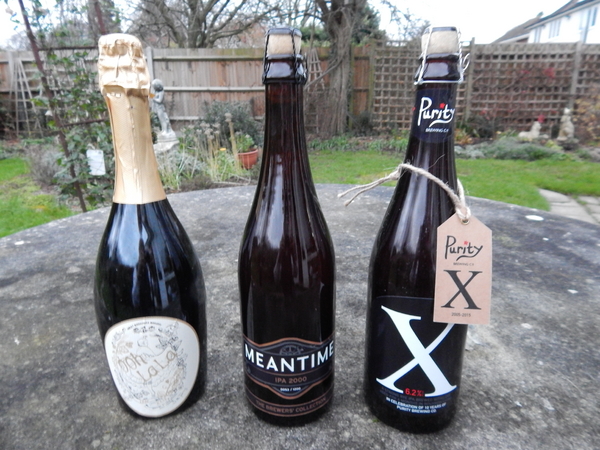 Three breweries that have carved special roles in modern British beer-making have produced commemorative brews to celebrate important milestones. Meantime in Greenwich, London, Purity in Warwickshire and West Berkshire have all brewed beers that come in impressive 750ml bottles with driven corks and Champagne-style cradles.
Meantime was founded in 2000 in a small lockup opposite Charlton Athletic football ground in south-east London by master brewer Alastair Hook. Alastair is a graduate of both Heriot-Watt University's school of brewing and distilling and the world-renowned brewing school at Munich's Technical University.
In 2010 he moved to a new site in Blackwall Lane, Greenwich,
 that houses a £7 million German brewing plant with a capacity of 120,000 hectolitres a year.
Meantime has grown at a furious pace. It has a large staff headed by chief executive Nick Miller, who joined from Miller Brands, the British subsidiary of SABMiller. The Greenwich site produces London Lager, Pale Ale and IPA and a vast range of seasonal beers, including Alastair's twist on both American and European beer styles.
Controversy has surrounded Meantime since it was bought by SABMiller in May last year. Its future is now uncertain as a result of SABMiller being bought by fellow brewing giant AB InBev, which has said it will dispose of Meantime along with Grolsch, Peroni and Pilsner Urquell to avoid regulatory problems in Europe and the United States.
But the problems have not stopped Alastair and his crew brewing a special version of their IPA to mark 15 years of brewing excellence. Meantime IPA 2000 is a special version of the brewery's IPA, increased to 8% and massively hopped with classic Fuggles and Goldings varieties. In true celebratory style, the beer is fermented with a Champagne yeast culture, which imparts the toasted note that is the hallmark of the wine.
The beer pours with a big fluffy head of foam that subsides to make way for a deep bronze/pale chestnut beer. The heady aroma offers bitter marmalade fruit, with spicy hops, cardamom seeds, and toasted grain. Peppery and spicy hops with toasted grain and tart orange fruit dominate the palate, followed by a complex and bittersweet finish, with cardamom seeds returning to balance earthy hops, bitter orange fruit and toasted malt.
https://www.meantimebrewing.com/shop/
Purity Brewing marks 10 years of solid growth with a 6.2% Purity X.  It's based on a farm at Great Alne in the depth of Shakespeare Country, surrounded by attractive small towns and villages packed with half-timbered Tudor buildings. The brewery, founded by Paul Halsey and James Minkin, has received much acclaim for its eco-system, with waste cleaned and recycled in a series of reed beds, and spent hops and grain used as animal feed on the neighbouring farm. Its main brands are UBU – named after the brewery dog –Mad Goose and Pure Gold.
Purity has installed a new brewhouse that enables it to produce 15,000 barrels a year. The celebration beer has been aged in Bourbon whiskey casks that impart a rich oak and smoke character.
It has a hazy orange colour, and a big vanilla, Bourbon, oak and ripe strawberries aroma. Bittersweet fruit, vanilla, oak, spicy hops and rich whiskey build in the mouth while the long finish starts intensely fruity with continuing strawberry notes, then becomes dry and hoppy, with balancing vanilla and oak and a final big whiskey hit. https://puritybrewing.com/purity-shop/
The West Berkshire Brewery was founded in 1995 by Dave and Helen Maggs behind the Pot Kilns pub in Frilsham on a five barrel plant. The success of such cask beers as Good Old Boy, Mr Chubb's Lunchtime Bitter and Dr Hexter's Healer led to a move to a new site at Yattendon in 2000. Major investment has created a substantial plant with the capacity to grow to 20,000 barrels a year. Much of the investment has come from celebrated entrepreneur David Bruce, famous for the Firkin home-brew pubs in the 1970s and 80s. He is now chairman of the brewery and has brought in experienced new executives with financial and marketing experience.
West Berkshire remains a rural brewery in fine surroundings near the River Thames. The beer that celebrates 20 years of brewing is called, in typical brash Bruce style, Ooh La La. The 6%
beer is based on the Belgian Dubbel style and has been aged in wood. It has a hazy pale copper colour, followed by a spicy nose with strong hints of vanilla, oak and tangerine fruit, balanced by toasted grain. Tangerine and mango fruit build in the mouth with spicy hop notes and continuing vanilla and oak. The finish is bittersweet with a hint of acidity, tangy fruit, spicy hops and rich, toasted grain.  http://www.wbbrew.com/shop/