News
Meantime's Miller answers his critics
Added: Friday, December 11th 2015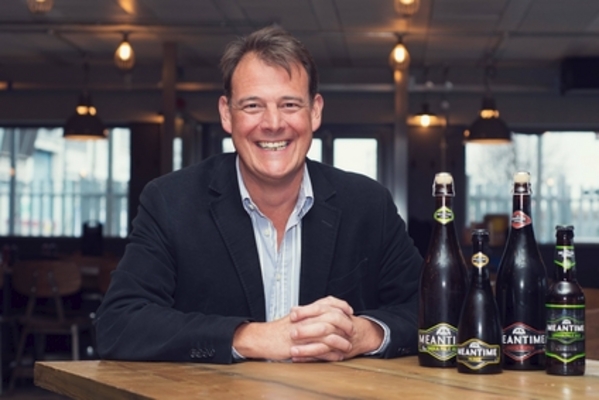 Nick Miller laughs off any suggestion that the controversial takeover of Meantime Brewery in May by global giant SABMiller was part of a carefully planned plot. The Meantime chief executive dismisses what he calls conspiracy theories and says the takeover – rumoured to be worth £50 million – was neither perfect nor planned.
Miller ran Miller Brands, SABMiller's UK subsidiary, before moving to Meantime in Greenwich, South-east London, but he says there was no contact with his previous employers until they made their bid.
"We'd planned to put Meantime on the market for 1½ years," he says. "SABMiller had never shown any interest in craft beer. The deal was entirely coincidental – someone from SAB came to Meantime to buy some beer and suddenly took an interest in us. The deal was done within eight weeks."
Miller says the decision to put Meantime up for sale was driven by the need to pay back the original shareholders in the brewery.
"We had a responsibility to provide for those shareholders. They'd been in place in 15 years and we'd never paid them a dividend as we were always reinvesting. It was dead money for them and all they could see down the track was more reinvestment.
"We needed to expand at a cost of £4 to £6 million. We didn't want to borrow as that's costly and we didn't want to sell part of the company to a venture capitalist.
"We talked to SAB in March and April without even talking to lawyers at first. It was a frenetic time but SAB have followed our vision. Sue Clark [SABMiller managing director for Europe] walked the floor and around 60 people from their finance department have been on brewery tours."
Nick Miller says SABMiller "ticked every box. The Meantime team is unchanged – no one from SABMiller works at the brewery. Their plan was to expand Meantime sales with an aggressive export policy. The 80 original Meantime shareholders have been replaced by SABMiller shareholders.
"Hooky [Alastair Hook, head brewer] is like a kid in a sweet shop. He has tapped into SAB's world research facilities and has access to methodology he's never had before.
"We've got drinkers as well as shareholders to look after. We've got to produce the right product and it's only been good under SAB."
Nick Miller says the decision to close Meantime's second brewery and restaurant was taken a year and a half before the SABMiller takeover. It was based in the former hospital in the Old Naval College site in Greenwich built by Sir Christopher Wren. Special beers were brewed there, some aged in wood, and were used to match food at special events.
"It was a nightmare to run," Nick Miller says. "We struggled – it was a very complex operation and we had to transfer beer from there to the main brewery to be packaged. We had to make a decision: are we in the beer business or are we a retailer?"
"We're now building a state-of-the-art new small brewery at the main site that will be for new product development, with direct links to all our main operations."
What Nick Miller, Alastair Hook and their team didn't see coming round the bend was the takeover of SABMiller by its great rival AB InBev. As a result, Meantime is now in limbo, put up for sale by the new owner, along with Grolsch and Peroni.
"It's part of the regulatory process," Nick Miller says. "AB InBev will have to dispose of a package of companies. The bidding process will start next year.
"As far as we're concerned, it's business as usual and I have a contract until next March. There are bigger issues for AB InBev than Meantime – we're just a minnow brewing super premium beer."
But minnows are in great demand as can be seen from the acquisitions made by MolsonCoors with Sharp's in Britain and Franciscan Well in Ireland. ABInBev has been active in the United States, buying Goose Island in Chicago and several other craft breweries.
The Meantime saga is far from over.