News
Round-up: Oakham to double capacity; Moorhouse's to build pub estate; Freedom launches new East India Pale lager
Added: Friday, October 30th 2015

Award-winning Oakham Ales has won planning permission to expand its Peterborough Brewery and double capacity to 100,000 hectolitres or 61,000 barrels a year. Oakham also plans a major sales drive in the London area.
The brewery is famous for its exceptionally hoppy and full-flavoured beers, with Green Devil IPA named Champion Cask Ale at the International Brewing Awards this year. The beer has picked up 15 gold medals and 19 further awards in total since it was launched five years ago, including being named Supreme Champion at the national SIBA – Society of Independent Brewers – awards in 2012.
In order to cope with demand for its beers, Oakham's head office team has grown more than threefold to 44 people over the past five years, reflecting annual growth in production of around 25 per cent.
Seven recent new appointments include Neil Galloway, operations manager, Dominic Leighton, national sales executive for the north, Jonathan Shaw, area sales manager for London, and Mike Simpson, who will look after off-trade and export. The appointment of Jonathan Shaw, who will be based in London, means the capital will have a direct supply route from the brewery. This will boost support for Oakham's cask, keg and cider products in a buoyant region.
Adam Posnett, Oakham's managing director, says: "With the continuing success of our core range and plans to expand our keg line-up for 2016, we wanted to ensure that all areas of the business had the additional support necessary to ensure that we are able to deliver the high level of service our customers have come to expect from us. Despite tough competition, with new breweries launching every week, I'm delighted to report that Oakham Ales has maintained steady growth in all areas and I'm confident the new appointments will help us build on our success."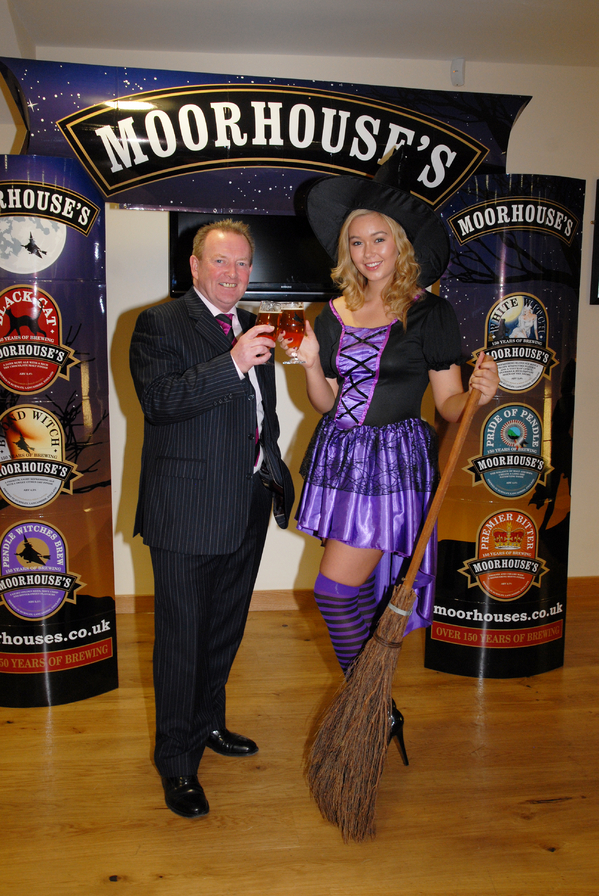 Investment in micro pubs could be the right magic for growth at Moorhouse's Brewery – Lancashire's leading independent brewer famous for its Pendle Witches brands.
Managing director David Grant (pictured with a Halloween "witch") has spoken of the challenges of a volatile market place as the historic Burnley company is poised to celebrate its 150 anniversary with a two day Halloween Party. Sales are expected to hit a record high for this October's witching season -- Moorhouse's busiest time -- up some 20 per cent on last year with already more than half-a-million pints sold.  
But while announcing growth of six per cent for the last financial year with a turnover of near £6 million, Mr Grant revealed that Moorhouse's is 'caught in a perfect storm' as more than 20 pubs close each week while micro–brewers mushroom at a rate of some 12 a month. He believes it is now essential to grow a tied pub estate.
The brewery owns three community pubs and has recently looked at acquiring small pub groups in the North. But with the traditional pub model struggling, one route to a healthy future for the modern 1,000 barrel-a-week capacity brewery could lie with the newly emerging micro-pubs concept; small outlets often set up in former shops to primarily sell cask ales.
Mr Grant said: "We now have our championship cask beers on the national stage with pubs in the south and prestigious London venues. But, to survive as an emerging regional brewer, our challenge is to sell more beer in line with our new brewery plan when we invested to treble capacity five years ago.
"Having our own pubs is one way we can move forward. The whole pub and beer industry has changed immeasurably in the past few years. The number of micro breweries has tripled due to generous tax relief, giving them a trading advantage over bigger brewers. And they are all seeking local business – yet the number of pubs has fallen dramatically.
 "We are being caught in a perfect storm with a shrinking market. Consequently I am actively looking at shops or small spaces in good strategic locations to open micro-pubs to complement the traditional pub model. These outlets would be in our core northern area – possibly as far afield as York or Chester -- and could operate for 48 hours a week. They would sell the very best quality beers – both ours and guest ales -- and have a limited but first class wine and food offering."        
 Moorhouse's delivers directly to pubs throughout the north of England and nationally through leading wholesalers and pub companies. The brewery is now seeing a sales surge for bottled beers with new business in top British supermarkets while inroads are also being made in the emerging markets of China, Russia and Australia.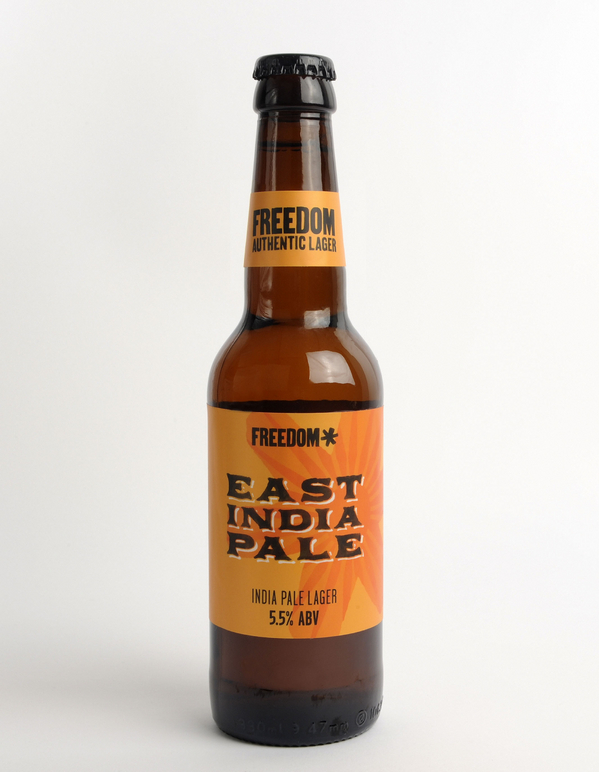 Staffordshire based Freedom Brewery is expanding its range of award winning craft lagers with the addition of a new East India Pale, Liberty Pils and Boston Beech - a ruby coloured American red.

Available from October, they will sit alongside Freedom Brewery's existing range including; Freedom (4% abv) and Organic Helles (4.8% abv), both of which are stocked in high end pubs, bars and restaurants throughout the UK. 

Jonathan Smith, Head Brewer at Freedom Brewery said: "Every single one of our beers has a distinctive character and that's exactly what we wanted from a range. We have experimented with our recipes; taking cues from authentic styles whilst never being afraid to try new things."

These new beers have been integrated into the brewers latest £1.5 million expansion programme which includes building a completely new brew house, installing 20 new state of the art fermentation and maturation tanks to triple capacity.