News
The barley that came back from the dead
Added: Friday, September 18th 2015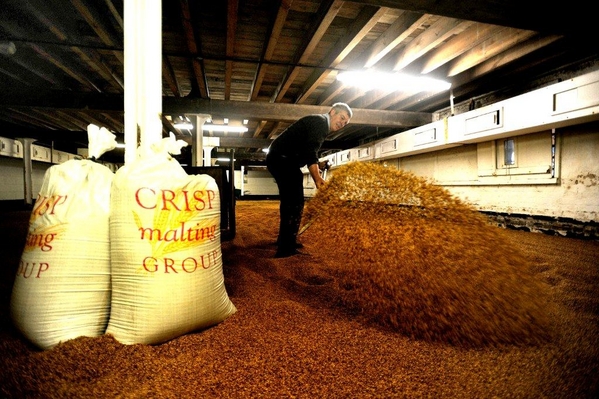 by Chris Hill

Brewers from across the globe have united in Norwich to help beer drinkers celebrate a revered Nrofolk barley. They can be enjoyed at a special beer festival at Norwich Open, in Bank Plain, which shines the spotlight on the ingredient which provides the "backbone" to craft ales around the world.
Along with many British entries, brewers from America, New Zealand and Spain have joined the Maris Otter 50th Anniversary Festival – with a beer from Japan also available.
The most distant brewer to bring his Maris Otter creation to the festival was Stu McKinlay, of the Yeastie Boys brewery in New Zealand.
His beer, brewed in collaboration with Castle Rock Brewery in Nottingham, was called Enz to Enz to signify his brewing journey across the hemispheres, but is also a musical reference to 1980s New Zealand band Split Enz.
"It is good to be here," he said. "As a home brewer, every single thing I read was about Maris Otter, and how lenient it was on the brewers.
"I don't know if it has just been branded really well, or if it really is a super-grain. But there is a big group of brewers in New Zealand who all started off brewing with Maris Otter. It has got such a romantic name."
Andrew Dougall set up his own brewery in Santander, Spain, in 2007, exclusively using Norfolk Maris Otter for its beers, including his festival American pale ale Happy Otter.
"Basically you can't make good beer unless you start with good ingredients," said Mr Dougall, who is originally from London. "There's no point cutting corners."
He runs the brewery together with business partner, Kike Cacicedo, they employ seven people full-time and brew 130,000 litres per year.
Dave Sippel, who lives in Michigan in the USA, became interested in brewing as a high school student, and is now director of brewing for Arcadia Ales in the USA alongside his wife Kathryn. The pair had never visited the UK before they were invited to the Maris Otter 50 beer festival.
Launched in 1996, when the American craft beer boom was beginning, he said that English ales were inspiring.
"It was a young industry and it was geared towards English styles before you heard about these big citrussy American hops," he said. "We still use almost exclusively English malt."
The brewery now produces around two million litres per year and Maris Otter is one of two base malts.
Norfolk was represented at the festival by Woodforde's, which launched a new fruit beer called Redcracker – a 7pc raspberry barley wine.
Managing director Rupert Farquharson said: "Maris Otter is considered the Rolls Royce of malting barley and is a staple ingredient in all of our beers. It was used in our very first brew of Wherry in 1981 and we continue to use it today thanks to its exceptional quality and the fact that it's grown locally to us."
Brewery manager Bruce Ash added: "This is our first attempt at a fruit beer, but it is not a really strong fruit flavour, just a hint. You are still getting the malt flavour."
Maris Otter is a specialist winter barley, mainly grown in Norfolk for the brewing industry.
Although it makes up less than 6pc of the brewing malt market in the UK, ten of the most recent 15 Champion Beers of Britain were brewed using Maris Otter malt. Many international breweries import Maris Otter malt from Crisp Maltings in Great Ryburgh, near Fakenham.
The event was organised by David Holliday, of the Norfolk Brewhouse in Hindringham, near Fakenham, along with Mark Banham of Hempton-based grain merchants H Banham – one of the custodians of the variety.
Mr Holliday said: "It's the first ever festival we're aware of that has focused solely on brand new beers, so to get 50 is superb and that's testament to the power of the malt and the passion for it within the brewing fraternity.
"I'd like to say it was hard work to organise, but it wasn't because breweries jumped at the opportunity."
*Chris Hill is the agriculture correspondent of the Eastern Daily Press. The report is published by arrangement with the EDP. Pictured below: farmer Teddy Maufe at Branthill Farm near King's Lynn where Maris Otter has been grown for 49 years.