News
Historic inter-war pubs saved for nation
Added: Friday, August 28th 2015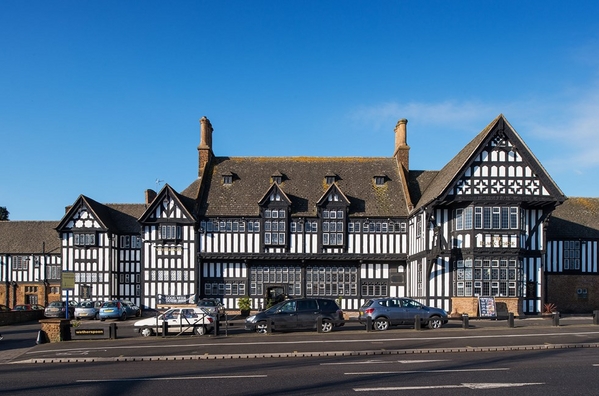 TWENTY ONE BEST INTER-WAR PUBS LISTED
Historic England celebrates great pubs with new listings across the country
Rare and overlooked buildings now protected- listing acknowledges they are essential part of our common identity, helping to tell the country's story
Recently-demolished Carlton Tavern was among those researched and earmarked for listing
From the Daylight Inn in Kent, named for a local resident who campaigned for daylight saving, to a landlady's labour of love in Scunthorpe, Historic England's research has led to 21 inter-war pubs being listed by the Department for Culture, Media and Sport. This follows Historic England's project to understand and protect some of England's best pubs built between 1918 and 1939.
The pubs, most listed at Grade II and one upgraded to II*, are much loved local landmarks shaped by the "improved pub" movement that followed the First World War. Between 1918 and 1939 breweries across the country rebuilt thousands of pubs, spurred on by the need to appeal beyond their usual male clientele and leave behind the image of drunkenness associated with Victorian and Edwardian pubs.
By creating bigger, better pubs with restaurants, gardens and community meeting spaces, breweries aimed to attract more respectable customers, to appeal to families and particularly women. The 21 listed following Historic England's research are the best surviving examples of this fascinating time in the history of a building type which is stitched into the fabric of English culture.
Among the new listings is the Berkeley Hotel in Scunthorpe which, unusually, was commissioned, decorated and run by pub landlady, Edith Kennedy. Further afield in Birmingham is the Black Horse (above), dubbed by architect Basil Oliver as "one of the most sumptuous inns in the district, if not England" now upgraded to Grade II*.
Also listed is the Royal Oak, on the doorstep of the famous Columbia Road Flower market in Hoxton and called an "early pub" because it serves market traders from 9am on Sundays. It is also a sought-after filming location, often the backdrop in BBC TV series "Goodnight Sweetheart", and played a starring role in British gangster film "Lock, Stock and Two Smoking Barrels".
Heritage Minister Tracey Crouch said: "These inter-war pubs are more than a slice of living history, they play an intrinsic role in English culture and our local communities.  I'm delighted that these pubs and their fascinating history have been protected for generations to enjoy for years to come."
Emily Gee, Head of Listing at Historic England said: "This national project, the first of its kind, has surveyed the increasingly threatened and much loved inter-war public house, allowing us to identify, understand and protect the most special examples. And what better way to champion the best of our locals than by raising a pint glass to these architectural beacons of English community life now celebrated on the National Heritage List."

At least 5000 pubs were built during the inter-war years but they are a sadly overlooked and threatened building type, with very few surviving today. One of the pubs researched through this project and earmarked for listing was the Carlton Tavern in Kilburn, recently demolished without warning before it could be protected. These buildings are important social spaces which have stood at the hearts of communities for decades. Listing offers them protection but also acknowledges that they are an essential part of our common identity and help to tell our country's story.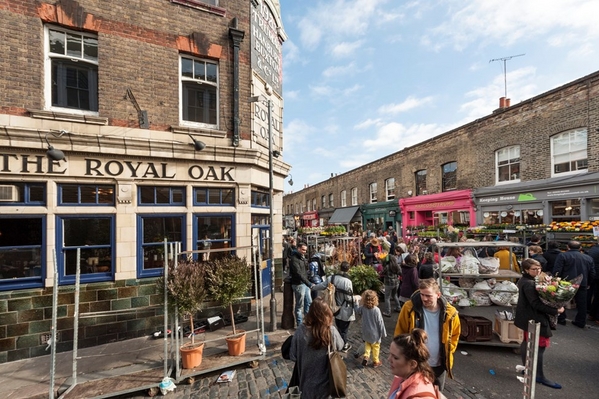 The full list:
Royal Oak, Columbia Road, London.
Rose and Crown, Stoke Newington, London
Golden Heart, Spitalfields, London
Stag's Head, Hoxton, London
Duke of Edinburgh, Brixton, London
Station, Surrey
Black Horse, Birmingham
Berkeley Hotel, Scunthorpe
Daylight Inn, Petts Wood
Duke William, Stoke-on-Trent
Wheatsheaf, Merseyside
Gatehouse, Norwich
Brookhill Tavern, Birmingham
White Hart, Grays, Essex
Biggin Hill Hotel, Covenry
Angel, Hayes, Middlesex