News
Top Liverpool pub 'safe from the axe'
Added: Monday, August 24th 2015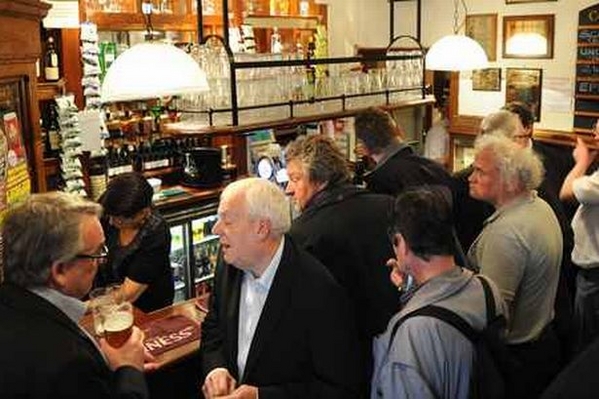 BREAKING NEWS 26 August: New River Retail says the Roscoe Head, Liverpool, will remain as a pub. Allan Lockhart for NRR says the company "will work with Punch tenants to grow sales while looking for additional opportunities to redevelop existing land. New River Retail is committed to the tied model and willing to look at longer leases for existing tenants." He adds that the Punch portfolio offers fewer opportunities for conversion to convenience stores but greater potential for residential development."
An award-winning community pub in Liverpool is one of 158 "non-core" outlets that will be sold by Punch Taverns to a company that specialises in converting pubs to covenience stores. The Roscoe Head in Liverpool has featured in all 43 editions of the annual CAMRA Good Beer Guide, first published in 1974.
Punch, with a debt mountain of £1.5 billion, will sell the 158 pubs for £53.5 million to New River Retail.
Carol Ross, the tenant at the Grade-II listed Roscoe Head, says she is "devastated" by the news."Every year when I sign a new agreement, Punch has assured me that the Roscoe is one of their core pubs. But now they say it isn't core even though it was named CAMRA Pub of the Year in 2012."
Carol's family have run the pub for more than 30 years. Carol managed the famous Philharmonic pub in Liverpool and took over the Roscoe in 1997 when her parents, Nicholas and Margaret Joyce, retired.
"Punch has made the Roscoe 'non-core'," she says, "because I have told them I want to go for the Market Rent Only option next year. This means I can offer my customers a much wider range of beers – but Punch won't make so much money from the pub. Their decision is political."
The Market Rent Option, brought in by the last coalition government, allows pubco tenants to opt for a level of rent that frees them from the pubco "tie" and allows them to buy beers from other sources.
New River Retail acquired 202 pubs from Marston's in 2013 for £900 million. The company says "good progress has been made in converting a number to convenience stores."
The pubs Punch is selling earned before interest and tax £7.3 million over the past 12 months and have a book value of £52.5 million. The sale will leave Punch with 2,900 pubs and a further 550 "non-core" ones.
New River says "the portfolio has significant asset management and development opportunities, including unlocking and creating capital growth through the introduction of new and complementary uses as well as offering existing occupiers longer, more sustainable leases.
"We have identified a number of value-enhancing development opportunities within the portfolio, which include residential new builds on surplus land, extension or part-conversion of pub assets for residential use and the build of new convenience stores on surplus land."
Allan Lockhart, New River's property director, adds: "In many ways, this portfolio is similar to our Marston's transaction in that we expect to deliver cash or cash returns and attractive capital growth through asset management and development."
New River has submitted a further six planning applications and successfully secured a further three consents in regards to the Marston's portfolio. This takes the total number of planning applications submitted to 45 and total planning consents received to 13.