News
Minister in drive to save pubs from axe
Added: Tuesday, August 11th 2015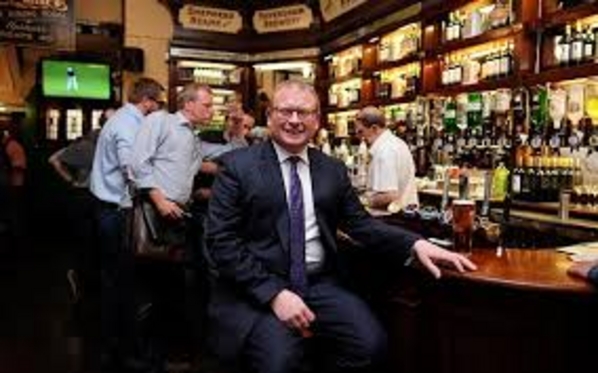 Pubs Minister launches 'Badge of Honour' for pubs in effort to curb closures
 
- First "This Pub Matters" badge of honour to be presented at Great British Beer Festival trade event, in front of 6,000 members of the pub and beer industry
- 800 pubs currently listed as Assets of Community Value will be sent packs including the This Pub Matters window sticker
- CAMRA target 3,000 pubs for protection with ACV status before the end of 2016
- 29 pubs per week closing in the UK over the past 12 months  
- New figures show suburban areas worst hit, with 17 of the 29 net pub closures per week (high street 3, rural 9)
The Community Pubs Minister Marcus Jones MP is launching a new campaign to protect England's most treasured community pubs from demolition or conversion to other uses by presenting the first "Badge of Honour" to a licensee.
Marcus Jones will be presenting the first This Pub Matters badge to Tina Massie of the Red Lion pub at the Campaign For Real Ale's (CAMRA) Great British Beer Festival in London -- the first of what the Campaign hopes will be 3,000 pubs protected under the initiative.
The launch of the initiative comes as new statistics released today show neighbourhood suburban pubs are bearing the brunt of pub closures with 17 of the 29 a week in this category, compared to nine in rural locations and just three on the high street. This has prompted CAMRA and the Department for Communities & Local Government (DCLG) to launch the joint initiative to protect England's most valued pubs – those listed as Assets of Community Value.
Tim Page, CAMRA Chief Executive says:
 "Pubs achieve ACV status by local people coming together and listing the pub as an asset. It is a badge of honour, a mark of quality and a crystal clear sign that the pub is valued by locals. With pub closure figures remaining high, and new figures showing seventeen suburban pubs are lost each week, it's even more vital that pubs are given protection by the government and that communities are given a say before they are demolished or converted "
The 800 pubs already listed as ACVs will receive the quality mark, which proudly states "This Pub Matters", with CAMRA aiming to increase that number to 3,000 by the end of 2016, encouraging more community groups, pub-regulars and CAMRA branches to nominate their local pub and ensure it is protected in the future.
Community Pubs Minister Marcus Jones, whose government department DCLG worked with CAMRA on the initiative, will be presenting the first Badge of Honour to landlord Tina Massie of the Red Lion pub during the trade session of the Great British Beer Festival – attended by more than 6,000 members of the beer and pub trade.
Community Pubs Minister Marcus Jones says:
"The Great British pub is a national treasure which is why we brought in new powers so people can help protect their local by listing it as an asset of community value. Hundreds of communities have seized this opportunity and I am delighted this is being recognised today at the Great British Beer Festival.
"There is an increasing confidence in the sector with community ownership of public houses starting to take off and the boom in Great British brewing. However, we must be realistic that planning rules alone cannot keep pubs open which are not making money, therefore this government's broader strategy of lower taxes, less regulation and a growing economy is the best way to support a thriving and diverse sector."
To nominate your local pub as an Asset of Community Value and ensure it gets the protection it deserves visit www.camra.org.uk/listyourlocal