News
Round-up: GBBF trade session booms; new Black Sheep beer; Thornbridge heads to Holland; Ilkley Brewery bought
Added: Friday, July 31st 2015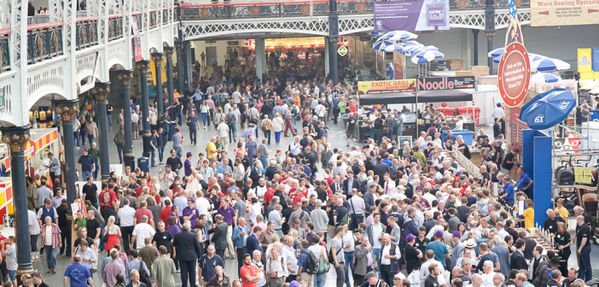 The Great British Beer Festival, Britain's flagship trade event for the beer and pub industry, has seen a 40% increase in the number of licensees, brewers, and members of the trade applying for tickets. The festival runs from 11-15 August at London Olympia.
The trade session at the festival, sponsored by hop suppliers Simply Hops, is this year expected to be attended by more than 7,000 members of the industry compared to around 5,000 last year. GBBF organiser Ian Hill says the event has gone from strength to strength in recent years,
"We are constantly look at ways to further improve the trade session at the festival for industry attendees," he says. "That's why this year we have introduced a trade show area in the Pillar Hall where smaller exhibitors can promote their promote their products or explain their services to potential future customers. This will only be open during the trade session and has filled a gap in the event for companies other than brewers who want a presence at the festival, as well as being an area where breweries can promote their bottled beers or offer samples." 
Trade session sponsors Simply Hops will also be running a Master Class in the new trade area from 1pm-2pm to allow members of the trade to explore the variety of hops with the world's largest supplier of hop products and services. The session gives the opportunity to touch, taste and see the different varieties used in brewing and the chance to discover varieties members of the industry may not have heard of or used before.
For brewers the Champion Beer of Britain announcement is the main focus of the trade day, with one lucky brewery having its beer named the "best in Britain" following a full 12 months of rigorous competitions and taste tests. Last year's winner Timothy Taylor saw a huge jump in demand for its Boltmaker beer from pubs and it was even picked up for sale by Tesco's nationally – something this year's winner will be hoping to emulate.
The Champion Bottled Beer of Britain competition will also take place on Tuesday and is once again sponsored by online beer retailers Beer Hawk who will be producing a celebratory beer case containing 15 of the bottled finalists.
The trade session runs from 12-5pm on Tuesday 11August.
Black Sheep reaches out to young drinkers
Black Sheep Brewery in Masham, North Yorkshire, is reaching out to younger experimental beer drinkers with a new pale ale, Pathmaker, created by its brewing team that was given a free rein to innovate.
Pathmaker is inspired by Black Sheep's founder Paul Theakston who was the brewery's pioneer against bland beer and mass corporations when the set up the business in 1992.
With its hand-drawn branding, Pathmaker is aimed at contemporary urban pubs and bars and a growing population of young beer fans who have a taste for new beers and a desire to try new flavours.
A 5% pale ale, Pathmaker is brewed with Chinook hops, with a fresh aroma, juicy hops and malt on the palate, and a crisp finish. It will be available in 50-litre kegs.
Jo Theakston, Black Sheep's sales and marketing director, says: "The number of pubs and bars wanting something new and exciting continues to grow and beer drinkers are looking to experiment.
"When my dad, Paul Theakston, embarked on his own adventure by setting up Black Sheep Brewery in 1992, he did so to become independent and combat bland beer. Pathmaker is inspired by him and we are innovating in that spirit.
"Pathmaker will help us reach out and tell the Black Sheep story to younger drinkers. We are proud of our history and we want to re-tell our tale in a modern way to connect with new drinkers and customers."
Thornbridge going Dutch
Thornbridge Brewery in Bakewell. Derbyshire, is working with a leading Dutch bar owner to run a spexcialsit outlet for its beer in the Netherlands."Partnerships with importers and those managing bars that stock Thornbridge are crucial to ensure our beers reach the drinker in the best condition", says Simon Webster, Thornbridge's chief operating officer.
Paul  Leeyen has been stocking Thornbridge beers for three years at his bar in Den Bosch in the Netherlands and he has been delighted with the response from his customers. "High quality and a great variety of beer styles sets Thornbridge among the top breweries we deal with. Working with them and their importer Bier&Co has been a really positive experience," he says.
Paul has been so delighted with his Thornbridge partnership that he approached the brewery about the idea of opening a Thornbridge Bar in Den Bosch. "After visiting the brewery in late 2014 I was blown away by the passion for their beers that everyone at Thornbridge demonstrated. I knew that if I could find the correct site in 's-Hertogenbosch  then a Thornbridge bar would be a great success".
After months of looking for the right site Paul has now found one and has been busy working with Thornbridge and Bier&Co with an aim of opening the Thornbridge's-Hertogenbosch on 4September.
Simon Webster is excited by the concept. "It really continues what we have been doing in the UK and in export – find and work with people who are as passionate about beer as we are and have skills that complement what we wish to do with Thornbridge beers. In Bier & Co we have an experienced importer and likewise with Paul. When we visited his current bar in 's-Hertogenbosch, we knew our beers are in safe hands. So when he approached us to develop the Thornbridge Bar it excited us and it has been a lot of fun planning what we are sure will be a great success".
Half Full buys Ilkley Brewery

Half Full Beer Co, based in West Yorkshire, has bought  Ilkley Brewery for an undisclosed sum. The purchase marks the first phase for Half Full Beer Co, with the launch of a separate, new brewery among their future plans. The buyout of Ilkley Brewery will see immediate investment at the existing site. There will be expansion in production facilities, upgrades to brewing kit and the creation of new jobs.
Ilkley Brewery was founded in 2009 by a group of local beer enthusiasts  and started life in a humble site in the centre of town, producing cask ales for the local community. The brewery soon started to win awards for its beers and demand outgrew capacity. Local investment in 2011 saw production move to a larger site, and over the following four years production capacity rose to more than 45,000 pints per week. There was a complete rebrand during 2012, and the beer was distributed nationally and internationally, from Brighton to Edinburgh, and from America to China.
Half Full Beer Co was formed by former Ilkley Brewery manager Luke Raven, who with the support of a team of investors, has spearheaded this project. He says: "With the quality of their beers recognised and demand high, the opportunity to continue to be a part of the Ilkley Brewery story was not one to be passed up. I formed Half Full Beer Co with an open remit to engage in the beer industry as a whole, and with a vision to develop a portfolio of brands.  
"Our optimistic, open and community-based approached perfectly suits Ilkley Brewery. I am delighted that Richard Shelton is remaining as managing director and can be confident that under his sustained stewardship, the business can continue to flourish."
The brewery has been operating at full capacity for some time, unable to accept extra business despite demand from its 600-strong customer base. The new investment will allow production to double within two years.  At a time where interest in British brewing has never been higher, Ilkley beers will be available to more pubs, bars, restaurants and shops across the country. Core brews Mary and Joshua Jane have recently launched in Marks and Spencer's, supplementing the Ilkley presence in Morrisons, Sainsburys and Asda and with further listings imminent. Ilkley beers will also be representing Yorkshire at the  CAMRA Great British Beer Festival.
MD Richard Shelton says ,"This marks the start of yet another exciting chapter in the brewery's history. Having already grown at an exceptional rate, I believe that this new partnership and the investment that comes with it will enable us to raise our ambitions and maximise our potential. I am supported by a strong and dynamic team, who have been fundamental in building Ilkley Brewery's reputation, and will continue to play an important role in our future growth. We have flourished in the last year, growing the brewery to be in the top 15% of Independent British breweries. We can now move forward together with a target to be in the top 5% within the next two years."
The investment in company infrastructure, including the creation of more jobs will be immediate, and orders have already been placed for brewing kit to increase production.
For more details, contact Luke Raven via l.raven@halffullbeerco.com  and watch for further announcements via the Ilkley Brewery website and on social media platforms. www.ilkleybrewery.co.uk        @ilkleybrewery               @lukeraven