News
Fuller's offer beer and the Bard
Added: Friday, June 19th 2015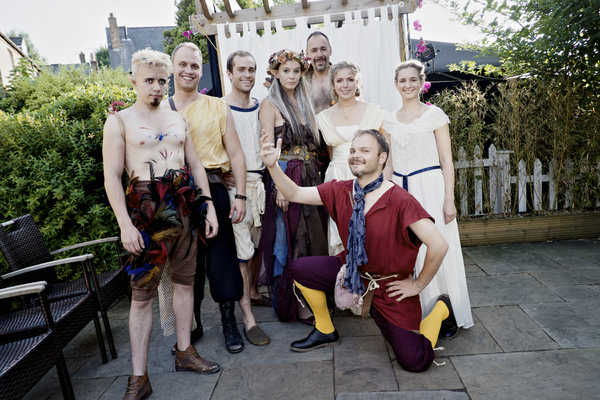 For the second year running, west London brewer Fuller's is showcasing Shakespeare in the Garden 2015, in association with Permanently Bard. This year sees the theatre company (pictured) interpret of one of Shakespeare's most popular love stories: Romeo and Juliet.
Twelve of Fuller's Inns will transform their pub gardens into the setting of Shakespeare's legendary story of two young star-crossed lovers, whose relationship is no less than a tragic romance. Fresh food will be available to purchase at each site, including gourmet bar snacks and bespoke pub menus. Each bar will be well stocked with a great array of beers, including Fuller's flagship brand London Pride and Fuller's new wave craft lager, Frontier. There will also be a wide variety of wines and spirits.
The official charity benefitting from this year's production is Shooting Star Chase.
Nick Corden at Fuller's, said: "The pub and the theatre have long been happy bedfellows. The tradition of pub theatre is an example of how two good things can come together to make something great. We are extremely proud of Fuller's partnership with Permanently Bard and we are excited about this year's production. It is not to be missed."

Show Dates:
3-4 August 

Boater, Bath, 9 Argyle Street, Bath BA2 4BQ

5-6 Aug

White Buck, Burley, Bisterne Close, Burley, Hants BH24 4AZ

 
 

7-8 August 2015

The New Forest Hotel, Ashurst

Lyndhurst Rd, Ashurst, Hampshire SO40 7AA

 

11-12 August 2015

The Castle, Harrow

30 West Street, Harrow, Middlesex HA1 3EF

 

13-14 August 2015

The Pilot, Greenwich

68 River Way, London SE10 0BE

 

15-16 August 2015

The Links Tavern, Liphook

Portsmouth Road, Liphook, Hampshire GU30 7EF

 

26-28 August 2015

The Rose & Crown, Ealing

Church Place, St. Mary's Road, Ealing, London, W5 4HN

 

29-30 August 2015

The King's Head, Wickham

The Square, Wickham, Fareham, Hampshire PO17 5JN

 

2 September 2015

The King & Queen, Caterham

34 High St, Caterham, Surrey CR3 5UA

 

3-5 September 2015

The Red Lion, Barnes

2 Castelnau, London SW13 9RU

 

8-9 September 2015

The Turk's Head, Twickenham

28 Winchester Road, Twickenham, Middlesex TW1 1LF

 

10-12 September 2015

The Duke of Kent, Ealing

Scotch Common, London W13 8DL

 
Tickets can be purchased here: www.fullers.co.uk/pubs/shakespeare-in-the-garden