News
BrewDog in £25m expansion drive
Added: Sunday, May 31st 2015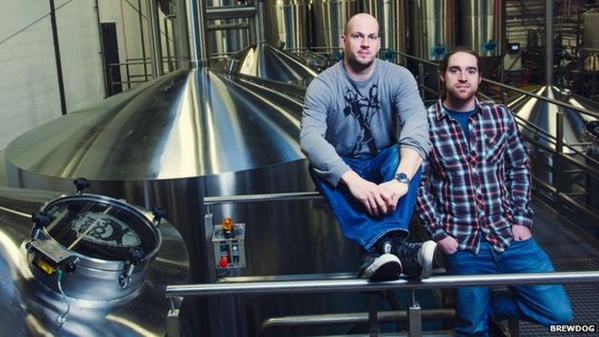 Feisty Scottish brewer and pub retailer BrewDog is starting work on a £25m new brewery at its Ellon base in Aberdeenshire, Propel Info reports. The new plant – expected to come on stream in February 2016 -- will enable the company, founded in 2007 by James Watt and Martin Dickie (left to right in picture) to increase production five times.
The company has raised more than £6m from its latest crowdfunding initiative. £3m of this is immediately being invested in the new brewery. A company spokesman said: "Prior to the beginning of Equity for Punks IV, we had talked about the idea of expanding our Ellon site. Now we can fully dial you in in on exactly what is set to occupy the near 5,500 square feet site, adjacent to our current brewhouse.
"It will enable us to keep up with the demand for our beers, create more jobs and continue to add to our growth potential. Site 3 will increase our capacity five-fold, housing a bespoke Ziemann 300hl brewhouse, which will work in tandem with our existing 100hl brewhouse.
"We estimate the brewery expansion will create more than 130 new jobs for our Ellon site, both in production and in the new three-storey offices that are part of the plans," he added. "Our Site 3 expansion is an amazing undertaking. Overall, the project will cost in the region of £25m, making it by a long way the biggest endeavour we have ever undertaken.
"Every single penny we are investing in the project will go to continuing our mission to make the very best beers we can, and then get them into your hands and glasses as quickly as possible."
The spokesman added that the new production facilities will still make BrewDog a fraction of the size of American craft brewers such as Lagunitas, Sierra Nevada and Stone. The company can grow to 10 times its present size and still be less than 0.5% of the British beer market," he went on.
BrewDog's current funding drive means it has a £305m valuation, 115 times earnings.. All Street, which produces research on crowdfunding, says this probably makes it Europe's most aggressively valued brewer. By comparison, Heineken trades trades on 27.08 times earnings, Carlsberg is valued at 21.47 times earnings, AB InBev is worth 21.83 times what is makes in profit, and SABMiller is at 24.46 times earnings.
But there is a cloud on the horizons. All Street chief executive Emanuela Vartolomei told Business Insider: "BrewDog has performed exceptionally well. It's a strong company with sustainability at its heart and a talented workforce.
"However, it's difficult to see how investors will make a financial return on this deal given the high valuation of £305m. No financial forecast has been disclosed so there is very little clarity as to how the company will hit the revenue targets to generate a risk-adjusted return for investors."
*Thanks to Propel Info.