News
Hogs Back IPA goes back to English roots
Added: Monday, May 4th 2015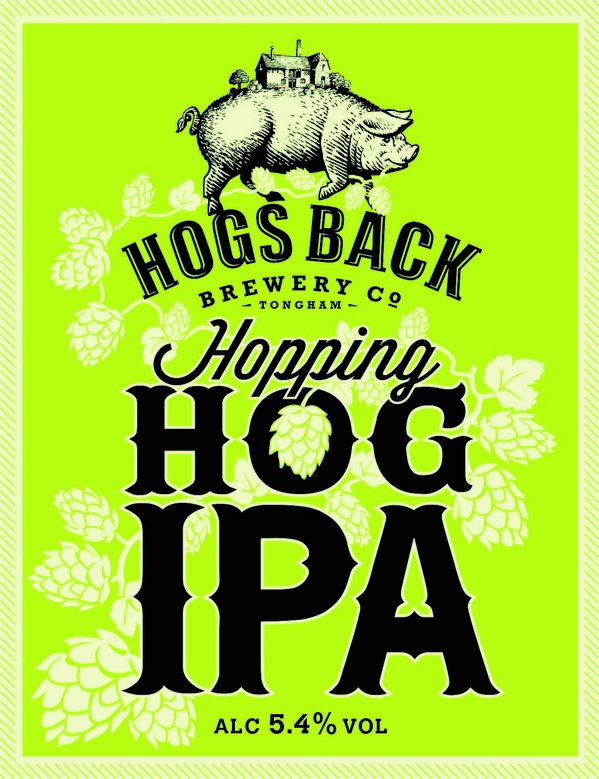 Hogs Back Brewery near Farnham in Surrey has added to its core range of craft beers with the launch of Hopping Hog IPA, its first keg ale. A complex IPA with a 5.4% ABV, Hopping Hog will be available year-round from the brewery based on a farm at Tongham. It's being launched in a cask format – which will be available at selected times – and moving into keg from May. It will also be available in 330ml bottles. 
One of the first pubs to serve Hopping Hog IPA will be the acclaimed Bree Louise in Euston, North London (69 Cobourg Street, NW1). In the off-trade, Hopping Hog IPA will be available from this summer through the Hogs Back Brewery shop and mail order service, as well as from a number of independent retailers.  
Rupert Thompson, owner of Hogs Back Brewery (below), said: "IPA is a traditional English beer style and played an important part in establishing the reputation of British brewers as among the best in the world. Today, it's one of most popular beer styles globally, thanks to the US craft brewers who adopted it with such passion. However, we wanted to prove that it takes a British brewer to make the perfect IPA. Hopping Hog is a complex, full-strength IPA that fits neatly into our portfolio alongside our flagship cask ale TEA and session bitter HBB.
"Combined with our core range of draught and bottled ales, seasonal beers, and our recently-launched Hogstar English Lager and Montezuma's Chocolate Lager, we have a portfolio that appeals to beer lovers across the board." 
Hopping Hog IPA has an RRP of £1.95 for an 330ml bottle. Slightly spicy with liquorice and grapefruit notes on the tongue, it is a balanced and full-bodied IPA with a long, dry finish, and a distinctive red colour. Hopping Hog is brewed with Mount Hood, Cascade, Chinook and local Fuggles hops and a selection of the finest malts.
Hogs Back Brewery
Hogs Back Brewery was founded in 1992 in Tongham, Surrey, in the heart of the traditional Surrey hop-growing area, and bought by current owner Rupert Thompson in 2012.
Its flagship brand TEA, or Traditional English Ale, is the leading independent ale in Surrey and increasing in popularity throughout London and the South East, as well as being sold in leading supermarkets. TEA was recently awarded the Gold medal in the Best Bitter Category for the London and South East Area by CAMRA, the Campaign for Real Ale.
The Hogs Back Brewery range includes a number of award-winning draught and bottled ales. Recent launches include Hogstar English Lager and Montezuma's Chocolate Lager, both demonstrating Hogs Back Brewery's ability to combine brewing expertise and tradition with product innovation to create distinctive, memorable beers. Hogstar won a Gold award at the Society of Independent Brewers' National Keg Beer Competition 2015. Last year, Hogs Back also launched a traditional cloudy cider, Hazy Hog.
In 2014 Hogs Back Brewery planted its own hop field on land adjacent to the brewery, bringing the traditional but near-extinct White Bine hop variety back to its Surrey home.