News
Bradford brewery in bitter political row
Added: Tuesday, April 7th 2015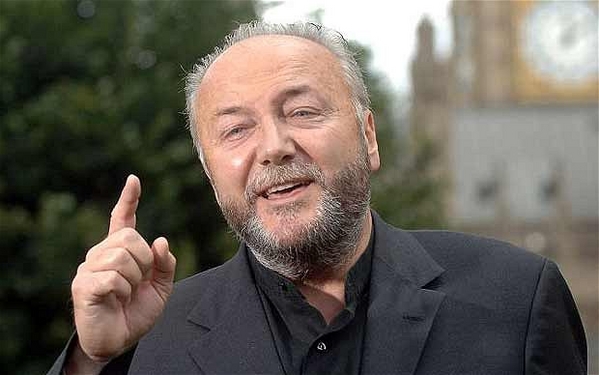 Beer has raised its head in Bradford with a new brewery engaged in a bitter war of words with George Galloway, the former MP for Bradford West and now the Respect candidate in the general election.
Matthew Halliday, founder of Bradford Brewery (below), discovered that his site and its brewery bar are next door to Galloway's constituency office. Matthew asked on Twitter: "Is George Galloway still a thing?"-- a hint that the politician was not often seen in Bradford. Galloway responded furiously:  "What does this mean? And should you as a licensed premises in my constituency really be writing this?"
When Matthew pointed out that, as a parliamentary candidate, Bradford West was no longer "his" constituency, Galloway replied: "I shall return to this matter after election. You have been most unwise."
The result has been a fire-storm of interest in the brewery, both on Twitter and in the form of a flood of visitors to the brewery bar, called the Brewfactory. The bar was drunk dry of six casks of the brewery's beers over the Easter weekend – but it did have a range of other beers on offer to quench the thirsts of the hordes of customers.
Bradford Brewery now has more than 4,000 followers on Twitter. Matthew had one message of support from somebody climbing Mount Kilimanjaro in Africa and another message came from drinkers in Toronto, Canada.
The row has created great interest in the brewery and its beers. Bradford, a major Yorkshire city with a population of 300,000, has not had a brewery since Hammonds closed in 1955. Matthew Halliday, who is Bradford-born and is a former licensee in Bingley, has seen the growth of a new beer-drinking culture in the city, with modern bars offering a range of British and foreign beers.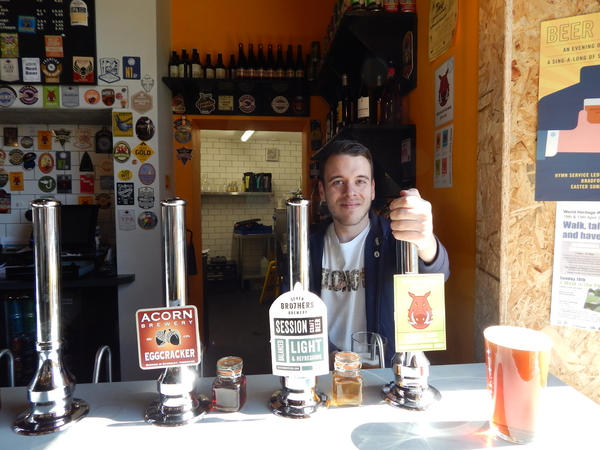 He was enjoying some of the beers in the Sparrow beer cafe when he came up with a plan to open a micro plant in Bradford. It took two years to get investment and equipment to bring his plans to fruition. Brewery and bar have cost £400,000 and the costs have been met in part with a grant from the local council, which has a £35 million regeneration plan for the city centre to create new businesses and jobs. The council helped find premises for brewery and bar that are based in the historic former Shaw Moisture Meter Factory which produced technical equipment for the textile industry.
Bradford Brewery has 11full-time staff, including Sam Kirkham, a former cellar manager and hotel manager, who now runs the Brewfactory.
Matthew also struck a deal with the Pieminister food company, which offers its full range of pies from a kitchen it has designed in the Brewfactory.
The 10-barrel brewery kit came from the Oban Brewery in North-west Scotland. It was a long journey in trucks, made all the more difficult by heavy snows in Scotland at the time he equipment was due to be delivered.
Matthew Halliday has been joined in the brewery by Steve Crump (below), who was head brewer for two years at Wharfe Bank Brewery in Pool-in-Wharfedale. He has been a keen home-brewer for several years and is a trained microbiologist who worked for the government's Food and Environment Research Agency.
He promises some "hop-bursting pales, complex ambers and some serious IPAs" in his smart new brewhouse with hot liquor tank, mash tun and kettle that feed three 10-barrel fermenters. The local water is soft and Steve adds calcium and gypsum for his pale ales. At present he is producing only cask ales but plans some keg beers in one-trip containers in the future.
The current range is made up of four beers: The Origin, a 4.2% pale ale, Odsal Top, a 4% brown ale, Razorback, 3.7%, described as a "white gold ale", and Death Cookie, 5.7% IPA. Steve uses Halcyon pale malt with, depending on recipe, Munich and Czech malts. His wide range of hops comes from England, Germany, the  Czech Republic and New Zealand.
The brewery logo matches that of the city's emblem – the Bradford boar's head. In keeping with the city's history, the brewery has unleashed some angry snorts and rumblings from the political undergrowth and there may be more to come. Matthew Halliday is contemplating a new beer – Galloway Bitter – if the Respect candidate loses his seat. But if Galloway is victorious Matthew and his team had better duck for cover.
*Bradford Brewery, 11 Rawson Road, Bradford. www.bradfordbrewery.com. 01274 397053