News
Revived DBA takes Burton by storm
Added: Sunday, March 29th 2015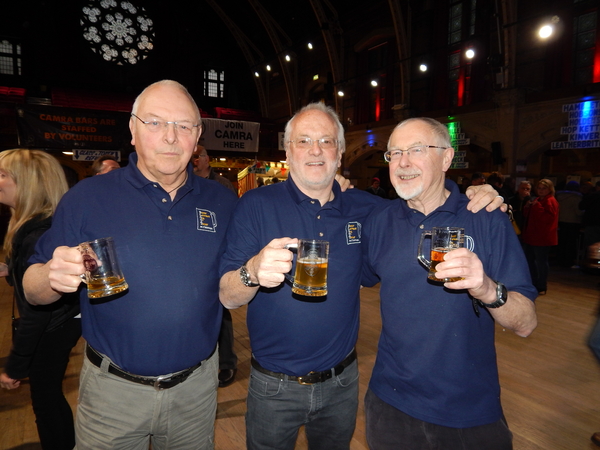 Draught Burton Ale has made a spectacular comeback in its home town of Burton-on-Trent. Sixteen pubs in Burton and Derby have taken supplies of the beer brewed by Burton Bridge Brewery while two casks supplied for the Burton Beer Festival on 26 March were emptied by drinkers in two hours.
The beer – first called Ind Coope Draught Burton Ale but known as DBA for short – was brewed in 1976 and its success helped kick start the real ale revival. Ind Coope, with breweries in Burton and Romford, was part of the national group Allied Breweries. For the full history of the beer see: http://protzonbeer.co.uk/comments/2015/01/06/dba-gone-for-a-burton
Following Carlsberg's decision in January to axe the beer, three CAMRA members in Derby, (left to right above) Les Baynton, Dave Evans and John Arguile, formed BLOTTS – Beer Lovers On 'T Tour – with the aim of restoring such lost Burton beers as DBA and Bass P2 Stout. They held talks with Bruce Wilkinson (left below) and Geoff Mumford at Burton Bridge and as a result a batch of beer was brewed for the Burton beer festival.
The interest roused by the news prompted pubs in the area to ask for supplies. When the brewery's Bridge Inn put the beer on sale, two nine gallon firkins were drunk dry in 1½ hours.
Geoff and Bruce were the ideal people to brew the beer as they had worked for Ind Coope at both its plants and had helped formulate the recipe. They told me DBA was based on the recipe for the bottled version of the famous post-war beer, Double Diamond. DD was originally a classic Burton Indian Pale Ale but Allied turned the draught version into a keg beer with a strength of 3.8%. The bottled version remained at 4.7% and that was also the strength of DBA when it was launched.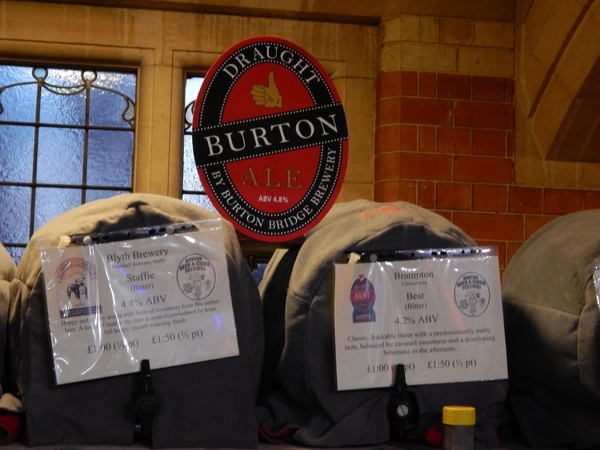 Bruce Wilkinson was a trainee brewer with Ind Coope at Burton and he later transferred to Romford where he met Geoff Mumford. Geoff had started his career with Tetley in Leeds before moving first to Burton and then to Romford.
They have taken a gamble brewing a beer called Draught Burton Ale as Carlsberg has yet to decide whether it will release the brand name and trademarks for the beer. The pump clip for the new beer even has a cheeky dig at the beer's history, with a thumbs-up logo that recalls the old Allied Breweries symbol of a raised red hand, first used by Allsopp's brewery in Burton in the 18th century.
Bruce and Geoff are at pains to stress that it's not possible to recreate a beer that tastes exactly the same as the DBA of the 1970s. They are able to use similar if not identical malts and hops, along with the legendary Burton spring waters rich in sulphates, but they do not have access to the yeast culture used by Ind Coope.
Bruce said he got five yeast samples from the National Collection of Yeast Cultures in Norwich and did a number of trail batches at Burton Bridge. He and Geoff wanted a strain that could ferment malt sugar into alcohol without using additional brewing sugar, often used for beers of similar strengths to DBA. They also needed a culture that would drop quickly in cask when delivered to pubs.
The two grains used are Pearl pale malt and medium crystal. Allied never revealed the bittering hops in DBA but Bruce and Geoff use four English varieties, Challenger, Fuggles, Goldings and Target. They stay true to the original beer by using Styrian Goldings for "dry hopping" – hops added to each cask for additional aroma – which was one of DBA's signatures. Four ounces of hops are added to each cask and the Stryians are also used as a late "copper hop" during the boiling stage in the brewery.
I sampled the beer at the festival straight from a cask and then pulled by a hand pump at the Burton Bridge Inn. It has a rich malty aroma with a fine floral hop character and a fruit note reminiscent of lime marmalade. Juicy malt, lemon-and-lime fruit and floral hop resins combine on the palate, while the finish starts bittersweet but ends dry with a good hop bitterness balanced by continuing ripe malt and citrus fruit.
It's a delicious beer and let's hope it can continue to be produced. Bruce and Geoff will produce 50 barrels a week while demand is high. "We'll shoe-horn it into our range," Bruce says, "but if it continues we'll have to take another beer out."
A lot will depend on the attitude of Carlsberg. Will it turn the other cheek, take legal action or agree to hand over brand names and trademarks? All lovers of great Burton beers will keep their fingers crossed.