News
Appliance of science boosts British barley
Added: Tuesday, March 24th 2015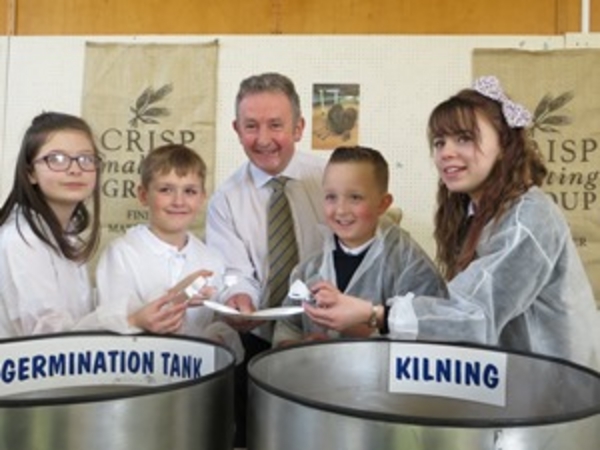 Crisp Malting Group has used barley and brewing malt as part of British Science Week's mission to stimulate children's interest in science and engineering and to stress their importance to manufacturing.
The company organised a half-day session with plenty of hands-on activity for Years 5 and 6 at Portgordon Primary School near Buckie in the Moray region of Scotland. Young students donned white lab coats to become scientists for the morning and were taken through their paces by Crisp Maltings manager Richard Lake and production graduate trainee Rebecca Gee.
The pair engaged the children with fascinating facts, thought-provoking questions and exciting experiments. The lesson followed the barley grain journey from harvesting, delivery and cleaning, through to steeping, germinating and kilning.
Pupils sieved grain from the fields, using magnifying glasses to examine what they found and charts to identify their discoveries. They plunged their hands into vessels of steeping barley, scrutinised sprouting grains and learnt all about kilning. They compared different types of malt by observing, smelling and tasting, then used pestle and mortars to grind the malted grains into a colourful array of flours.
"The science of malting is obviously of interest to farmers, brewers, millers and distillers," Richard Lake said, "but it can also captivate the imagination of young minds. Our aim was to use British Science Week as a platform to show the youngsters just how fascinating science and engineering can be – and how satisfying it is to be involved in food and drink manufacturing. The children took the challenges we gave them very seriously and were quick to find solutions."
Britain is the world's third biggest producer of malt yet knowledge about it among the general public is limited. "As a result of this British Science Week session, the children in Portgordon probably now know more about malt than the average British adult does," Richard Lake added. "As well as understanding the science, they're aware that malt is used in distilling, brewing and food production – and that it's exported across the world. The malt bread we gave them went down a treat!"
*Pictured: Richard Lake with Rebecca Gee right and students at Portgordon Primary School.