News
Makeover for IPA in Greene King bid for younger drinkers as cask sales surge
Added: Monday, March 9th 2015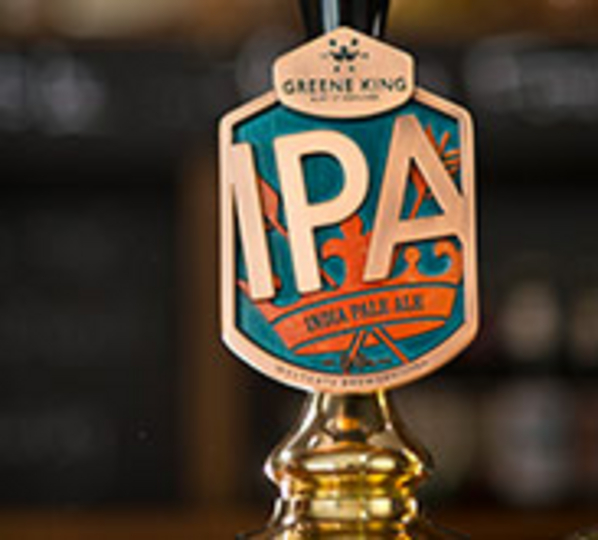 Surging demand for cask beer among younger drinkers is driving a major promotion by Greene King for its flagship brand, IPA. The Suffolk brewer has drawn on research by the Campaign for Real Ale (CAMRA) that shows that 15% of all real ale drinkers tried cask beer for the first time in the past three years – with 65% of these drinkers aged 18-24.
The promotion for the 3.6% beer is backed by a new image for pump clips and labels that draws on the traditional brew house in Bury St Edmunds. A copper element in particular reflects the classic kettles where grain is mashed and then boiled with hops.
Chris Houlton, managing director for Greene King Brewing & Brands, says: "The past three years have been an incredibly exciting time for British brewing, with consumers of all ages now enjoying our national drink. We felt the time was right to take Greene King IPA to this broader audience of beer enthusiasts while not losing the loyalty of our core drinkers."
To support the redesign of IPA, Greene King has launched Beer Genius, an online training platform to help licensees deliver perfect pints and also a beer accreditation scheme that will reward pubs that serve quality beer.
Beer Genius is available to anybody with an internet connection and offers free training, best practice videos and troubleshooting on all aspects of beer handling, from cellar management to the "perfect pour" at the bar.
Research by Greene King found that 34% of customers will not order the same drink again if quality is poor and close to 50% will leave the offending pub. The company also found that consistently serving perfect or near-perfect pints of cask ale can be worth £1,663 to a pub per year, with the figure rising to £3,564 for keg ale.
The Beer Genius programme provides users with three e-learning modules, all of which take 20-45 minutes to complete.
Bar Genius is aimed at professionals and covers topics from glass washing and maintenance through to how to sell beer.
Cellar Genius is a comprehensive course for cellar professionals, covering all essential cellar operations, including cask beer, keg beer, stock control and line cleaning.
Commercial Genius is aimed at pub managers and licensees, and outlines how to maintain quality and profit in an outlet.
These are accompanied by a series of short tutorial videos that are accessible on a smart phone or tablet for licensees and bar staff.
Users can also find a quick solution to any cellar or beer quality problem through a free trouble-shooting service, Cellar Doctor, along with information on Greene King's extensive beer range.
Pubs that serve consistently good pints of beer will be rewarded under a new quality accreditation scheme. Greene King's quality accreditation scheme will see unannounced pub visits made by either Greene King's quality services staff or by a third party quality agency.
A pub will be required to pass 10 quality tests, which include taste, aroma and temperature of IPA, whether the beer is served in the correct glass and ability of bar staff to describe it accurately. Pubs judged to pour a perfect pint of IPA will be awarded with a plaque and certificate signed by senior brewer Craig Bennett as well as crowns for their pump clips. Pubs that don't pass first time will be educated about the importance and benefits of looking after cask beer.
*Greene King will continue to brew IPA Gold (4.1%) and IPA Reserve (5.4%).