News
Pub blaze raises doubts over future
Added: Saturday, March 7th 2015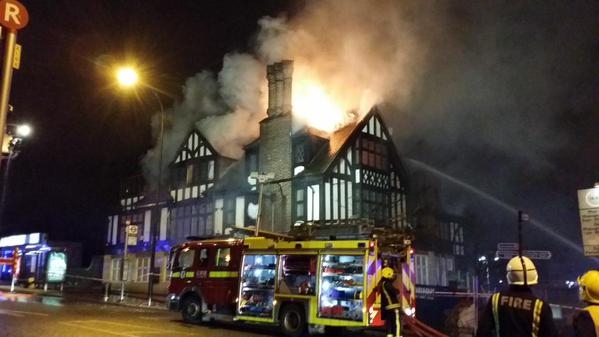 A South London pub badly damaged by fire on 1 March will be rebuilt and reopened – but it's not certain whether it will remain a pub or become private accommodation. The pub was previously owned by Punch Taverns and its managed house division, Spirit.
A large contingent of fire fighters and vehicles tackled the blaze at the Catford Bridge Tavern in Lewisham. The 1930s, timber-framed "Brewers' Tudor" pub was previously known as both the Railway Tavern and the Copperfield. It was run by Courage as a managed house and ownership passed to Scottish & Newcastle when it bought the former London and Bristol-based breweries. The lease was inherited by Spirit, at the time the managed pub division of Punch Taverns. Spirit later became a separate, independent company until it was bought by Suffolk-based pubs and brewing group Greene King in 2014. Ownership reverted to Punch, who transferred the pub from management to tenancy.
A trawl of the Land Registry has revealed that, while it retained the lease, Spirit had sold the freehold of the pub in 2004 for £1,265 million to a company called TechnoStar. The company was based in a four-bedroom house in Stanmore, where a number of other companies had been registered by Mr Prafulchandra Shah, a company director and manufacturer of engineering components. Mr Shah paid considerably more for the pub than its market value but as his family is involved in property conversion they may have anticipated its value would increase if it could be converted at some future stage.
From 2008, the pub was badly run, with drugs, noise and behaviour problems. It closed in December 2011 as a result of police action and its licence was revoked. In January 2012, Punch leased the pub on a short-term "tenancy at will" basis to a company called Antic, which renamed it the Catford Bridge Tavern. Antic rapidly improved the pub, providing a good range of cask beers and it became a popular focus for the local community. In 2013, the South East London branch of CAMRA, the Campaign for Real Ale, named it its Pub of the Year.
Antic never revealed it was only leasing the pub and it came as a shock to the local community when a planning application was submitted in 2012 by TechnoStar to convert and extend the upper floors of the building to self-contained flats. The ground floor was planned to be converted to a shop by an unnamed "national retailer", which – it was revealed in 2014 – was Tesco.
Following a campaign by regular customers, South East CAMRA,  councillors and the local MP, in November 2012 Lewisham council listed the pub and declared an "Article 4 Directive" that meant the pub couldn't be converted for alternative use without planning permission.
Punch responded by giving Antic notice to quit. The pub closed for a short time but was then reopened by Antic, which had negotiated a new lease from Tesco. The planning application to convert the building was rejected by the council.
In July 2013, Camden Bars, part of Solitaire Restaurants, which operates a number of music-oriented bars and pubs in North London, announced it had bought the freehold of pub, presumably from TechnoStar. Michael Nicholas of Camden Bars said the pub would remain a real ale outlet, building on Antics's success. But Tesco was unwilling to relinquish its ground-floor lease.
In November 2013, the pub closed suddenly and Antic decamped to the nearby former Catford Constitutional Club that had been vacant for 14 years. Antic stripped the pub and took the fixtures and fittings with it. Camden Bars said that as a result of the damage it would be unable to move in and operate the pub as planned. Tesco refused to budge from its control of the ground floor.
Squatters moved in and were evicted in May 2014. In November, Camden Bars/Solitaire submitted plans for conversion of the upper floors to six flats, with the ground floor converted to a "bespoke bar" in the centre of a restaurant, with a new roof terrace. A planning application was submitted to the council. In December, Solitaire announced that Tesco had "thrown in the keys" and walked away from the site. As a result, Solitaire said it hoped to start work on converting the building in 2015 but all plans are now on hold following the fire on 1 March.
Solitaire says it will repair the damage and implement its plans, subject to planning approval but many people in the local community doubt the Catford Bridge Tavern will be a vibrant cask beer pub again.
A spokesman for London Fire Brigade said the blaze was not being treated as suspicious.