News
Beer is booming in Birkenhead
Added: Monday, March 2nd 2015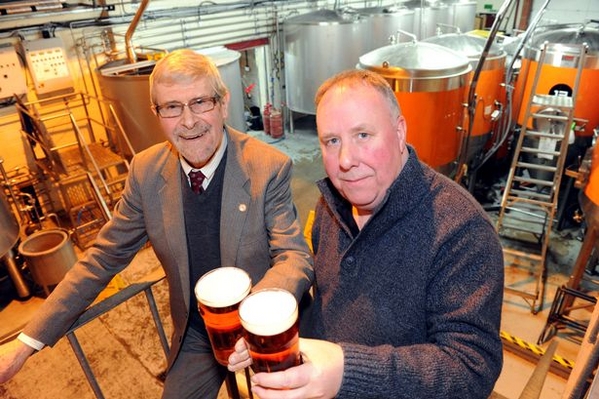 If you catch the world-famous Ferry Across the Mersey fromn Liverpool to Birkenhead you can tour the Peerless Brewery and see at first-hand the major investment that will double production capacity as the five-year old brewery eyes further growth.

A new energy efficient, 30-barrel plant will slash costs as Peerless builds on the success of its championship cask-conditioned ale brands. When Steve Briscoe (pictured above, right, with Roger Protz at the opening of the new plant) opened the brewery in Birkenhead in 2009, it had a capcity of 12 barrels, using plant that first saw the light of day at the Mash & Air brewery and restaurant in Manchester and then moved to Grand Union in London.
Peerless has gone from strength to strenght and was hailed as a top North West brewer in the region's toughest beer challenge, the SIBA (Society of Independent Brewers) NW Beer Competition, scooping five top accolades, including two gold medals.

This led to a further surge in demand for the eight-strong core cask ale range, which has enjoyed sales growth at 30 per cent year-on-year since start up in 2010. The expansion increases weekly production capacity from 17,590 pints to 35,190 pintsor from 60 to 120 barrels, with further expansion possible through additional fermentation tanks.
At a launch event with Roger Protz on 25 February, managing director Steve Briscoe said: "Our ambitious expansion comes as the cask ale sector is seeing healthy growth, with pub goers increasingly seeking beers with quality and provenance. We plan to grow with this market as publicans find our beers offer what they want – well-balanced cask ales with that that extra flavour and drinkability.
"This major decision to expand followed further testimony last year from our peers at SIBA that we are brewing some of the very best cask ale in the UK. A business review concluded that a modern brew-house would not only increase capacity but cut production costs.
"Our business plan showed that the new brew house could be funded from these efficiencies and reduced costs. Barclays Bank agreed to back the project, so we can further build on the exceptional talents of our dedicated young brewers, Mark Powell and Alex Morley, to meet the consistently growing demand."
Peerless currently supplies free trade customers throughout Merseyside, Cheshire and Greater Manchester and reaches national pub company outlets under the SIBA Direct Delivery Scheme. 
The Peerless beer range includes:
Peerless Pale (3.8%), a hoppy session beer brewed with Maris Otter pale and cara gold malts and hopped with Admiral, Cascade, Columbus, East Kent Goldings and Summit hops;
Triple Blond (4%) has 30% wheat alongside pale malt and is hopped with Admiral, Cascade and First Gold varieties;
Viking Gold (4.6%) is also a blend of wheat malt and Maris Otter pale malt and is hopped with Admiral, Cascade and Summit;
Knee-Buckler (5.2%) is an Americn-style IPA, brewed with pale, crystal and wheat malts and hopped with Admiral, Cascade, Citra and Columbus hops;
Red Rocks (5%) is an amber-coloured beer with roast barley and wheat alongside Maris Otter pale malt and a touch of dark crystal. Admiral is the single hop.
Oatmeal Stout (5.2%), as the name suggests, uses oatmeal in its grain bill, with pale, crystal, wheat and chocolate malts, and Admiral hops.
Full Whack (6%) is the brewery's version of English -- as opposed to American -- IPA, with pale, wheat and crystal malts and Admiral, Cascade and First Gold hops.
A literally stunning strong (7.2%) bottled stout is called Riot and stands for Russian Imperial Oatmeal and Treacle. Crystal and chocolate malt are also used along with  roasted barley. Pilgrim is the single hop.
Steve Briscoe unveiled a trial brew called Fusion (5.7%), which is brewed with no fewer than 10 hops, including English varieties plus American Citra. It has a massive hit of citrus fruit, balanced by juicy malt.

*The new brew house comprises copper, mash tun, hot liquor tank (HLT), cold liquor tank (CLT)  and two new fermentation vessels (FVs) to give a total of seven FVs. The former brew-house used a steam boiler to heat the copper and HLT, which was inefficient to run and expensive to maintain. A new copper is heated with a Lanemark TX High Efficiency direct fire burner that provides heat to an immersion coil inside the copper and has a significantly lower energy footprint. A new hot liquor tank is heated by electric immersion heaters, which are carefully controlled via programmable timers to ensure that the tank is only heated overnight by cheap rate electricity. A small re-circ pump ensures that the water temperature is the same throughout the tank and ready to commence brewing each morning. 
*For details of brewery tours and Thirsty Thursday tasting nights see www.peerlessbrewing.co.uk