News
Boost for Truman's with major investment
Added: Thursday, February 19th 2015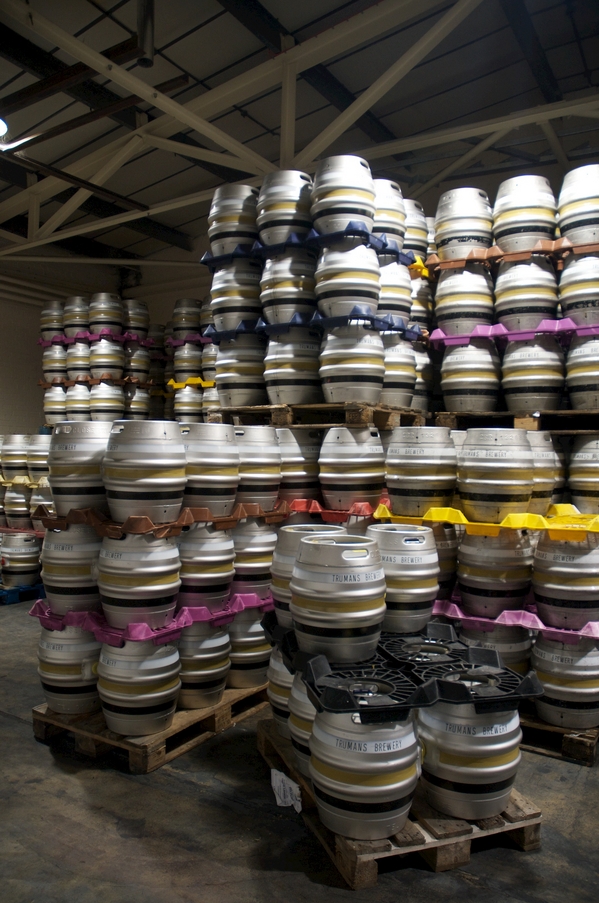 Truman's – in East London's beer since 1666 – is investing half a million pounds to double capacity at its Hackney Wick brewery and set up a fully-automated kegging line.  In the largest investment the business has undertaken since the establishment of its new brewery in 2013, the new equipment will be housed in an additional unit that will increase the brewery's floor space by 50%. Total brewing capacity will increase to more than 140,000 pints per week and new jobs will be created in brewing, sales, marketing and distribution. (Pictured above: the current cask store at the brewery.)
"Since we brought Truman's back to London with the opening of the Eyrie, our new brewery in Hackney Wick, the response has been simply incredible. We are now approaching capacity – years earlier than we thought we would – and so we are now doubling our capacity,."says James Morgan, founder and managing director of the re-established brewery.
"The addition of a fully-automated kegging line will also mean we can expand our keg offer – brewing a full range of craft keg beers alongside the high-quality cask ales we are famous for. We are looking forward to being able to meet the ever increasing demand for Truman's beer."
Since returning to London in the summer of 2013, Truman's has gone from strength to strength, serving beer across the capital and further afield. It has quickly gained a loyal following among lovers of quality beer and has been steadily picking up awards and accolades.
More than doubling of fermentation capacity to 140,000 pints per week.
Increasing floor space by 50%
Installing a fully automated kegging line
Total investment in excess of £500,000.
* Truman's was founded in 1666 and was once a heavyweight of British brewing – by the late 1800s it was the world's largest brewer.  It fell victim to the merger mania of the 1970s and 80s, after which the pubs were sold and the brewery closed.  The company was revived in 2010 with an initial investment of £1million. 
The team has also recovered the original yeast strain that was used at the Brick Lane brewery in its heyday.  Preserved in liquid nitrogen since 1958 at temperatures of
 -196c, the yeast ensures that the beer produced is authentically Truman's.
www.trumansbeer.co.uk