News
Scots brewers unite to boost their beer
Added: Wednesday, February 4th 2015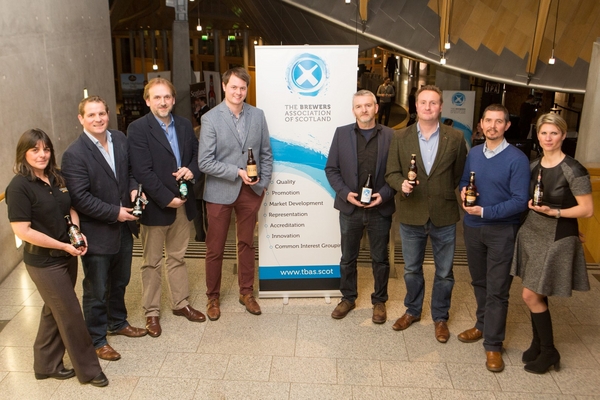 As Scottish beer enjoys a huge renaissance across Scotland and globally eight independent brewers have joined forces to create The Brewers' Association of Scotland (TBAS), to support, promote and safeguard the future of the industry.
At an inaugural event at the Scottish Parliament, TBAS set out its aims and objectives with an industry-wide consultation to capture the size of the sector today and its growth objectives over the coming 10 years. TBAS will then set out a route map for the whole sector and hopes to work closely with the Scottish Government and its agencies in its delivery. TBAS chairman and founder and CEO of Innis & Gunn, Dougal Sharp (third right in picture), said: "The founder members of TBAS are delighted to have reached this point. The Scottish beer industry is thriving and opportunities abound within Scotland and internationally.
"It's important to our sector, now more than ever, that we have an effective industry body to help us to achieve our individual business aspirations. Until now the industry has had no governing body in Scotland, whereas in other countries where there are similar associations the benefits of such a body are clear: more choice, greater levels of consumer awareness and understanding, high quality, higher growth and levels of business, all underpinned by targeted support from local governmental agencies."
TBAS will deliver a group identity and quality standard for craft brewers across Scotland: artisanal brewers that are predominately Scottish owned and brew less than 200,000 hectolitres per annum in Scotland or within their group of companies. The key objectives of the association are founded on seven fundamental principles: quality, promotion, market development, representation, accreditation, innovation and common interest grouping. 
The founding member breweries are Cairngorm Brewery (Aviemore), Fyne Ales (Argyll), Harviestoun (Alva, Clackmannanshire), Innis & Gunn (Edinburgh), Inveralmond Brewery (Stirling), Stewart Brewing (Edinburgh), WEST (Glasgow) and Williams Bros (Alloa).
In the halcyon days of Scottish brewing, there were 280 commercial breweries operating in Scotland.  In the century that followed the number rapidly declined to 36 and the downturn continued well into the late 20th century.  Now, thanks to the emergence of the craft beer scene, led by the movement in the US, the industry is enjoying a comeback and Scotland is falling back in love again with what Rabbie Burns called "gude ale". 
It is estimated there are now between 80-90 independent breweries in Scotland and the overall sector in the UK off-trade is worth £41.3m, growing at 13.2% year-on-year (source: IRI to October 2014).
The TBAS founder breweries employ 246 staff in Scotland between them with a combined turnover of more than £30 million. The project is being facilitated by the Market Driven Supply Chain Project, jointly funded by the Scottish Government and Scottish Enterprise, and delivered by SAOS, with additional support from The Community Food Fund. 
Commenting on the initiative, Richard Lochhead, Cabinet Secretary for Rural Affairs, Food and the Environment, said: "Craft beer is becoming increasingly popular both at home and abroad and it is great to see Scottish artisan beer in such high demand. In fact, such is the pace of manufacturing growth that more than 60 per cent of brewers in Scotland have been in operation for less than 10 years. 
"We now have more than 80 companies making beer – some to accommodate local markets and others which are seeking to be national and international trailblazers. 
"It is important that – as the sector expands – those working in this business understand how they can capitalise through collaboration, to make the step changes to create strong, diverse businesses with national and global ambitions. I believe TBAS can make a strong contribution in this regard and I wish them every success. I'm delighted to be speaking to the founders at the Scottish Parliament, during Scotland's Year of Food and Drink, and look forward to seeing the outcome of their consultation."
@TBAScot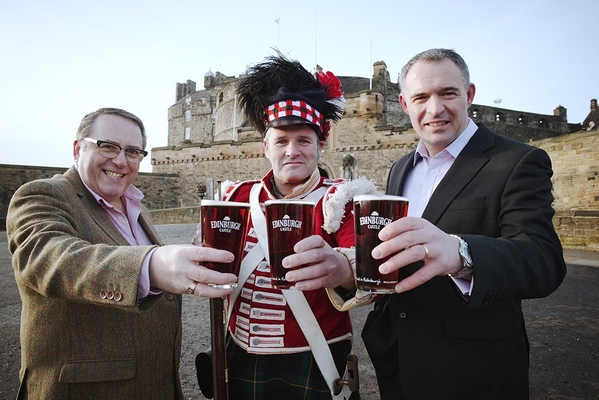 Edinburgh's Caledonian Brewery has teamed up with Edinburgh Castle in a new beer collaboration celebrating two icons of the city.
Edinburgh Castle, which is operated by Historic Scotland, is to lend its name to the 80/- beer which has a new and improved recipe, and will now be known as Edinburgh Castle 80/-.
The launch of Edinburgh Castle 80/- coincides with Scotland's Year of Food and Drink with this definitive Scottish beer style instrumental to Scotland's status as a leader in brewing.  
Andy Maddock, managing director of Caledonian Brewery says: "The Caledonian Brewery has been at the heart of Edinburgh life for 145 years.  We brew our beers with passion and pride, in a traditional Victorian brewery, set in the heart of Edinburgh.  We are delighted to have signed the agreement with Historic Scotland to feature the name of this world-famous landmark which reflects the pride we have in our Edinburgh roots." 
Commenting on the innovative collaboration, Historic Scotland's Director of Commercial and Tourism, Stephen Duncan, said: "We are extremely pleased to have partnered with another Edinburgh institution, the Caledonian Brewery, on this exciting new enterprise, which will see the launch of the first official Edinburgh Castle beer – an entirely new venture for us. 
"The launch of this partnership is made doubly special in the Year of Food and Drink, 2015, which celebrates and promotes Scotland's vast larder of quality produce, and we are sure that this new collaboration will be a fitting addition in what is a special year for Scottish producers." From Easter, bottles of Edinburgh Castle 80/- will be widely available to purchase, including at the castle. The image of the castle will appear on pump clips for the draught version.
The beer is brewed with five types of malted barley for a full bodied, complex and bittersweet taste, combining malty caramel and fruity aroma with a soft hoppy, and spicy finish.
 *Pictured: Stepehn Duncan (left) and Andy Maddock with an Edinburgh Castle guide.