News
Beer goggles have a sharp eye for top pints
Added: Thursday, January 29th 2015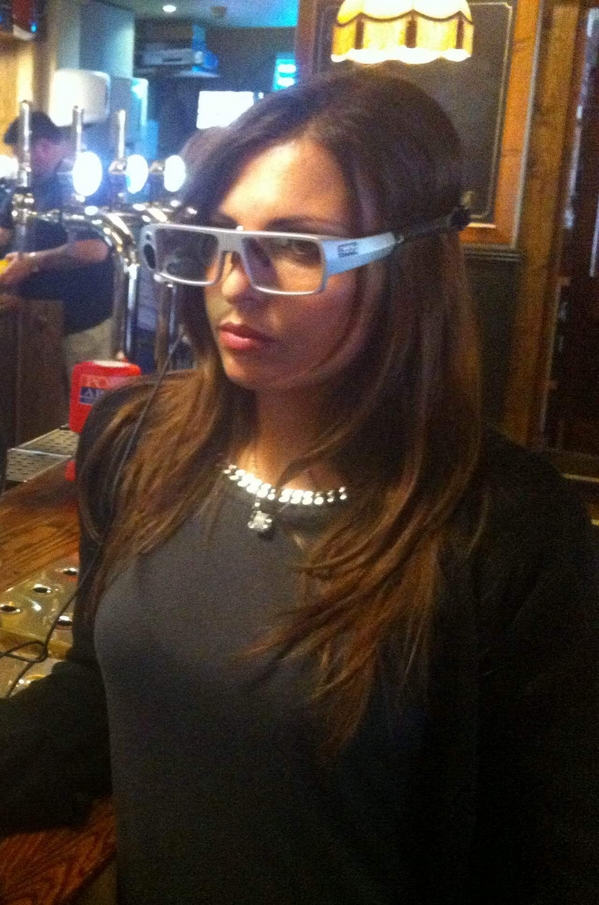 A marketing expert at Anglia Ruskin University is using special eye-tracking "beer goggles" to examine how we make our decisions in the pub.
Tim Froggett, Senior Lecturer in Marketing at Anglia Ruskin, has teamed up with John Dearne, licensee of the Tram Depot pub near East Road in Cambridge, to discover which pump clips work best.
John said: "Tim explained that we could use eye-tracking technology to understand how pump clips attract the attention of drinkers and I was keen to put this to the test with the pump clip I designed for Tram Light, our house beer."
The study involved 20 volunteers who wore the eye-tracking "beer goggles" and made a selection from the six pump clips on display at the bar.  All the volunteers were non-beer drinkers and not familiar with any of the brands.
It was one of the guest beers – Artigianale by Everards – which received most attention, with a total of 1,485 fixations (glimpses measured using the eye-tracking technology) and was chosen by all but one person.
The pub's own beer Tram Light, which is actually one of their best-sellers, received only 817 fixations.  This suggests that when drinkers don't know the brands on offer, the pump clip plays an important role.
Tim said: "What's interesting about this research is that we were able to eliminate brand memory and study purely attention-based influences." 
The conclusion is that visual attention and consumer choice are almost perfectly correlated, although more research is needed to find out exactly what it is that grabs people's attention.
The study is in its early stages but Tim, a real ale fan, is keen to take it further.  He added: "Although there has been quite a lot of eye-tracking research in the field of marketing, hardly any has been done in real-life situations, such as the pub.  We would really like to apply some science to the art of pump clips and, ultimately, help brewers." 
John added: "Ale brewers face stiff competition and if they are keen to get new drinkers interested, they need to think carefully about the part the pump clip plays."
*Below, a "heat map" of pump clips seen through the goggles